Pacific Slope, Guatemala
The Pacific Slope has long been passed over by travelers for other Guatemalan destinations, as it lacks the pristine white-sand beaches that border other Central American countries. In recent years, however, interest in this region has been building. Puerto Quetzal now sees regular arrivals of cruise ships (the passengers dock and take day-trips inland), and the coastal town of Iztapa is becoming known as the sailfishing capital of the world.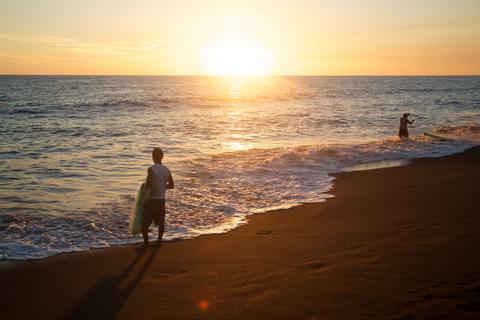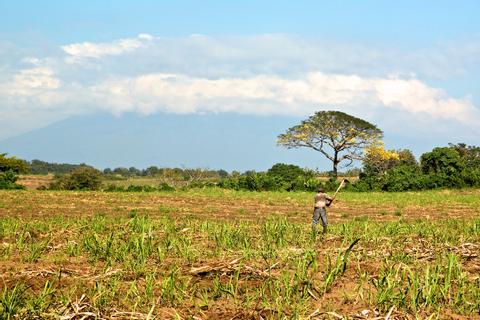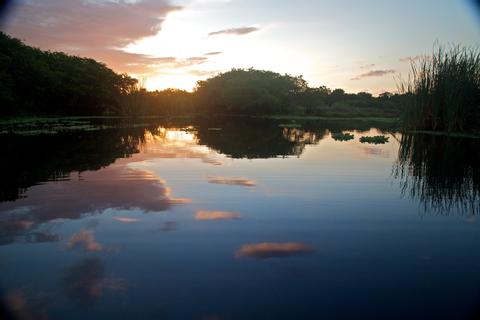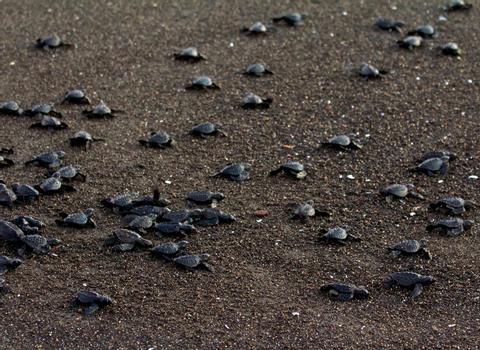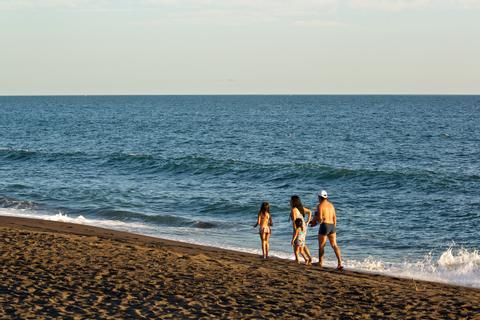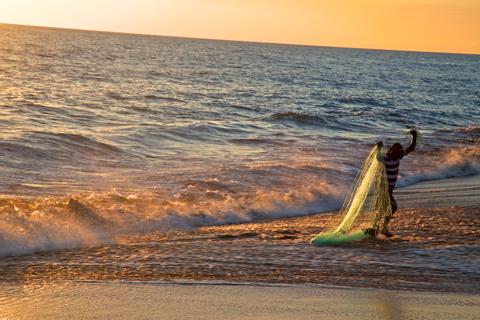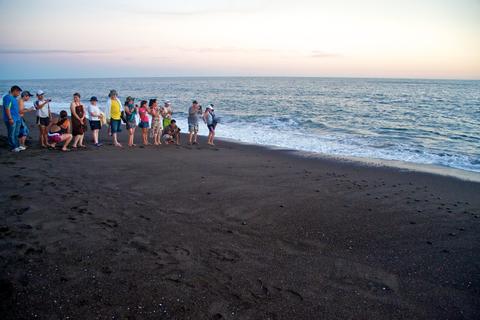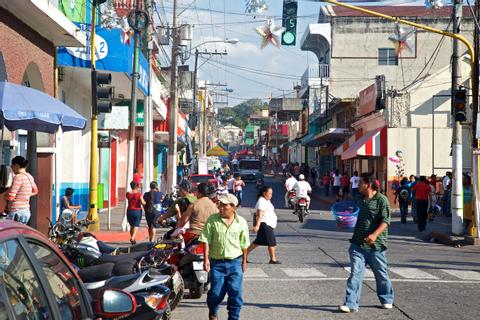 Guatemala's Pacific coast is separated from the mountainous highlands to the north by a chain of volcanoes—these same volcanoes give the beaches here their characteristic dark color. The Pacific coast is approximately 185 miles (300 km) long and 30 miles (50 km) wide. Temperatures hang around 85°F year-round, but a fairly consistent ocean breeze keeps things cool near the coast.
This area was once covered in tropical forest but today is an important agricultural center—there are vast sugarcane, cotton, and coffee plantations here. The Pacific coast is also home to mangrove swamps and wetlands, some of which provide important habitat for aquatic birds. The Canal de Chiquimulilla runs east from the coastal town of Sipacate to the town of Las Lisas, which is close to the Salvadoran border. The canal supports important mangrove wetlands and is also used for transportation and commerce. You will cross the canal to get to many of Guatemala's coastal towns.
Notable destinations and attractions of the Pacific Slope include the sailfishing capital of Iztapa, the protected biotope at Monterrico-Hawaii, and the Mayan ruins of Takalik Abaj.
Several world records for single-day sailfish catches have been made in Guatemala, most of them off the coast of Iztapa. In fact, the fishing is so good that Iztapa is nicknamed the Sailfish Capital of the World. On a single day you can expect to catch between 15–25 Pacific sailfish. There are also large numbers of wahoo, dorado, and yellowfin tuna.
The town of Iztapa is small and unremarkable, but a number of new hotels have appeared in recent years to accommodate the fishing crowd. If fishing isn't your thing, you'll still enjoy Iztapa's black-sand beach—it's wide and clean, and you'll probably have the whole place to yourself. The surfing here is also fairly good.
Head 17 miles (27 km) east of Iztapa and you'll hit the town of Monterrico. This small coastal village has grown over the last few years as more travelers come here to visit its beautiful beach. The coastline isn't the only draw, however—there is also the Biotopo Monterrico-Hawaii, which protects the beaches and mangrove swamps from Monterrico to Parque Hawaii. This biotope is one of the best places in Guatemala to see nesting olive ridley and leatherback sea turtles.
On the western edge of the Pacific Slope is the Mayan site of Takalik Abaj. This site, set 9 miles (15 km) west of Retalhuleu, is notable for its Olmec-influenced structures and sculptures. The site extends along 2.5 square miles (6.5 sq km) and includes nine terraces. More than 275 structures have been found here, and many of the ones that still stand today – including monuments, sculptures, and zoomorphs – were likely carved between 800 BC and 200 AD. It's still an important ceremonial site for highland Mayan communities.
Other Mayan ruins can be found at the site of El Baúl and in the town of La Democracia. El Baúl has a good sampling of pre-Columbian artifacts, including stelae with some of the earliest known inscriptions in all of Mesoamerica. The small town of La Democracia is best known for the ancient stone heads that decorate its central park. The heads are similar to Olmec sculptures found in the Mexican lowlands of Villa Hermosa.
There are two ports along the Pacific coast of Guatemala—Puerto Quetzal and Puerto San José. An increasing number of cruise ships are making landfall at Puerto Quetzal. From here, many passengers take day-trips to inland destinations like La Antigua. Puerto San José opened as a port in 1853, but these days is mainly used by Guatemala City urbanites that need a quick coastal vacation. It isn't the most pristine destination, but it will do in a pinch.
Despite its lack of white-sand beaches, the Pacific Slope of Guatemala nonetheless offers an assortment of destinations that merit a visit. Cast your line for sailfish off the coast of Iztapa or watch baby sea turtles nest at Monterrico. Visit the Mayan ruins of Takalik Abaj and El Baúl or explore mangrove wetlands in the Canal de Chiquimulilla. And if you're looking for a quiet place to watch the waves roll in, much of the Pacific Slope's remote coastline will fit the bill.
Personalized Trips for Pacific Slope, Guatemala
Where to go in Pacific Slope, Guatemala