Make your Guatemala vacation a Mayan adventure! In many ways, the nation is synonymous with the Mayans. The ancient ruins here are some of the best in the world! It's not uncommon to book a trip simply to witness the sheer magnificence of Guatemala's Mayan ruins, but the country is more than its remnants of the past. History is alive and well, and its found in the blood and traditions of Guatemala's people and culture. From Guatemala City to San Marcos La Laguna, the country is full of 'modern day Mayans.'
The lively communities of Guatemala Mayans today are diverse, but this will be obvious to you when you see the contrast between the nation's modern cities and regions where people uphold their heritage by carrying on with the traditions, language, and attire of their ancestors. In the following destinations, you will have the opportunity to directly experience Guatemala's Mayan culture. That might mean touring the Sololá marketplace, trekking to the temples of Tikal, or simply enjoying authentic Guatemalan food in Flores and Santa Elena. No matter the place or activity, you'll be certain to gain an appreciation for Guatemala's mayan culture. For an especially memorable experience, make sure you book your vacation during one of Guatemala's holidays.
#1:

 Chichicastenango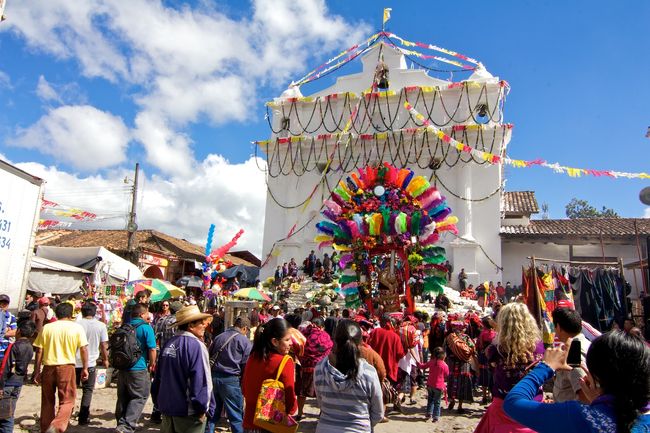 Chichicastenango, Guatemala →
Travelers come here to see a part of Guatemala where time more or less stands still, thanks in part to the cobblestone streets and colonial churches. It's a part of Guatemala that has remained fairly unchanged due to its location in the western highlands.
Vendors and shoppers alike wear traditional clothing and haggle for daily necessities. On trips to the famous local market, you can browse the colorful displays of masks, textiles, jewelry, and pottery — decorative handicrafts that make for a distinctive souvenir. It's customary to haggle, giving you the chance to interact with the vendors and get to know the culture a little bit better.