If you've never seen a volcano in real life, then you're in for a treat! Guatemala's volcanoes dot the country's landscape, and many of them extend along the spine of the Sierra Madre Mountains within the western portion of the nation. A Guatemalan volcano is big, powerful, and impressive — some even spew ash and lava on a regular basis. However, they also command a certain amount of respect and a great deal of caution, as the world learned during Guatemala's volcanic eruption of 2018, when Guatemala's Volcan de Fuego devastated nearby villages. The important thing to remember when visiting volcanic regions is to be aware of the looming giant's level of activity, and ensure that an exit strategy is in place.
Remember that there is more than one way to experience or interact with a volcano. If you're an intrepid traveller, then you may find hiking as close as possible to Sololá's San Pedro Volcano, or indulging in an overnight camping trip to Pacaya Volcano wildly appealing. If you're not as cavalier and prefer to maintain your distance at all times, then you might prefer kayaking across an adjacent lake in Panajachel or sketching in Quetzaltenango. Both approaches are great for different reasons, and either one will ensure that you walk away with frame-worthy pictures of Guatemala's volcanoes.
The important thing to remember is that each of these Guatemala volcano destinations, and their accompanying tours, are only available because your safety and well-being have been taken into consideration. Like with anything in life, common sense goes a long way — so, go on an enviable adventure and have a great time!
#1:

 Antigua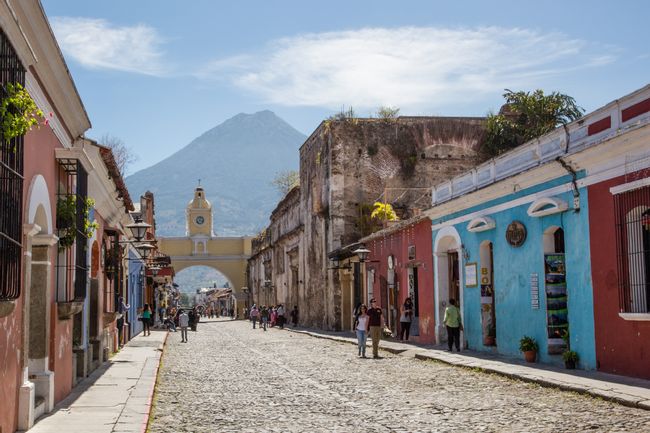 Antigua, Guatemala →
Antigua sits near the base of three volcanoes — Fuego, Acatenango, and Agua — part of a dramatic landscape that offers some of Guatemala's most adventurous nature tours. You'll find incredible views of Agua Volcano both from the Santa Catalina Archway, one of the city's most iconic landmarks, at the top of the hill called Cerro de la Cruz.
Fuego Volcano is possible to visit on days when its eruptions aren't too dangerous — it's common to see thick clouds of smoke billowing from its crater. Climb the peak of Acatenango on a hike for the best views of Fuego Volcano in the distance. You can also opt for a more challenging trek on an overnight adventure on Pacaya Volcano.
#2:

 Lake Atitlan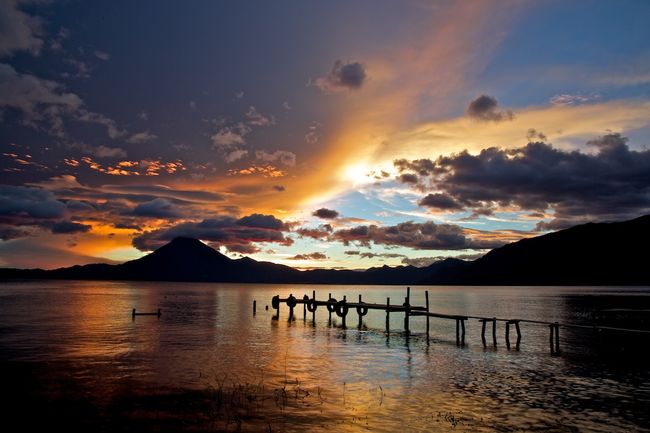 Lake Atitlan, Solola, Guatemala →
Atitlán Volcano, Tolimán Volcano and San Pedro Volcano surround Lake Atitlán. This area has a reputation for attracting New Age practitioners, and the volcanoes definitely contribute to some of the allure for those who seek mystical vibrations.
Hike to the top of San Pedro Volcano for a gorgeous view of the lake. This hike requires a guide and takes you through several different types of environments — you'll get a look at local farm life when you make your way through a coffee plantation and a corn field. Scenic lookouts offer beautiful spots to take a break and get your first taste of the incredible view. You can do a longer, 7 hour hike to the peak of Lake Atitlán, which offers a similarly astounding view. At Atitlán, you also have the option of an overnight version for the chance to camp on the volcano.