Why are these Belize's top destinations? Put simply, these are the best destinations in Belize. They are attractive and 'tranquilo,' providing you with a sure-fire way to enjoy your time in Belize. The following destinations are chock-full of good hotels and tasty restaurants. Activities are equally abundant and include snorkeling, diving, sea kayaking, fishing, and swimming; for these exciting outdoor activities, you'll find yourself in the brilliant turquoise waters of destinations such as Caye Caulker.
In places like Ambergris Caye, you can arrange massages and search local stores for handicrafts. Many of Belize's towns and villages still boast the nation's unique "Slow down," attitude. Some of these locales don't even have cars, and you'll find yourself taking the scenic route on foot, or via bicycle or golf cart. Try to visit at least one of these places during your trip to Belize — after all, these are Belize's top destinations for a very good reason.
Visit the Caribbean beaches for surfing, fishing, kayaking, snorkeling, and swimming. Ambergris Caye is one of Belize's largest islands, and has a variety of upscale accommodations. San Pedro, the main town on Ambergris Caye, has bustling seaside bars, restaurants, and art galleries.
Caye Caulkeris somewhat more budget friendly than Ambergris Caye. Surfing and windsurfing are some of the top pastimes on this island.
Placencia Peninsula has some of Belize's most luxurious beachside resorts. It's home Maya Beach, a strip of peaceful, white-sand beach surrounded by rocky formations.
Belize's most notable historical monuments are the Maya ruins, located around the foothills of the Maya Mountains, and nestled in the twisted vines of the jungle. Carocol, Xunantunich, and Lamanai have the most impressive architecture.
Visitors should make Belize's natural attractions a top priority. Make sure to take a boating, kayaking, or scuba diving tour of the Belize Blue Hole and the many marine reserves around the Belize Barrier Reef. Belize also has the Belize Zoo, which shelters rescued native animals. Here you'll get to see incredibly rare animals, like tapirs and jaguars – elusive creatures that you might not get a chance to glimpse in the wild.
Belize's coastal town of Hopkins has distinctive Garífuna culture and plenty of beaches. The Garífuna are descended from escaped African slaves, and they have passed down their musical traditions from generation to generation. Visit Hopkins to hear the music and try the homey, authentically Belizean food.
#1:

 Ambergris Caye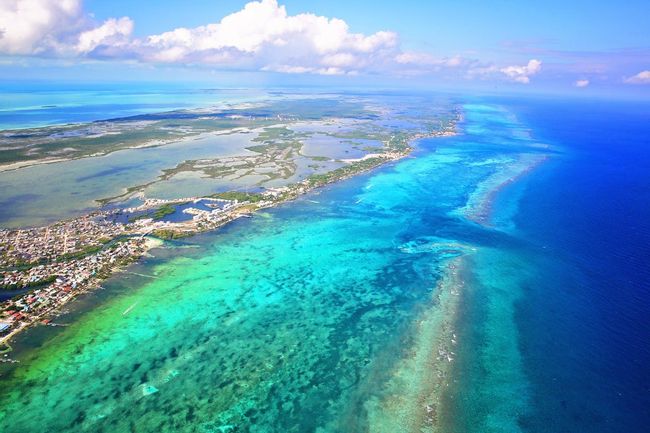 Ambergris Caye, Belize →
Ambergris Caye is Belize's most popular island destination, and is home to some of Belize's most favored snorkeling and marine wildlife attractions. The absence of cars on the island invites visitors to feel like the business of everyday life is far, far away.
San Pedro has lots of options for places to stay, including beachy, family-friendly hotels and plush seaside retreats. There are more luxury resorts outside of town that are reachable via a scenic water taxi ride. You can get around the streets of San Pedro in a peppy golf cart or on a bike.
Getting here is easy — leave on ferries that set sail from Belize City. These ferries also make it convenient to visit the mainland when you want to take trips into the jungle to see Mayan ruins.
#2:

 Placencia Village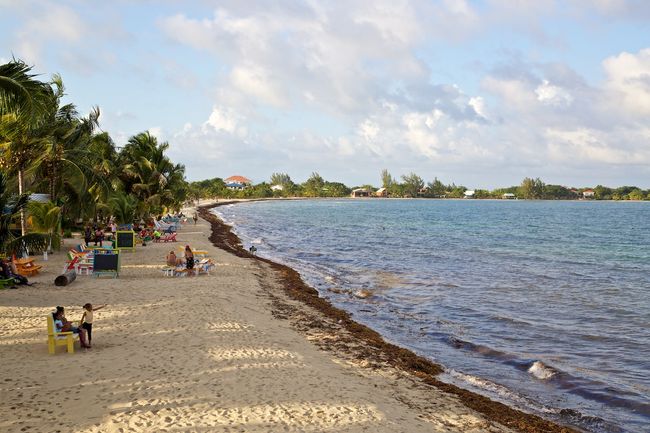 Placencia, Belize →
Placencia Village sits in a fun beach town nestled between the tropical environments of sandy shores and mangroves — all bursting with wildlife. You can wander from a beachside bar that's playing reggae to a lagoon that serves as a habitat for crocodiles and birds.
See more animals on a kayaking tour of the nearby mangrove, which is a hotspot for birdwatching. On an inland adventure, you'll find yourself clamoring around Mayan ruins like Lubaantun and Xunantunich, both impressive sites that are shrouded in mystery.
Since you're on the coast, this is an ideal location for departing on marine tours. Not too far from shore, you can visit interesting dive spots like Gladden Spit and Silk Caye Marine Reserve — if you're here at any point between March and June, you might have the chance to see whale sharks, some of the Caribbean's gentlest giants.
It's easy to find affordable accommodations right on the beach. The same goes for casual restaurants and bars that tempt visitors out of the sun for a cocktail or two. If you want something quieter and more upscale, you'll find that a short distance away from the village's casual nightlife.
#3:

 San Ignacio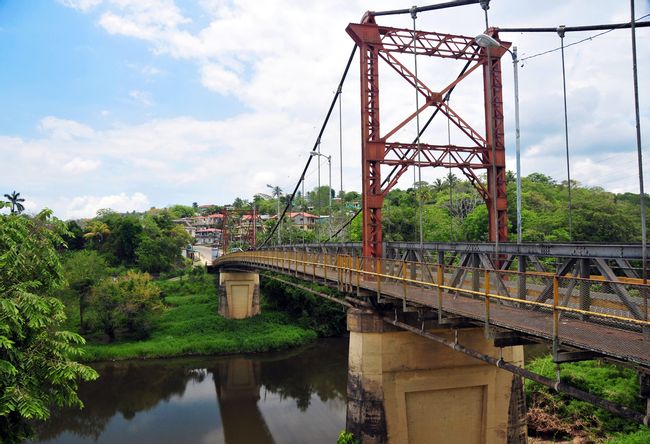 San Ignacio, Belize →
Travelers come to San Ignacio looking for adventure, and they always find it — in caves, along rivers, and on the stepped walls of Mayan temples.
Look for wildlife on the shores of the Macal River and along the winding paths through the Mountain Pine Ridge Forest Reserve. Barton Creek and Caves Branch River flow through caves that you can explore on a kayak or an inner tube. Get some of the best views of the area on a long zip line ride through the forest canopy.
Near the banks of the Mopal River, you'll find the eerie complex of the Xunantunich temple. Visit with a guide to learn more about life when the Maya ruled the jungle.
Budget hotels in the area cater to people who plan on spending most of the vacation exploring the forest and the caves. You can also find eco-resorts that blend into the scenery.
#4:

 Hopkins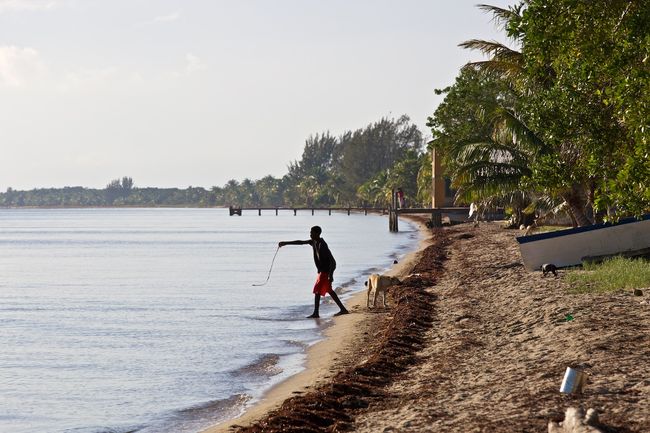 Hopkins, Belize →
Come to Hopkins to hear the music and sample the cooking of Garífuna. Belize's population is a mashup of influences, and the Garífuna have shaped Belize's Caribbean culture. As you wander along the town's 5 miles (8 km) of beach, you'll hear the thrilling sound of energetic drumming in the nearby village.
During a stay at Hopkins, take a trip to see Glover's Atoll — you can go windsurfing and kayaking near the shores of the five small islets, as well as snorkeling around the reef in the clear blue water. Visitors also come here to fish in the saltwater flats.
You can find laidback hotels near the beach, and more luxurious accommodations farther from the center of town. Many of these properties have beautiful, tropical views and are within easy reach of the soft sand and glimmering water.
Frequently asked questions
Can't find the answer you're looking for? Reach out to ourlocal experts.
Where Is The Best Surfing in Belize?

Belize isn't known for surfing destinations — the Belize Barrier Reef tends to get in the way. However, there is one primo surf spot the nation boasts; it's incredibly beautiful, but to access it, you actually have to make arrangements with a surf company.Glover's Reef is the only spot with reliable surfing — especially on Long Caye. A UNESCO World Heritage Site, the beaches of Glover's reef are not public; you have to make arrangements with the surf company there if you'd like to visit.

For all of Belize's beautiful crystal clear waters, the nation isn't much of a surf paradise, but that doesn't mean there aren't plenty of aquatic activities to enjoy. When you're done surfing, you still have windsurfing, kayaking, and snorkeling to look forward to — these are all excellent options for exploring Belize's cayes.

When you're finally ready to dry off, there are plenty of Belize beaches where you can soak up the sunshine or nap in a hammock — caressed by the occasional tropical breeze. Even if you plan on spending the majority of your vacation at the beach, you'll still want to pack more than swimsuits for Belize.

Since you'll already be in the water, there's no reason you can't visit Belize during the wet/rainy season, but if you can't get enough of sunshine, then the best time to visit Belize is during the dry season (November to April).

Choose your own adventure as you voyage to Belize, because you can fly in, or arrive by land or sea. As for being granted entry to Belize, you'll need little more than a valid passport (pending your country of origin).

P.S. The Belize Barrier Reef may keep you from surfing, but it is beautiful and ecologically crucial. Learn more in "This Will NOT Be The End of The Belize Barrier Reef."

Where Is The Best Fishing In Belize?

Love the idea of a Belize getaway, but don't want to spend your entire vacation sitting on the beach sipping cocktails? You don't have to! You can enjoy a fishing adventure. It's the best of both worlds — be active when you want to, and relax when you want to...in a tropical paradise. When you think about it, it makes perfect sense that some great fishing is to be had in Belize. Fishing villages are to be found up and down the coast — a healthy coral reef system ensures that there is plenty of sanctuary and food for a variety of fish to thrive in the crystal clear waters found offshore.

You can get to Belize by land, sea, and air, but unless you want your voyage to be part of your adventure, then flying is going to be your best bet. However, it's important to note that airfare to Belize can be more expensive than other countries — especially during peak seasons. Entry requirements aren't all that complicated; depending on your country of origin, you'll need little more than a valid passport, proof of onward travel, and sufficient funds — no visa or immunizations required!

Generally, the best time to visit Belize is during the dry season, which occurs from November to April. However, your Anywhere Travel Consultant can help you determine if the catch you're hoping to reel in is best caught during 'green season' (i.e. the rainy season). Bonus? It's also a great time to save on travel.

You'll want to be sure that you pack for Belize's tropical climate. So where will some of your fishing tours take you?...

Deep sea and fly fishing tours will take you to superb fishing spots near the Belize Barrier Reef. These tours leave from San Pedro, on Ambergris Caye.

Across the Caribbean coast, fishing is a popular pastime. You'll find yourself heading to destinations like: