The Howard Johnson Hotel Quito is located in the bustling downtown of Quito. This hotel has nice rooms and great service.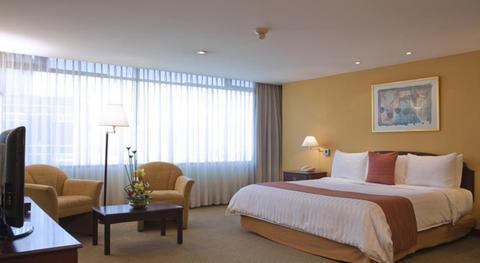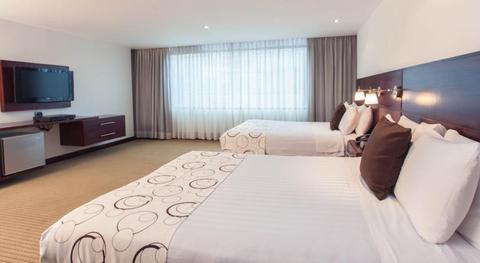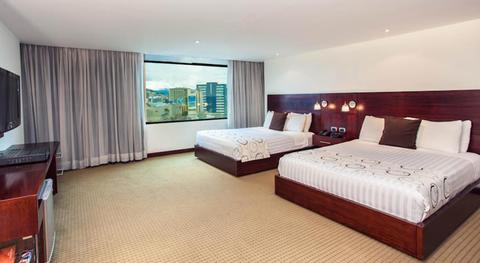 2:00 p.m. check in
12:00 p.m. check out
Wireless Internet
Spa Services
Quito is a fun place for travelers. Not only does it serve a practical purpose with its international airport and range of services, but it also sports a wealth of cultural and historical attractions. Quito's colonial neighborhood, known as Old Town, features pleasant plazas, impressive churches, and cobbled courtyards. It's a good place to stroll and take in the sights. If you want to get views of the city, head to El Panecillo, a hill near the southern end of Old Town.
The Howard Johnson Hotel Quito is located near Parque La Carolina, the largest park in Quito. Parque La Carolina is a good place to go jogging or rent paddleboats. This location is perfect for both business and leisure travelers. The hotel staff works hard to make guests feel comfortable.
The rooms are clean, bright, and spacious. Large windows let in lots of natural light and provide guests with good views of the city. Private, modern bathrooms come equipped with hot-water showers, a bathtub, hair dryer, and toiletries. The beds are comfy and include down comforters and hypoallergenic pillows. In the evening, grab a drink from the mini-bar and turn on the flat-screen cable TV. Guests who are traveling on business will appreciate the desk and iron/ironing board.
Guests can enjoy great food and drinks at the hotel's on-site restaurant. Begin your day with a full-service breakfast, which includes a variety of cereals, bread, fruit, yogurt, and eggs. Return later for lunch or dinner. 24-hour room service is also available.
There's a fitness room where you can exercise. This room has stationary bikes, treadmills, elliptical machines and resistance weights, as well as a TV to watch while you're working out.
There's also business center with computers, copy machines, and fax machines. Free Wi-Fi is offered throughout the hotel and there are three meeting rooms that can be booked.
Finally, the Howard Johnson Hotel Quito offers laundry service, express checkout, and free parking.
More Property Amenities
Room Service
Private Parking
Telephone
Jacuzzi
Alarm Clock
Safe Deposit Box
Iron & Ironing board
Internet Access
Mini Bar
Hot Water
Hair Dryer
Cable TV
Mini Gym
Handicap Accessible
Bar
Conference Rooms
Accommodations
Alarm Clock
Hair Dryer
Hot Water
Iron & Ironing board
Jacuzzi
Mini Bar
Safe Deposit Box
Wireless Internet
Alarm Clock
Hair Dryer
Hot Water
Iron & Ironing board
Jacuzzi
Mini Bar
Safe Deposit Box
Wireless Internet
Similar Hotels