The Hotel Ruinas Resort is located in Huehuetenango. This hotel has upscale rooms and good facilities.
Featured in:
Midrange, Bed and Breakfast, Great for Families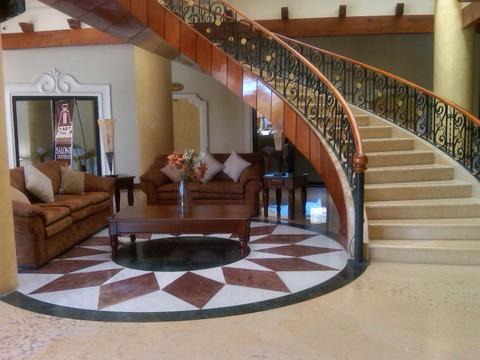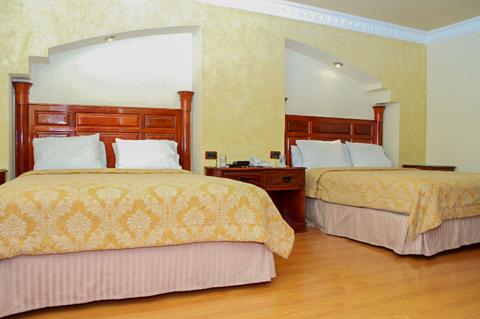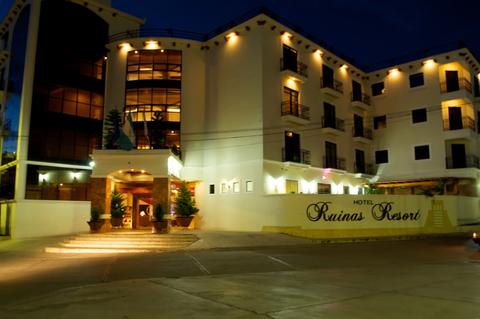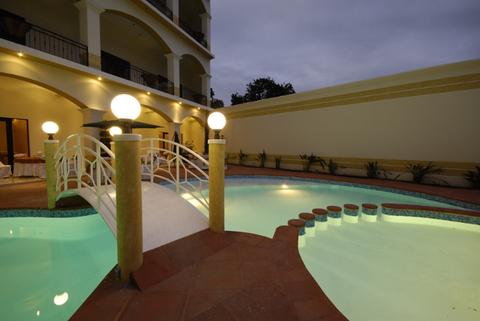 3:00 p.m. check in
1:00 p.m. check out
Restaurant in Hotel
Swimming Pool
Wireless Internet
Free Breakfast
– Some rooms feature –
Wheelchair Accesibility
Huehuetenango lies at the base of the Cuchumatanes Mountains in Guatemala's Western Highlands. This midsize town is a hub for trade in the region and has a fairly lively atmosphere. Travelers can explore the central square and the adjoining neoclassic cathedral, which was built in 1874. The Mam ruins of Zaculeu are a few miles outside town. This site, which dates back to 400–700 AD, is thought to have served religious and administrative purposes.
The Hotel Ruinas Resort is an upscale resort with great rooms and friendly service. The hotel is about a 10-minute walk from the city center of Huehuetenango.
The hotel's 60 suites are large, clean, and well furnished. They have big comfortable beds that vary in size, including king-size, queen-size, and double beds. All suites have a private marble bathroom with a hot water shower, hairdryer, and soft towels. Also included is a flat screen cable TV and wireless Internet. Some suites have a private Jacuzzi and are stocked with complimentary champagne. The accommodations here feel modern and luxurious.
A complimentary breakfast is offered to guests each morning. The hotel's restaurant serves a mixture of national and international food for lunch and dinner, and its bar is well stocked with a range of beer, wine, and liquor. Room service is available throughout the day and a buffet breakfast is offered every Sunday. What's more, the hotel has a coffee shop where you can enjoy espresso, drip coffee, sandwiches, and more.
Guests will enjoy swimming in the hotel's large pool or exercising at the onsite gym. The gym has a variety of cardio and weight resistance machines; spinning and aerobic classes are offered here as well.
The Hotel Ruinas Resort has five meeting rooms that can be used for parties, meetings, and other events. The rooms have audiovisual equipment. The hotel also offers secure underground parking and laundry service.
More Property Amenities
Alarm Clock
Balcony
Bar
Breakfast Available
Cable TV
Casino
Conference Rooms
Fan
Full Size Gym
Handicap Accessible
Hot Water
Internet Access
Jacuzzi
Laundry Service
Private Parking
Room Service
Telephone
Accommodations
Alarm Clock
Cable TV
Fan
Hot Water
Telephone
Wireless Internet
Alarm Clock
Cable TV
Fan
Hot Water
Wireless Internet
Alarm Clock
Cable TV
Fan
Hot Water
Telephone
Wireless Internet
Alarm Clock
Cable TV
Hot Water
Jacuzzi
Telephone
Wireless Internet
Presidential Suite
Sleeps 2
Alarm Clock
Balcony
Cable TV
Fan
Hot Water
Jacuzzi
Wireless Internet
Wheelchair Accessible
Living Room
Dining Room
Alarm Clock
Cable TV
Fan
Hot Water
Telephone
Wireless Internet
Similar Hotels