Las Cruces Boutique Hotel is surrounded by the historical, white colonial buildings that make Antigua stand out from other Guatemalan cities. The hotel is made to blend in with the charm of the surrounding cityscape, and it's located right next to the impressive ruins of the Lady Carmen Convent.
Featured in:
Luxurious Casa Particular, Boutique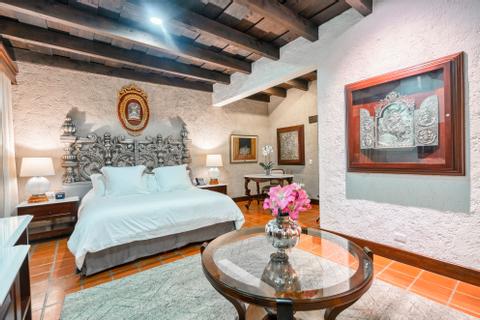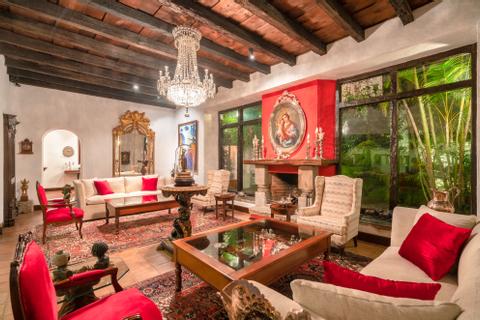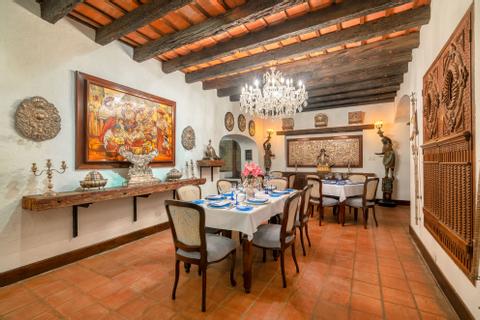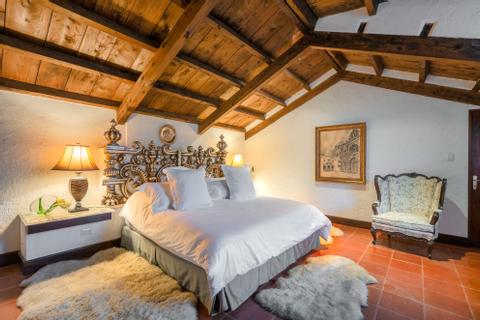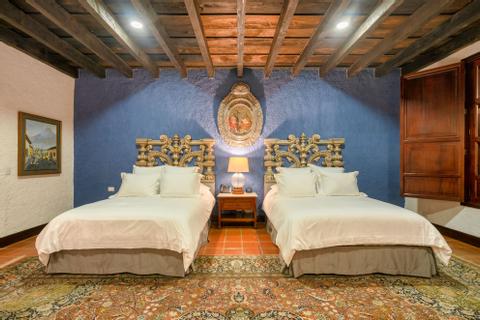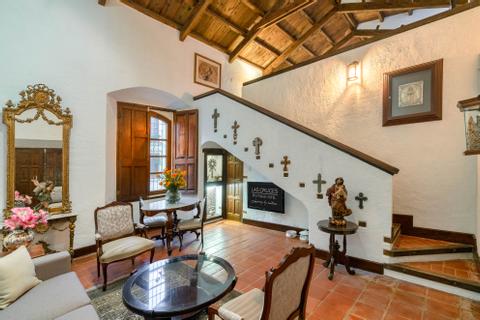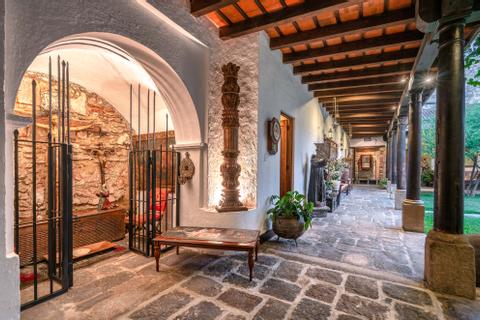 3:00 p.m. check in
12:00 p.m. check out
Wireless Internet
Free Breakfast
Spa Services
Attractions & Sites
15 km
While you're here, you'll have the chance to explore the nearby mountains and Pacaya Volcano — take a dip in the nearby hot springs and zoom around the rural paths on ATVs. Right outside the hotel entrance, you can take interesting strolls down streets lined with museums and galleries. One of the city's most interesting museums is Casa Santo Domingo, which originally served as a 16th-century monastery, and today is one of the city's top sightseeing attractions.
This hotel's exposed beams and rustic stone tiles add to its boutique charm. Rooms surround a courtyard that comes with a stately fountain. Careful landscaping make this shared space especially picturesque.
There are a total of eleven suites, allowing each guest plenty of space to enjoy the artfully decorated sitting room. Accommodations also come embellished with silver pieces from the 17th century. They also come outfitted with more modern fixtures, like satellite TVs and Wi-Fi, as well as safety deposit boxes. Each room has a private bathroom with upscale amenities, showers, and hair dryers. Fix yourself a drink at the minibar, or help yourself to the coffeemaker.
Start your morning wiht a hearty breakfast and a hot cup of coffee that's included in your stay. You can also quickly get to find dining options and pleasant cafes within a short walk from the hotel. Visit the hotel's bar and lounge where you can start your evening with a convenient drink.
More Property Amenities
Private Parking
Room Service
Gardens
Massage
Hair Dryer
Safe Deposit Box
Cable TV
Hot Water
Iron & Ironing board
Volcano View
Accommodations
Alarm Clock
Cable TV
Hair Dryer
Hot Water
Mini Bar
Safe Deposit Box
Wireless Internet
Master Suite QUEEN
Sleeps 3
Alarm Clock
Cable TV
Hair Dryer
Hot Water
Mini Bar
Safe Deposit Box
Telephone
Wireless Internet
Living Room
Junior Suite KING
Sleeps 3
Alarm Clock
Cable TV
Hair Dryer
Hot Water
Mini Bar
Safe Deposit Box
Telephone
Wireless Internet
Master Suite KING
Sleeps 3
Alarm Clock
Cable TV
Hair Dryer
Hot Water
Mini Bar
Safe Deposit Box
Telephone
Wireless Internet
Living Room
Master Suite KING with Jacuzzi
Sleeps 3
Alarm Clock
Cable TV
Hair Dryer
Hot Water
Jacuzzi
Mini Bar
Safe Deposit Box
Telephone
Wireless Internet
Living Room
Patio
Alarm Clock
Cable TV
Hair Dryer
Hot Water
Mini Bar
Safe Deposit Box
Wireless Internet
Similar Hotels