Rest and relaxation are easy to find in laid-back Vietnam, even in the chaotic capital of Hanoi and the busy streets of Saigon! Find any street-side cafe, order a Vietnamese iced coffee, and watch the world go by, or step into a tranquil spa and enjoy a long massage with a cup of green tea. Leisure travel in Vietnam is never far away.
Travel outside of the cities, to Mai Chau or Ninh Binh, and you can find yourself lying in a hammock in a peaceful village nestled among rice paddies. Or head to Vietnam's seaside destinations — including a tropical island or two — to find a more leisurely pace and put your feet up for a few days of nothing but rest and relaxation beside the sea. Of course, you can also plan a few nature walks or cultural tours to fit in around naps in the sun and long lunches of delicious local food. The enchanting town of Hoi An is perfect for this.
Take plenty of time to enjoy your surroundings with Vietnam's boutique and luxury accommodations in stunning locations.
#1:

 Hoi An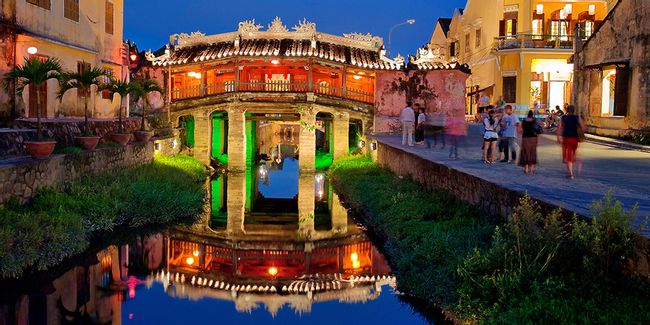 Hoi An , Vietnam →
When it comes to rest and relaxation in Vietnam, you cannot go wrong with Hoi An. This town in the central region is considered Vietnam's cultural capital and gives new meaning to the word 'charming.' Here, a well-planned day of adventures will be no more taxing than strolling along pedestrianized alleys admiring the ancient architecture, enjoying long lunches beside the river, and maybe doing a spot of shopping.
Grand hotels line the picturesque riverside and a quiet stretch of beach nearby, giving way to a patchwork of rice terraces and then those famous Hoi An alleyways lined with ochre yellow colonial buildings. Cozy cafes have set up shop in the crumbling old buildings, alongside Hoi An silk shops, and restaurants specializing in traditional fare. Above it all hang the colorful lanterns that have become synonymous with the city, casting a romantic glow over any vacation.
Hoi An is one of those destinations that calls you to stop, sit down, and soak it all in, cà phê sữa đá (iced milk coffee) in hand. Whether you spend most of your time on the beach, the riverside, or in the heart of the Ancient Town, let the calm energy of Hoi An get under your skin.