Hotel San Carlos is a pleasant hotel in Guatemala City. Hotel San Carlos is small and elegant, and is only a 10-minute drive from the La Aurora International Airport.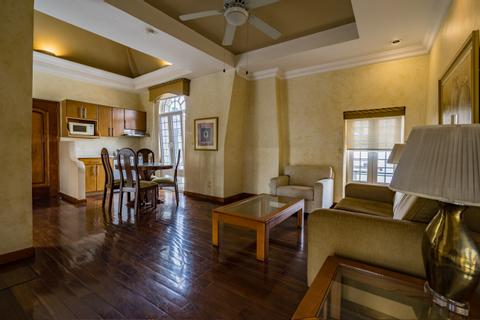 3:00 p.m. check in
1:00 p.m. check out
Free Airport Pickup
Free Breakfast
Restaurant in Hotel
Wireless Internet
Attractions & Sites
24 km
39 km
52 km
43 km
8 km
116 km
47 km
Guatemala City is the largest city in Central America. The city, which has a metro population around four million, extends into a large valley surrounded by mountains and volcanoes. The city can feel busy and chaotic, but nonetheless has some places that merit a visit. These include Zona Viva – a modern neighborhood with shops, restaurants and bars – and the historic sights of Centro Histórico.
Hotel San Carlos is a small and fairly affordable hotel in Guatemala City. Its location – close to both Zona Viva and the airport – makes it convenient for both exploring the city and flying into/out of Guatemala.
The hotel is set in an old mansion and is charming from the outside. The interior is nicely decorated with antiques and cozy sitting areas. Hotel San Carlos has helpful services like complimentary breakfast and a free airport shuttle.
Accommodations consist of 16 single/double rooms, 4 suites, and 3 furnished apartments. They are warm, clean and comfortable. Their simple, contemporary decorations give them a classy and elegant feel.
All accommodations come equipped with a private hot water bathroom, cable TV, telephone, hair dryer, coffee maker, desk, and safety deposit box. The suites are larger and include king-size beds, a living room (with a sofa bed), dining room, and kitchenette. The kitchenette has a mini-fridge, microwave, toaster, and dinnerware/utensils. This is a good option for longer stays or for guests who want to cook basic meals.
The apartments at Hotel San Carlos are gorgeous and include one, two, and three bedroom options. The apartments have the same amenities as a suite, but are more spacious and have additional bedrooms and bathrooms. They're a great option for families or groups.
The complimentary daily breakfast here is a nice touch. The food is tasty and the menu has several options, most of which revolve around Guatemalan fare. The hotel's restaurant is open throughout the rest of the day and offers room service from 6:00 AM till 9:30 PM. The hotel's bar is quaint and has a nice selection of beer, wine, and cocktails.
Hotel San Carlos has a small swimming pool and garden area. This is a good place to take a dip in the afternoon or have coffee in the morning.
The hotel runs a complimentary airport shuttle and has a parking lot with 24-hour security. Laundry service is also offered and there is a convenience/souvenir store should you need to pick up anything.
More Property Amenities
Air Conditioning
Bar
Cable TV
Currency Exchange
Free Airport Transport
Kitchen
Laundry Service
Internet Access
Iron & Ironing board
Hot Water
Handicap Accessible
Hair Dryer
Private Parking
Room Service
Safe Deposit Box
Telephone
Accommodations
Apartment Two Rooms
Sleeps 3
Air Conditioning
Alarm Clock
Cable TV
Hair Dryer
Hot Water
Iron & Ironing board
Microwave
Mini Refrigerator
Safe Deposit Box
Telephone
Wireless Internet
Living Room
Dining Room
Cable TV
Hair Dryer
Safe Deposit Box
Telephone
Wireless Internet
Cable TV
Hair Dryer
Safe Deposit Box
Telephone
Wireless Internet
Apartment one Rooms
Sleeps 4
Air Conditioning
Cable TV
Hair Dryer
Hot Water
Iron & Ironing board
Mini Refrigerator
Safe Deposit Box
Telephone
Wireless Internet
Living Room
Similar Hotels