There are two international airports in Guatemala. The largest is the Guatemala City airport of La Aurora International Airport (GUA); this is the airport that you are likely to use. The other international airport, Mundo Maya International Airport (FRS), is located outside the towns of Santa Elena and Flores. Though the Guatemala's airports may themselves be nothing to write home about, they are the precursor to your upcoming adventures, which might include kayaking, exploring ruins, observing wildlife in cloud forests, and going on cultural tours.
At the present moment, the only domestic flights in Guatemala are between Guatemala City and Flores, although other new domestic airports are being built. Though you likely won't spend the entirety of your vacation at these places, Guatemala's airport destinations are close to the actual airports in question. As such, they make for sensible places to stay for a night or two before/after flying. The hotels here are comfortable and equipped with business-style amenities.
#1:

 Guatemala City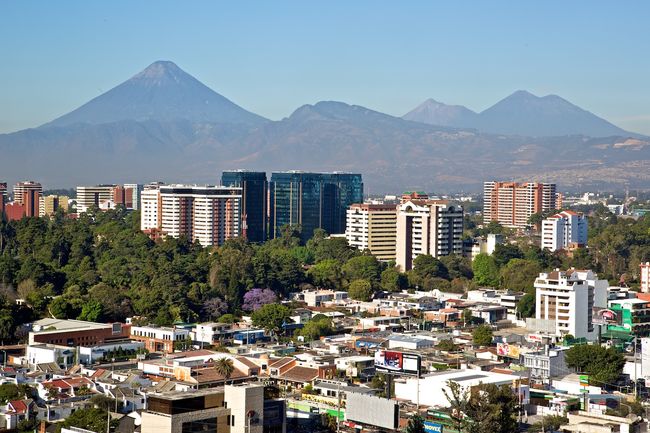 Guatemala City, Guatemala, Guatemala →
Most travelers land in Guatemala at La Aurora International Airport (GUA), which is the fourth busiest airport in Central America. It's located in the city's Zone 13, about 4 miles (6.4 km) from the city center. Wi-Fi is only available on Guatemalan mobile devices and there is no air conditioning.
Most travelers end up booking accommodations in nearby upscale neighborhoods, including Zones 14, 15, and 16. You can find more U.S. hotel chains closer to the airport in Zones 10, 11, and 13.
For travelers with tight schedules, you might want to opt for an airport hotel. Guests are not allowed to spend the night at La Aurora Airport, which opens at 3:00 AM. You can find upscale hotels in the vicinity as well as simple, affordable accommodations that emphasize convenience.
Flores and Santa Elena, Guatemala