The Porta Hotel del Lago is set near the shores of Lake Atitlán in Panajachel. The hotel's location is unbeatable, as is the level of service and kinds of amenities that are offered here.
Featured in:
Waterfront, Midrange, Great for Families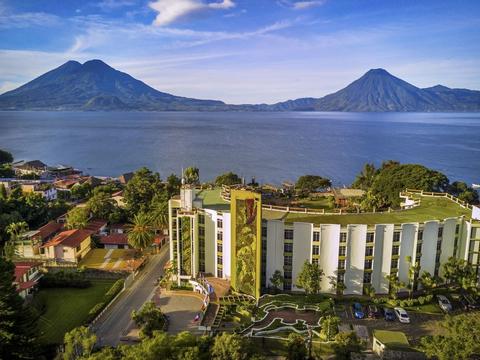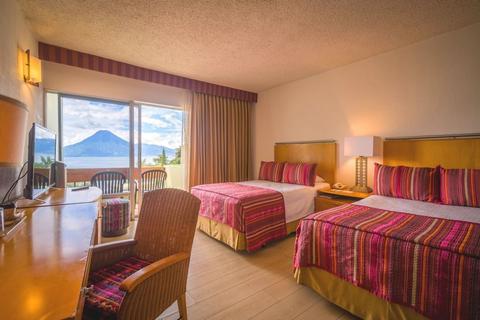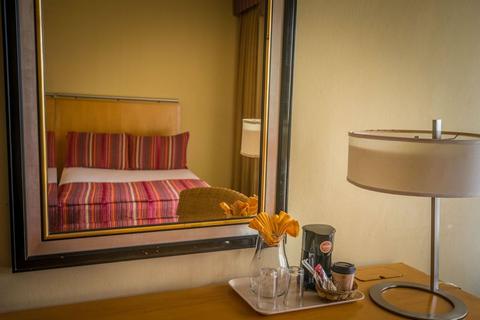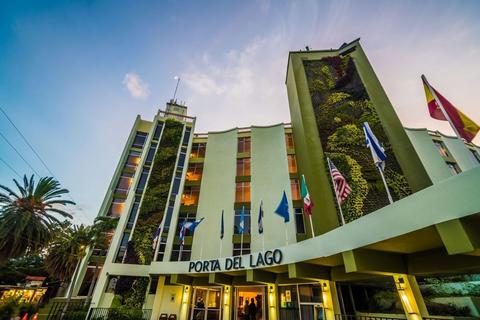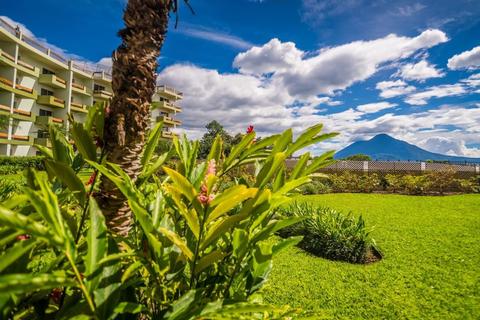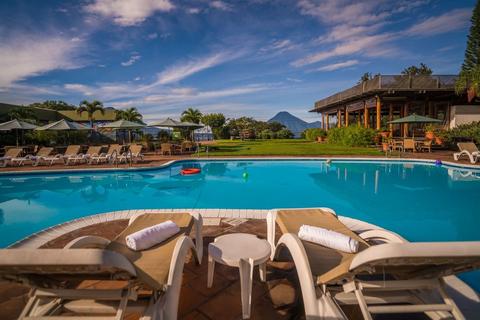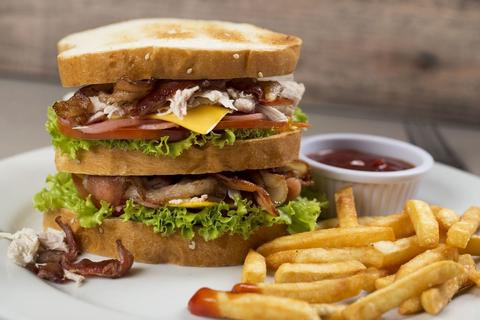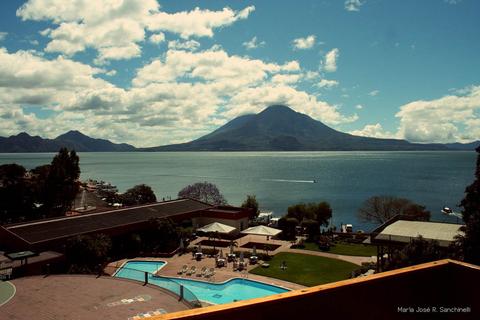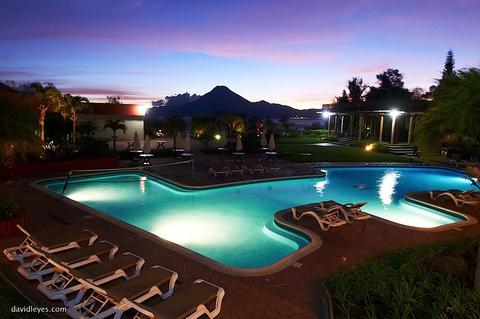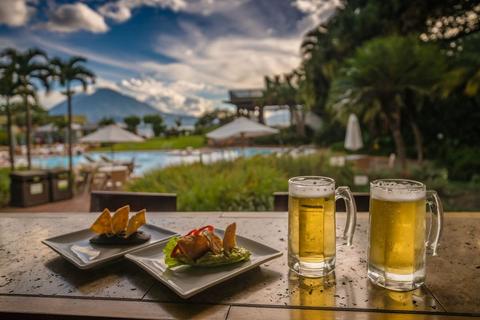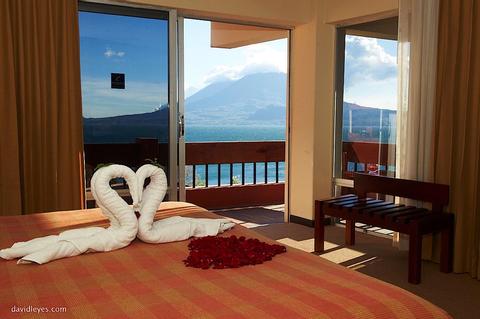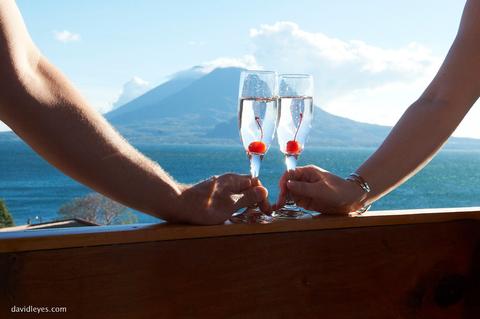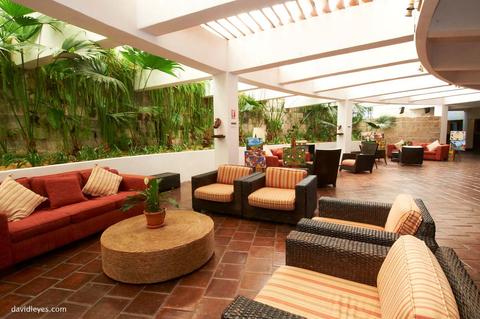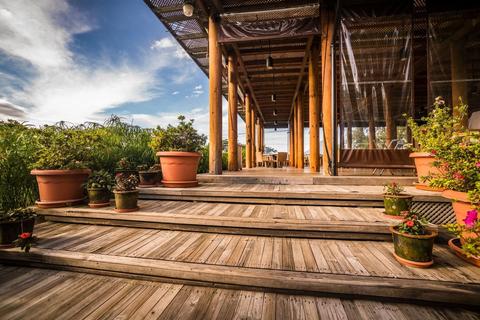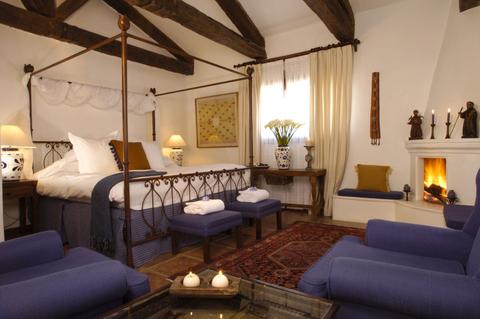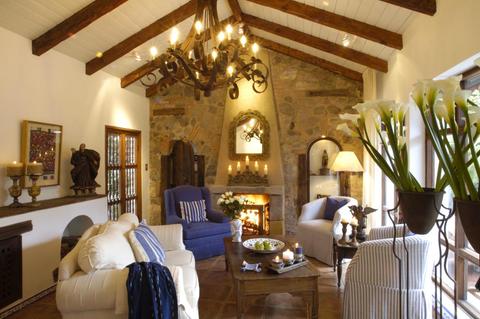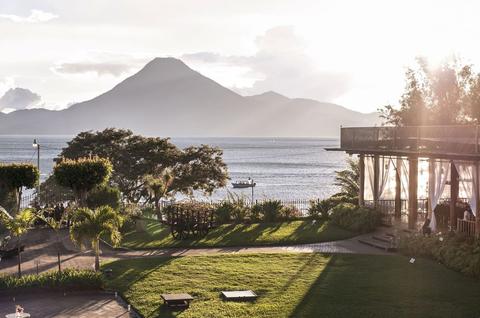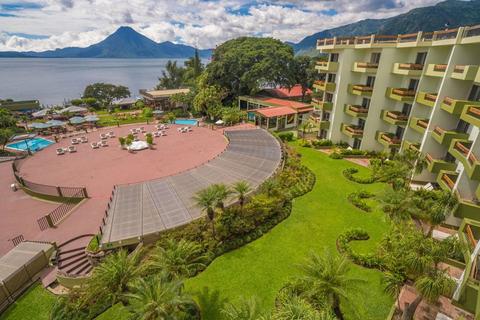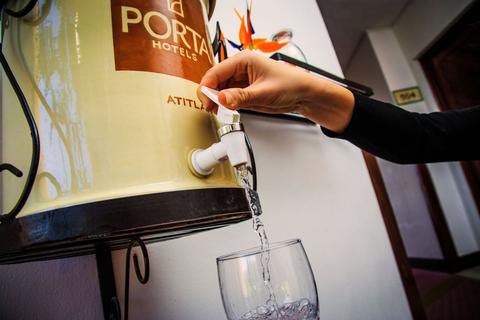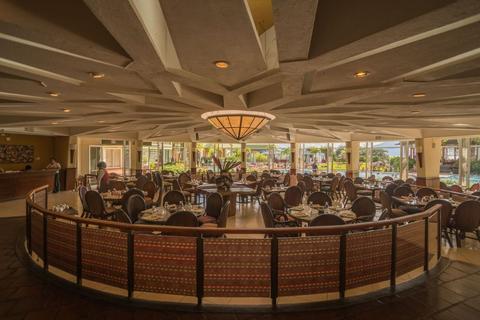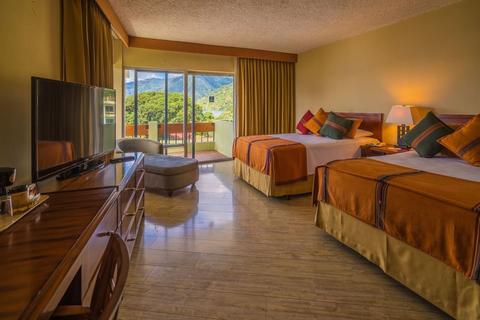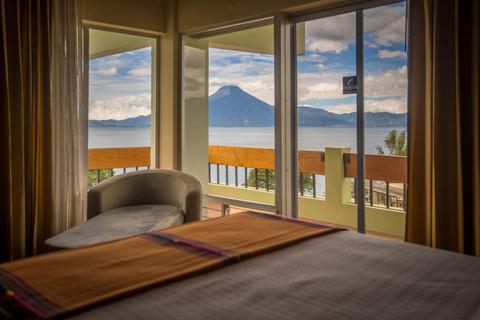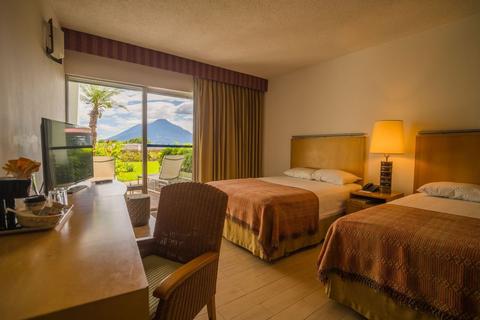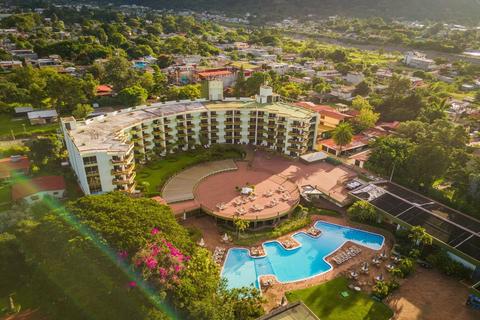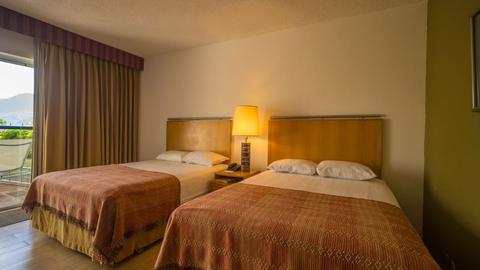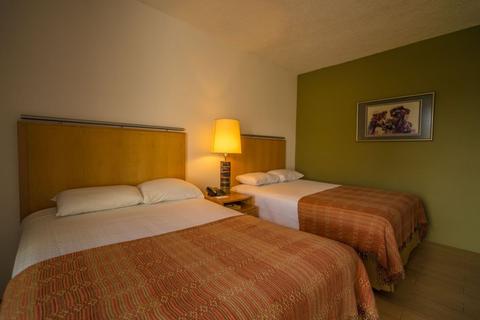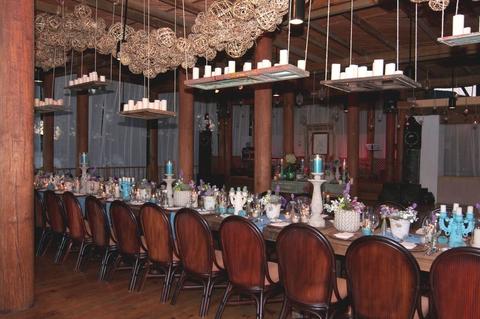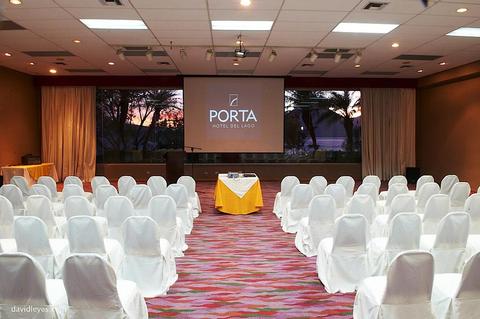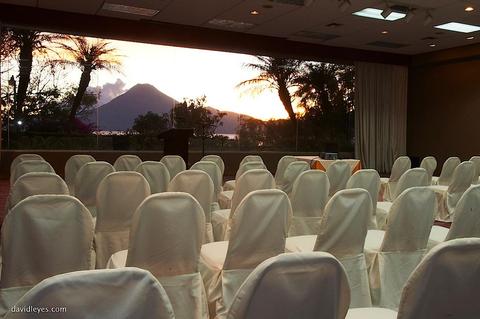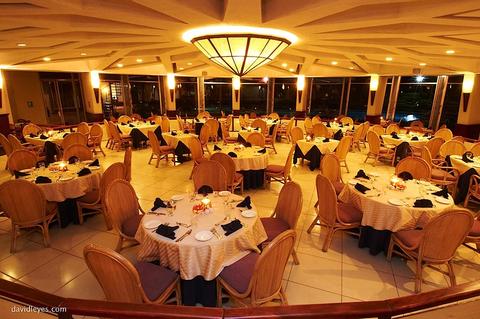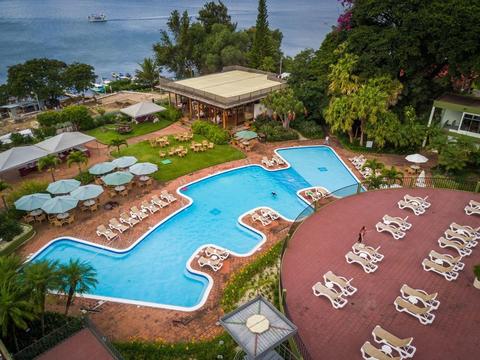 3:00 p.m. check in
1:00 p.m. check out
Restaurant in Hotel
Spa Services
Swimming Pool
Wireless Internet
Attractions & Sites
6 km
5 km
12 km
The town of Panajachel is one of the largest along the shores of Lake Atitlán. It's a favorite of travelers – both national and international alike – and receives a fairly steady stream of visitors. The setting is gorgeous—a blue lake stretches out towards three volcanoes in the distance. Activities include swimming, biking, kayaking, and hiking. The Reserva Natural Atitlán offers travelers the chance to go zip lining.
Porta Hotel del Lago is a beautiful lakefront property in Panajachel. The views from the hotel's grounds and rooms are stunning—you can see both the lake and the three volcanoes. It is truly one of the best views in the area. The town is also easily accessible from this location.
Each of the hotel's 100 rooms and suites feature warm décor and an ample list of in-room amenities. Sink into comfortable beds for a great night of sleep or sit on the balcony and watch a sunset over the lake. All rooms come equipped with a cable TV, telephone, closet, wardrobe, and table. The bathrooms have hot water and either a tub or shower. Deluxe rooms and suites are larger and have sitting areas and luxurious amenities. All rooms are kept cool with a fan and fresh breezes from the lake.
Relaxation comes easily to guests of this hotel. You can unwind with a massage or sweat it out in the sauna. Another good option for melting away stress is to take a soak in the Jacuzzi. Feeling a bit sluggish? Then head to the hotel gym for an invigorating workout and afterwards jump into the outdoor pool. The pool is surrounded by chairs and is also a great place to catch some rays.
Whether you're feeling like a meal or a quick drink, this hotel has options. You can enjoy sumptuous Guatemalan cuisine or sample international flavors at the Cakchiquel Restaurant. The buffet breakfasts and dinners here are especially tasty. End your evening with a cocktail at the sleek Xocomil Bar.
Porta Hotel del Lago has a convention center that can comfortably accommodate up to 500 people. The hotel's tranquil location along the shores of Lake Atitlán makes it an ideal location for hosting meetings or weddings. Gatherings of any size can be catered by the hotel's restaurant.
The hotel provides all the services that expert travelers require, but the staff here really makes the difference. They are extremely friendly and help travelers to enjoy their time in Panajachel.
More Property Amenities
Alarm Clock
Balcony
Bar
Breakfast Available
Cable TV
Conference Rooms
Full Size Gym
Gardens
Hot Water
Internet Access
Iron & Ironing board
Jacuzzi
Lake View
Laundry Service
Massage
Mini Gym
Private Parking
Room Service
Safe Deposit Box
Telephone
Volcano View
Accommodations
Suite American Plan_4,5 floor
Sleeps 3
Air Conditioning
Alarm Clock
Balcony
Cable TV
Hair Dryer
Hot Water
Safe Deposit Box
Telephone
Wireless Internet
Living Room
Suite European Plan_4,5 floor
Sleeps 3
Air Conditioning
Alarm Clock
Balcony
Cable TV
Hair Dryer
Hot Water
Safe Deposit Box
Telephone
Wireless Internet
Living Room
Suite European Plan_1,2,3 floor
Sleeps 3
Air Conditioning
Alarm Clock
Balcony
Cable TV
Hair Dryer
Hot Water
Safe Deposit Box
Telephone
Wireless Internet
Living Room
Suite American Plan_1,2,3 floor
Sleeps 3
Air Conditioning
Alarm Clock
Balcony
Cable TV
Hair Dryer
Hot Water
Safe Deposit Box
Telephone
Wireless Internet
Living Room
Standard European Plan
Sleeps 3
Alarm Clock
Balcony
Cable TV
Hair Dryer
Hot Water
Telephone
Wireless Internet
Standard American Plan
Sleeps 3
Alarm Clock
Balcony
Cable TV
Hair Dryer
Hot Water
Telephone
Wireless Internet
Deluxe American Plan_4th & 5th floor
Sleeps 3
Alarm Clock
Balcony
Cable TV
Hair Dryer
Hot Water
Telephone
Wireless Internet
Deluxe European Plan_4th & 5th floor
Sleeps 3
Alarm Clock
Balcony
Cable TV
Hair Dryer
Hot Water
Telephone
Wireless Internet
Similar Hotels