Lake Peten Itza, Guatemala
Lake Petén Itzá is a large lake in northern Petén. The lake has several pleasant towns scattered around its shoreline and is a popular stopping point while traveling to Tikal or more remote areas of Petén. Its beautiful setting and laid-back atmosphere are unquestionably appealing.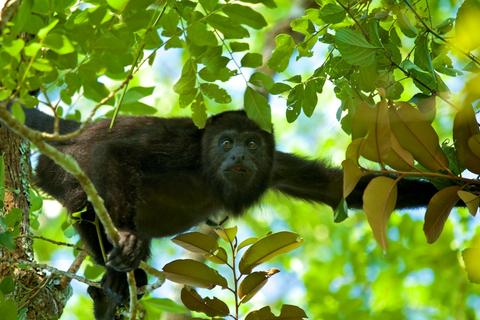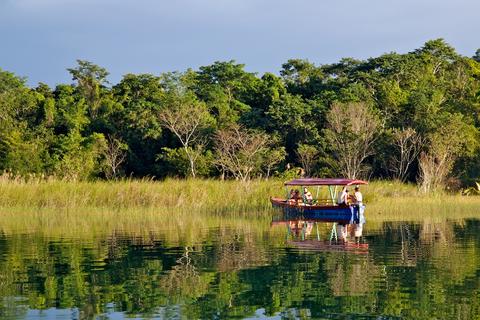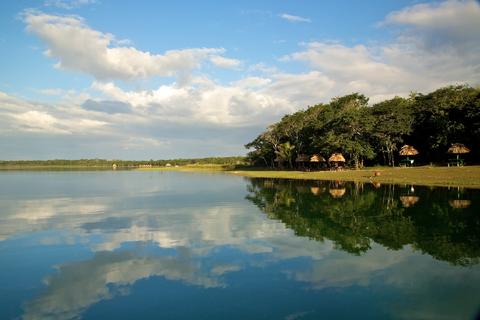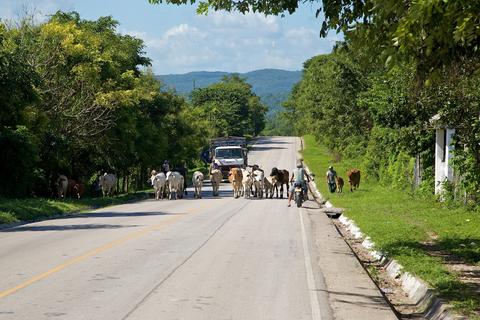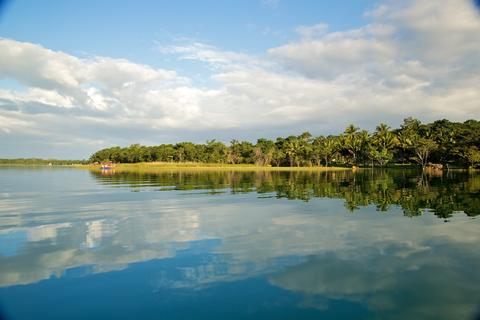 With an area of 38 square miles (99 km2), Lake Petén Itzá is the second largest lake in Guatemala (the largest is Izabal). It's about 22 miles (35 km) from east to west and 10 miles (16 km) from north to south. There are some 27 Mayan sites around the lake, including the ruins of Tayazal, which are set near Flores. Much of the surrounding land is covered with tropical rainforests or farms raising sugarcane, cacao, grains, and tropical fruit.
The best-known destination along Lake Petén Itzá is Flores. Set upon a small island on the southern end of the lake, Flores is an easy-going and friendly place. Its cobblestone streets and old pastel buildings are attractive, and there are good hotels and restaurants in town. Overall, it's a nice place to unwind and slow down. Flores is connected to the large town of Santa Elena by a causeway.
El Remate has been growing steadily over the past few years and is beginning to contend with Flores as the lake's most popular destination. Set along the road to Tikal, El Remate is a convenient place to spend a few nights or use as a home base while exploring Tikal. It has several good swimming spots and is close to the Biotopo Cerro Cahuí, which has great birding and hiking. The accommodations in El Remate are some of the best in all of Petén.
The small towns of San Andrés and San José are set along the western shores of the lake. These towns have a super relaxed atmosphere and friendly locals. They're best known for NGOs and Spanish schools—the Spanish schools provide a unique setting for learning the language and the NGOs allow travelers to give back while visiting the community.
San José has seen the cultural revival of the Itzá people. According to legend, the Itzá traveled here from the Yucatán sometime between the 13th and 15th centuries, led by the mythical figure Taitzá along the Camino Real. While strolling through town you'll likely run into a few signs written in this Mayan dialect. The town also has two annual festivals that take place in March and early November, both of which are colorful and pretty unique. Definitely check them out if you're around during the right time of year.
Lake Peten Itza Personalized Trips