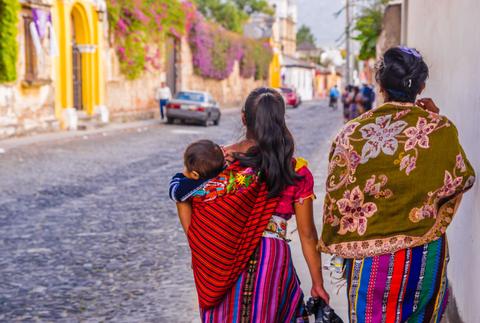 Exploración de la Cultura Activa en Pareja por 13 Días en Guatemala
"Amamos GUATEMALA. Esta fue nuestra primera visita a Centroamérica y hallamos que el país es intrigante, complejo y emocionante. Nosotros definitivamente recomendaríamos viajar a Guatemala en familia y con amigos."
13 Day Guatemala Itinerary
Meals
Free Breakfast

 for 2 days
Transport
flight

Guatemala City, Guatemala to Flores and Santa Elena

 
private driver

Flores and Santa Elena to Rio Dulce Fronteras, Izabal

 
shuttle

Rio Dulce Fronteras, Izabal to Livingston, Izabal

 
shuttle

Livingston, Izabal to Rio Dulce Fronteras, Izabal

 
private driver

Rio Dulce Fronteras, Izabal to Antigua

 
private driver

Lake Atitlan to Guatemala City, Guatemala

 
Our Standard of Excellence
Empower You
Travel choices are hard. Your time is limited. From deciding on the destination, when best to go, and how you're going to get there can be intimidating. We help you learn about the places you intend to visit and ensure you make the best choices with your time and budget. Accommodation, activities, and seamless movement within the country are all part of our promise to book the right trip for you.
Eliminate Uncertainty
A trip is a series of logistics and experiences. There are so many variables that can disrupt a plan causing a cascading impact on your precious vacation time. We are here to coordinate all the elements of your trip from arrival to departure and ensure that everything flows seamlessly. Count on us to problem solve if there is a flight delay, a sickness in the group, a sudden road closure, or any number of issues that might arise. We are here for you.
Exceed Expectations
When people put their trust in us, it's our responsibility to deliver. Our timely communication, local insight, in-country network, logistical coordination and commitment to booking the right trip for you will shine through. Once you plan your first trip with Anywhere® you'll know why clients repeatedly come back again and again to plan new adventures with us.