There are so many cities in Ecuador to visit. However will you choose? It starts with understanding the finer points of Ecuador's cities. Ecuador is a small country, but its cities seem worlds apart. You will quickly find that each city has a distinct character — a personality larger than the sum of its attractions, and these attractions are ample and diverse!
If you dream of dancing 'til dawn, then you'll want to visit Guayaquil for the discos and nightlife. Fancy yourself a design or history buff? You'll appreciate Quito for its colonial history and architecture. Speaking of architecture, you simply must leave time on your itinerary for Cuenca, because this is where you will see Ecuador's most impressive cathedrals.
Wherever you visit, there will be plenty to see and do; most importantly, Ecuador's cities are full of locals waiting to teach you about their unique and beautiful country, and that's one experience you definitely don't want to miss.
#1:

 Quito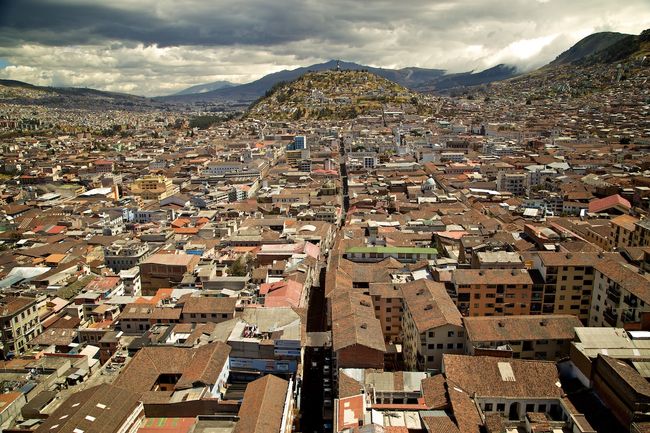 Quito, Ecuador →
Quito has an energy that emanates from the confluence of the old and new, in the aptly named Old Town and New Town. The capital city offers a concentrated dose of everything that Ecuador has to offer.
In Old Town, make sure to appreciate the incredible view from balconies of churches like La Compañía and La Basílica del Voto Nacional. New Town offers a good selection of museums and stunning modern architecture. Make sure to experience the energy of modern-day Quito in the La Ronda neighborhood, which is known for its lively, bohemian atmosphere.
Even in the busy city streets, you'll see evidence of traditional Andean culture. From Quito, it's easy to plan a trip to the traditional Otavalo market, where surrounding villagers come to pedal their colorful textiles. While you're here, you might also considering a short distance north of Quito's city center to see the monument that marks the middle of the world.
During a stay here, it's easy to find comfortable hotels. There are simple options that offer optimal, convenient location. If you want to live it up, Quito also has beautiful upscale accommodations with breathtaking views and state-of-the art amenities.
#2:

 Guayaquil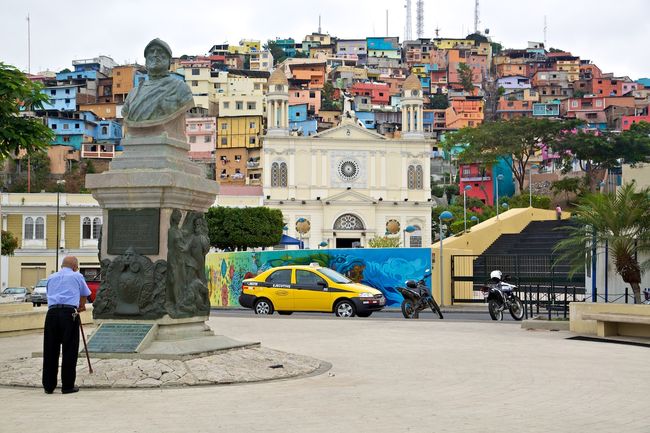 Guayaquil, Ecuador →
The Guayas River flows through Guayaquil, and the boardwalk called Malecón 2000 is where locals and visitors alike gather to feel the city's pulse. This is Ecuador's biggest city and main port town, not far from the dolphins and humpback whale-watching tours that hug the coast.
Experience the city's art scene in the nearby Las Peñas neighborhood, where you can visit some of the city's most interesting art galleries. Guayaquil has large universities and lots of students who fuel the contemporary art scene. From Las Peñas, you can climb the 500 steps up Cerro Ana (Ana Hill) to reach a lighthouse that looks out over the vibrant city.