Take the La Pinta cruise for an enlightening tour of the Galápagos. You'll have the opportunity to learn about the plants and animals from your naturalist guide, as well as from your own observations. And in the meantime, you'll get to spend your vacation in some of the best accommodations in the Galápagos.
Featured in:
Bird Watching, Marine Wildlife, Nature Walk, Baltra Island, Bartolome, Espanola, Fernandina, Floreana, Leon Dormido, Santiago, Seymour Norte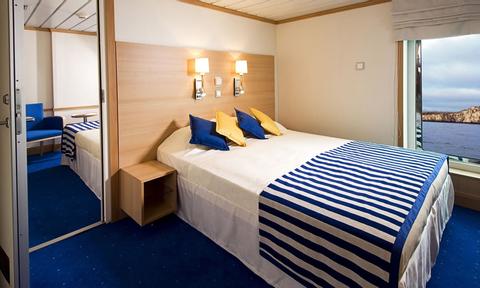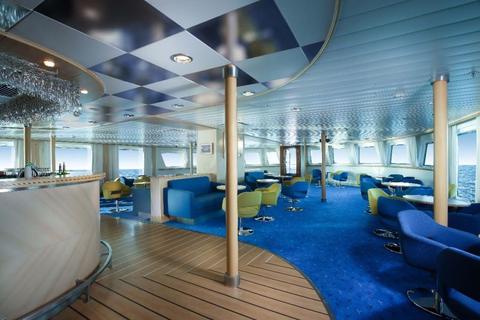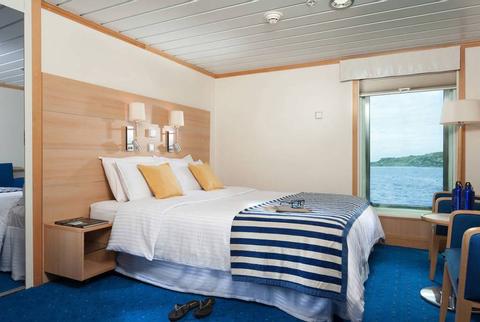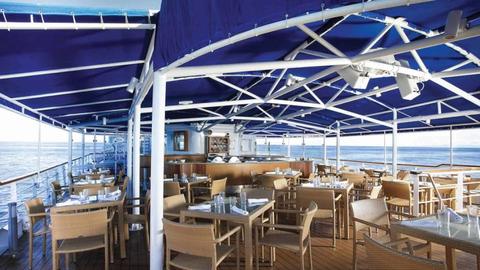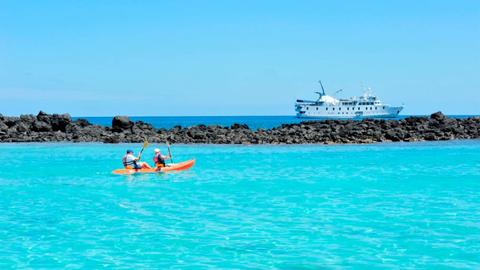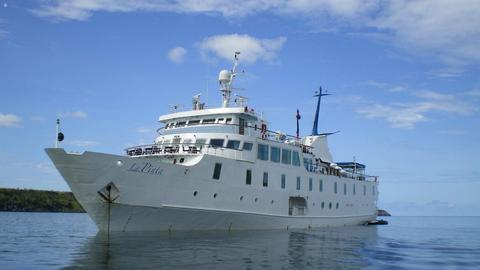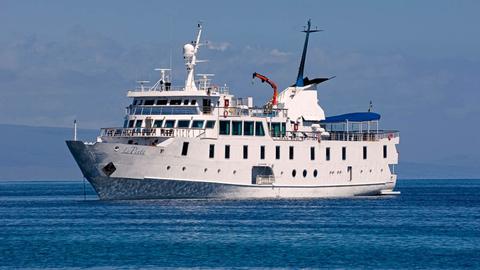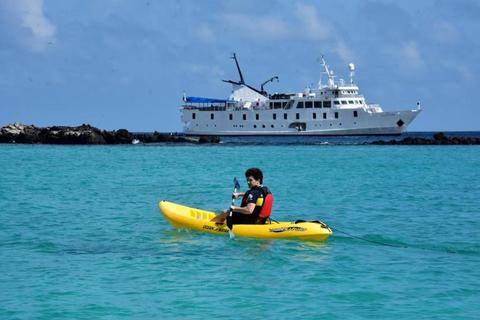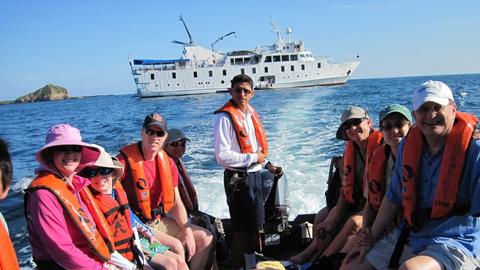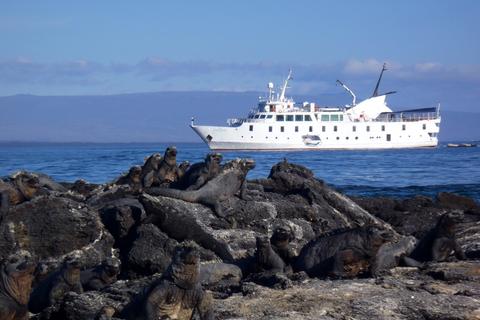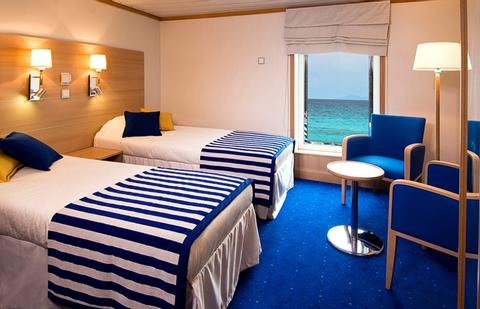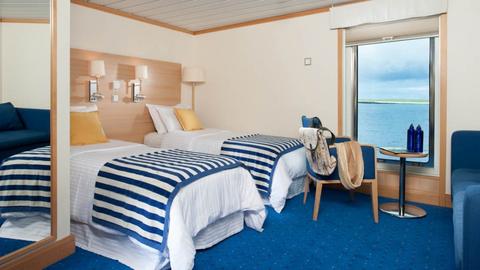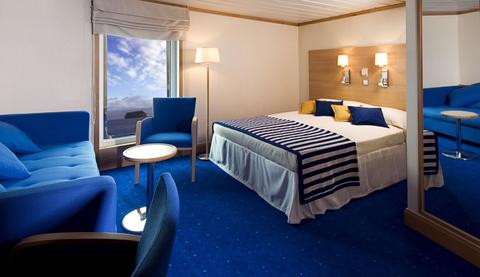 Duration:

96 hrs
Available Days:

Every day
Inquire for Transportation
Mobile Ticket Included
Offered in English, Spanish
Ship cabins have their own climate control, as well as amenities like international telephones and safety deposit boxes. Floor-to-ceiling windows allow you to appreciate your surroundings even while you're relaxing on your own. Guests can choose from triple or double cabins. All together the ship can accommodate 48 guests. When you leave the ship, you can keep your suitcases safe in the luggage storage area. On the sun deck, you'll have access to the ship's convenient exercise room.
Even without the activities on your itinerary, you have all the components of a beautiful vacation without ever leaving the ship. Visit the main deck for meals in the ship's dining room. The dining room is supplied with a sumptuous buffet, and an expansive view out of the panoramic windows. There are plenty of communal spaces with great views – lovely areas for socializing, or accessing the Wi-Fi. You can also go online on the two computers in the ship's Natural History Library. There's an observation area on the sun deck, as well as a Jacuzzi and a bar.
Which attractions you see depends on which itinerary you choose. All of the tours will give you the chance to see some of the animal populations that are rarely seen outside of the Galápagos. Destinations like the Charles Darwin Research Station and the Cerro Colorado Tortoise Center introduce visitors to the enormous Galápagos tortoises.
You'll also find lots of stops that include bird watching. Punta Pitt is good place to observe red-footed boobies, and at certain times of year flamingos abound in the lagoons near Dragon Hill. Near the hill called Sombrero Chino, you'll see shorebirds in addition to huge populations of land iguanas. The cruise ship has snorkeling equipment, in case you'd like to spend some time exploring the underwater realms near one of the beaches on your itinerary.
The following itineraries are available aboard La Pinta, and each cruise leaves from Santa Cruz Island. Below you can read where La Pinta visits during each day of the itinerary, followed by a brief description of the attractions. Itineraries are subject to change based on which dates you select, and may also change based on the weather.
Monday to Friday – 5 Days, 4 nights
Day 1: Baltra Island, Santa Cruz Island – Baltra Airport, Highlands
Day 2: Santa Cruz Island, Sombrero Chino Islet – Eden Islet, Sombrero Chino Day 3: Bartolomé Island, James Island – Sullivan Bay
Day 4: Genovesa Island – Darwin Bay, Prince Phillip's Steps
Day 5: Baltra Island
---
Friday to Monday – 4 days, 3 nights
Day 1: San Cristóbal Island – Puerto Baquerizo Moreno, Cerro Colorado Tortoise Center Day 2: San Cristóbal Island – Punta Pitt, Cerro Brujo
Day 3: Española Island – Punta Suarez, Gardner Bay
Day 4: Santa Cruz Island – Charles Darwin Research Station, Baltra Airport
---
Friday to Friday – 8 days, 7 nights
Day 1: Baltra Island, North Seymour Island
Day 2: Isabela Island, Fernandina Island – Punta Vicente Roca, Punta Espinoza
Day 3: Isabela Island – Urbina Bay, Tagus Cove
Day 4: Rábida Island, Santa Cruz Island – Dragon Hill
Day 5: Santa Cruz Island – Puerto Ayora, Charles Darwin Research Station, Highlands
Day 6: Floreana Island – Post Office Bay, Cormorant Point, Champion Islet Day 7: Santa Fe Island, South Plaza Island
Day 8: San Cristóbal Island – Puerto Baquerizo Moreno
Attractions Visited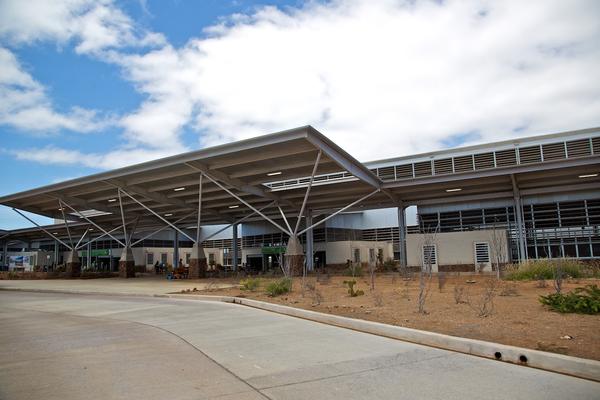 Baltra Island is the starting point for most visitors to the Galápagos, as it's the site of the archipelago's airport. The Baltra airport was remodeled in 2008 and has the usual amenities of a modern-day airport. Upon landing here, visitors will connect with board their cruises or take a boat directly to Santa Cruz Island, where plenty of lovely hotels and interesting wildlife attractions await.
Read more:Baltra Island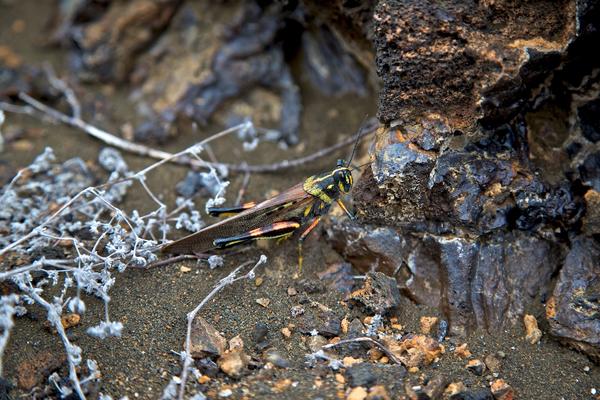 While at first glance this small island looks rather unspectacular, it is a visitor favorite. Once you climb to the island's 375-ft (114-m) summit you'll see why.
Read more:Bartolome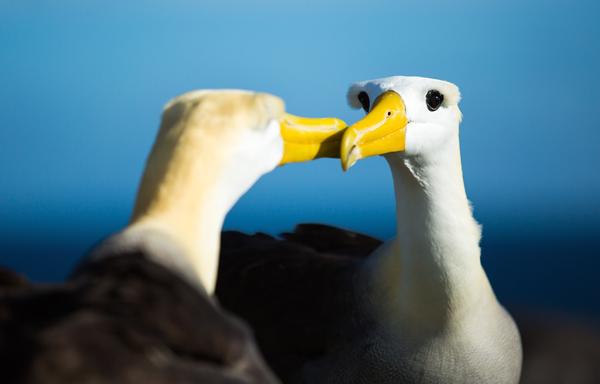 Española is one of the most remote islands in the Galápagos. Fortunately, the wildlife and scenery here is well worth the long boat ride.
Read more:Espanola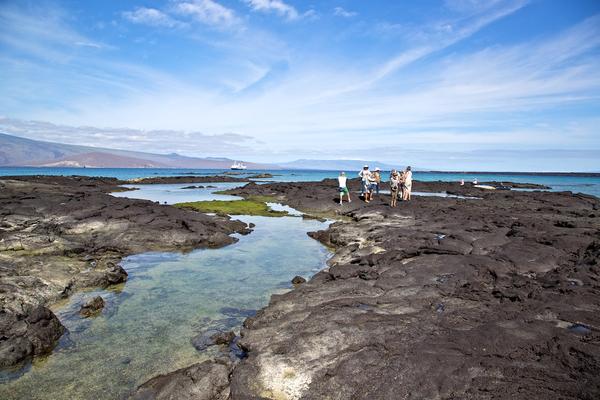 Adjacent to Isabela Island is the westernmost island of Fernandina. This island is a popular stop during cruise tours. Fernandina has seen very few invasive species and minimal human activity, making it one of the most pristine islands in the Galápagos.
Read more:Fernandina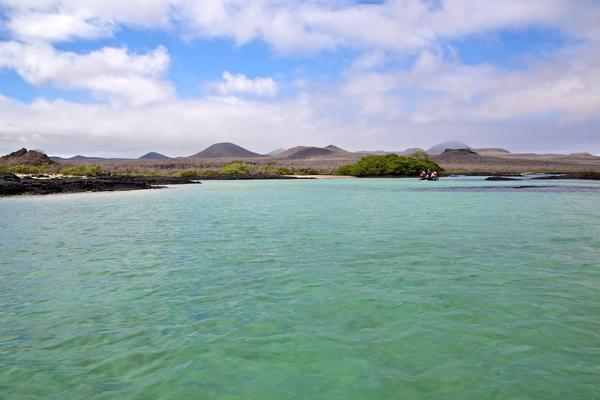 This island's natural beauty is overshadowed by its quirky human history. As one of the first inhabited islands in the Galápagos, Floreana was initially home to a handful of settlers, who came to the island in the 1920s. Within a decade, several of those early settlers had gone missing, and the mystery of how or why remains unsolved.
Read more:Floreana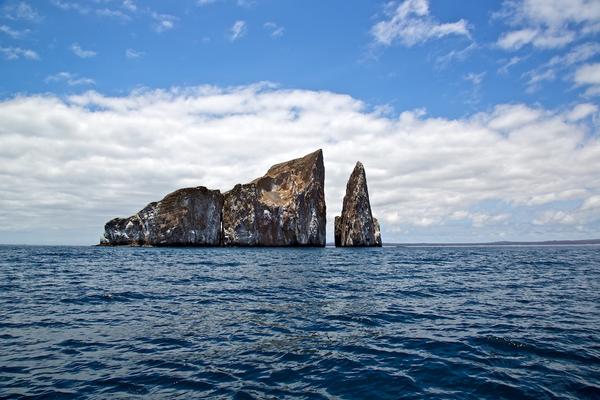 The name of this island is rightfully disputed. From a distance, it resembles a sleeping sea lion, giving it the name León Dormido. To others it may look like a boot, giving it the English name Kicker Rock. Regardless of the name you think fits it best, this 480-ft (146-m) rock formation is impressive. It rises abruptly out of the sea and is teeming with wildlife both above and below the water.
Read more:Leon Dormido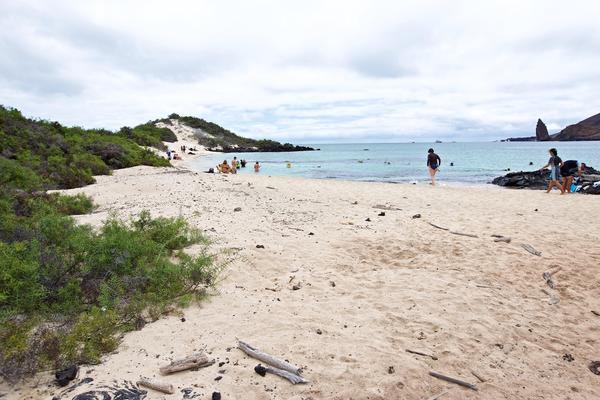 Santiago Island lies just north of Santa Cruz Island, and is comparable in size. With several visitor sites dispersed across the island, there are great opportunities to walk recent lava flows, observe colonies of fur seals, and snorkel in submerged lava cones.
Read more:Santiago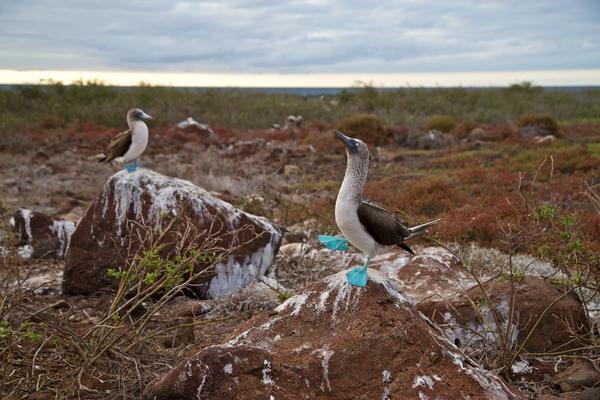 A small plateau of an island, North Seymour (Seymour Norte) lies just north of Baltra Island. This small island is a bird watcher's paradise.
Read more:Seymour Norte
Transportation
Many of our tours and activities offer transportation pick up & drop off options from several locations and destinations. Options vary by tour, see "BOOKING REQUEST" for full details.
Similar things to do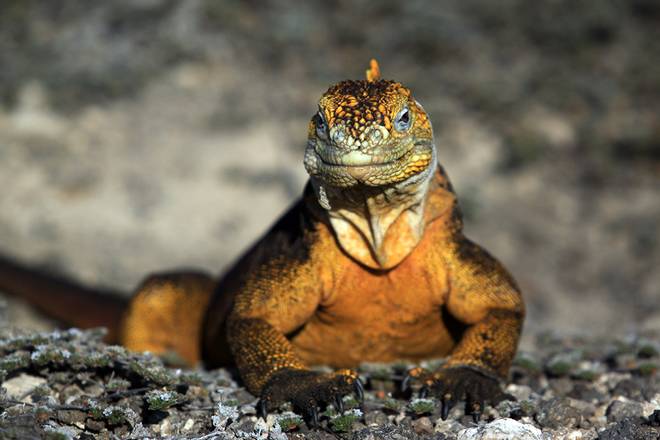 South Plaza Island
Santa Cruz
This tour will take you to South Plaza Island, which is the smallest island of the Galápagos. Despite its small size, this island still has a wealth of interesting wildlife.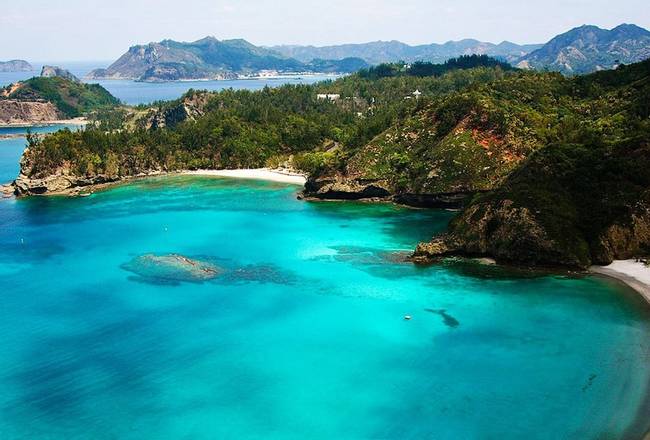 Floreana Island Tour
Santa Cruz
This tour takes you to explore Floreana Island, the island with arguably the most eccentric history in the Galápagos. It has seen its fair share of human activity, beginning with 18th-century whalers. On this tour you'll see some remnants of that history, as well as plants and animals that are rare even by Galápagos standards—Floreana Island has its very own endemic species of finch called a medium tree finch, to offer just one example.