Guatemala's cities are themselves a unique adventure. From the bustling (and at times chaotic) neighborhoods in Guatemala City to the charming cobblestone streets of Antigua, you'll find all sorts of cities in Guatemala. Some of these destinations have retained their cultural heritage and Mayan roots, while others have modernized and created improved infrastructure and traveler services.
Locations like Lívingston boast a Caribbean flair, and the scenery and cuisine to match. Whilst Flora and Santa Elena offer the beauty of Lake Petén Itzá, and the requisite outdoor activities of kayaking and mountain biking. Then of course, there's the UNESCO World Heritage Site of La Antigua and its colonial architecture — a city rebuilt in the shadow of three volcanoes. If three destinations can offer this much, imagine what you'll discover when you explore the rest of Guatemala's cities. It all starts with this list...
#1:

 Guatemala City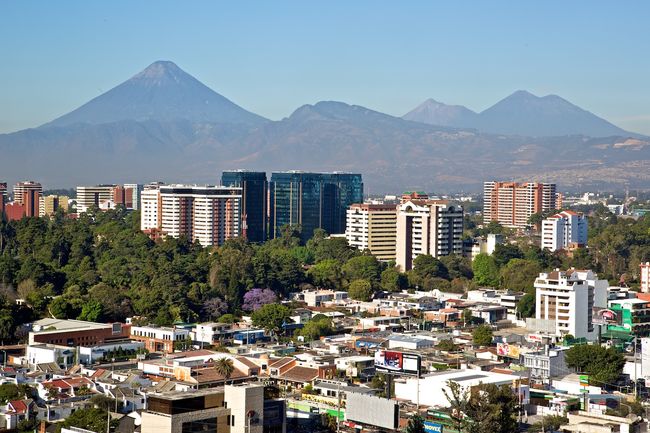 Guatemala City, Guatemala, Guatemala →
Guatemala City is a busy city with a population of about a million. It's home to Guatemala's busiest international airport, so it's usually on everyone's itinerary when they visit. Before your plane lands, make sure you know about the huge variety of tours and attractions you can experience while you're here. It's divided into 22 zones, and each has its own character.
As one of Guatemala's most cosmopolitan cities, you'll find a great variety of restaurants and nightlife. This is also a good place to shop — while you might want to wait to buy genuine Mayan handicrafts on visits to local villages, there are plenty of places in Guatemala's upscale neighborhoods — Zonas 14, 15, and 16 — to shop for last-minute gifts.
Make sure to check out the original city center in Zone 1's historic district. Much of the original architecture was destroyed in the 20th century, but the restored neoclassical buildings make a lasting impression all the same. Stroll by the Palacio Nacional de la Cultura, one of the country's most impressive buildings, while you're here.