There is no shortage of natural beauty in Vietnam, and the landscape is as diverse as the people. Whether you are visiting the mountainous North, the Central coastal region, or the rural waterways of the South, you'll find inspiring nature destinations in Vietnam.
From Hanoi, you can set sail through thousands of limestone islands in Halong Bay and wander through the rice paddies on the mountainsides of Sapa. Close to Hoi An and Da Nang, you can spend time lounging on palm-fringed beaches or clambering through the largest caves on the planet. Take a bus from Ho Chi Minh City and find yourself in the midst of the mighty Mekong Delta and the charming rural villages that call it home.
Vietnam is also one of 25 countries in the world with a uniquely high level of biodiversity, which includes the Tonkin snub-nosed monkey and exceedingly rare rhinoceroses. More frequent animal encounters in Vietnam will be with grazing water buffalo and curious geckos!
#1:

 Ninh Binh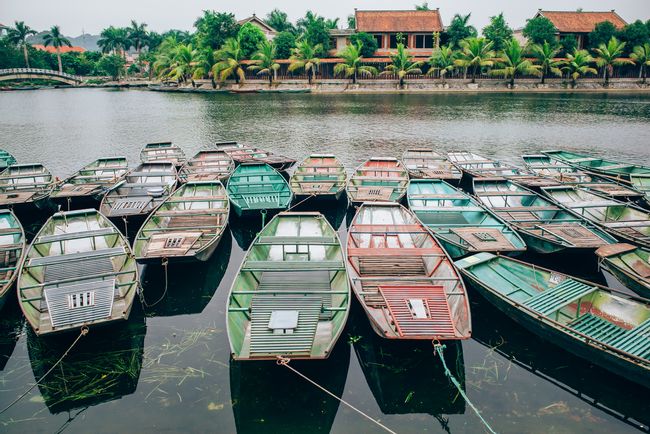 Ninh Binh, Vietnam →
Affectionately known as the 'Halong Bay of the Land,' Ninh Binh is quickly becoming as much of a travel favorite as the stunning UNESCO World Heritage Site. Located just a few hours southeast of Hanoi by road or train, this stunningly beautiful destination makes for a perfect overnight trip from the capital.
Spend a few days in the company of the water buffalo and white herons in Ninh Binh's rice paddies, amidst the rugged limestone hills, and imagine a time not quite forgotten in rural Vietnam. Life is simple here and it is impossible not to relax in such tranquil natural surrounds.
Take a boat trip through the paddies to soak in the stunning views up-close. You'll pass beside and through these jungle-clad karsts as the river cuts tunnels underneath the soft stone. Raw and awe-inspiring nature is never far away in Ninh Binh.