Barbilla National Park, Costa Rica
The Barbilla National Park protects 29,500 acres (11,938 hectares) of humid lowland rainforest along the Caribbean slopes of the Talamancan mountain range. As one of Costa Rica's least visited parks, it has the distinction of being both relatively untouched and ecologically rich.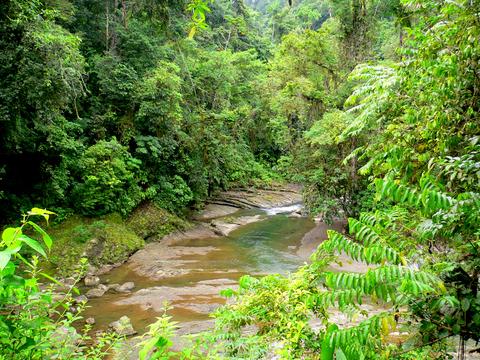 Lying in both the Cartago and Limón provinces, this park is a part of the Talamanca-La Amistad Biosphere Reserve, which was created through UNESCO in 1982 to protect important ecological systems within the country. The park is also the home of the Cabécar, the second largest indigenous group in Costa Rica, which has a rich cultural and historical history. Their main form of sustenance is hunting and fishing, along with the planting of bananas, cassavas and grain. What's more, the park is located next to the Chirripó Indigenous Reserve, which continues to lead a modestly traditional existence.
An annual rainfall of 140-180 inches keeps the park wet and verdant, allowing a great amount of biological diversity to flourish. Several of these species are endangered, including the puma, jaguar, ocelot, tapir, and several birds of prey. Rare avian species such as the tolomuco and sun heron can also be observed. Needless to say, this makes the park popular with birders. Furthermore, the park protects the Dantas River watershed, which is an important source of water for both the people and animals living within the region. The altitude of the park varies from 110-1,617 meters, the highest point being the hill of Cerro Tigre.
Although a system of trails runs through the park, most are quite rugged and advised to be hiked with a local guide. Camping is allowed, and fishing can be done as well.
The Barbilla Biological Station, which is run by the National Institute of Biodiversity, is found within the park. This station's efforts are made toward the classification of species and insect parataxonomy.
The Barbilla National Park is somewhat difficult to access. It is set 20 km from the city of Siquirres, on the border of the small village of Brisas de Pacuarito, which is where the park's administration building is located.