Costa Rica's rainforest should top everyone's list of must-see destinations. Walk slowly, and look closely — you'll spot rare plants and animals in every direction. We can help you find marked paths through well-maintained parks, or arrange for a guide to take you into the wilderness of the Osa Peninsula. No matter how wet you get, the rainforest is guaranteed to be a highlight of your trip.
Rainforest Vacations In Costa Rica
Plan the ultimate rainforest vacation in Costa Rica.
THE RAINFOREST EXPERIENCE
You can find some of Costa Rica's rainforests near pristine beaches. Manuel Antonio National Park has some of the prettiest beaches in Costa Rica, and an incredible variety of monkeys living in its rainforest. Visit Drake Bay on the Osa Peninsula to embark on tours of the rainforest in Corcovado National Park, and go snorkeling and kayaking near the coast. In Monteverde and Arenal you can explore rainforests growing on the sides of volcanoes. Inside the rainforest you'll also get to see some of Costa Rica's most unusual sights, like the bright blue water of the Río Celeste in Tenorio Volcano National Park. No photoshop needed — these destinations look plenty unreal on their own.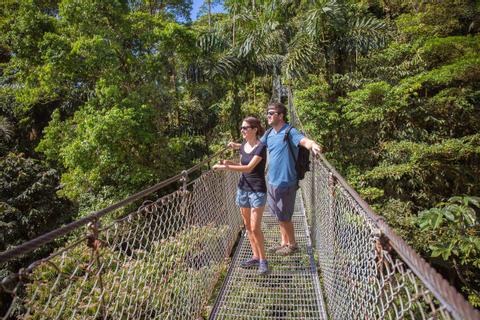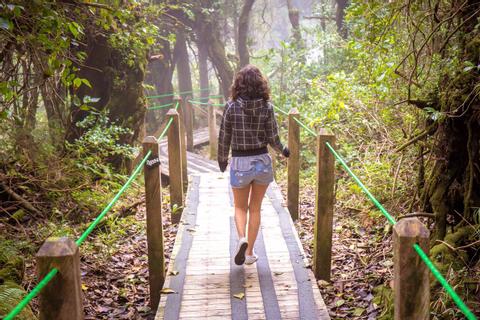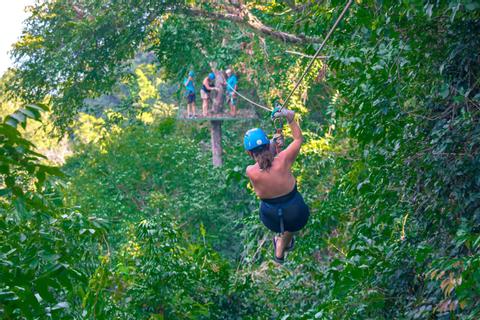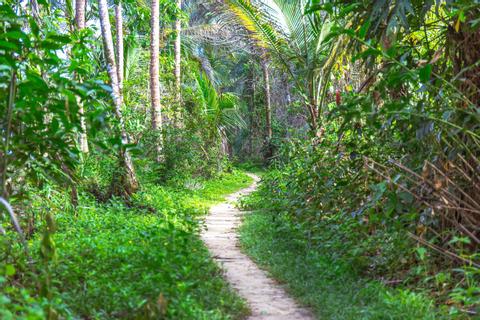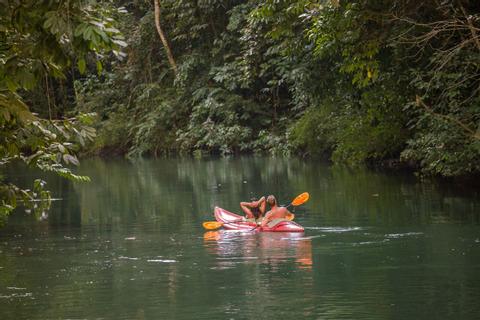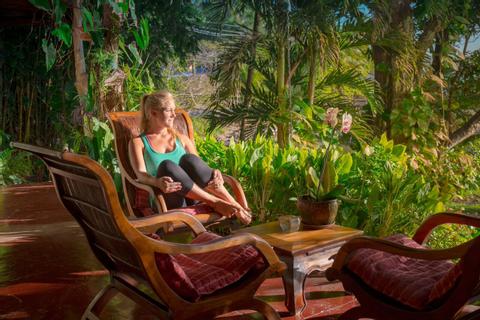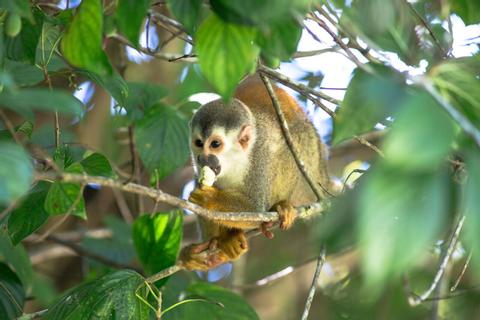 educational rainforest hikes
Experience the thrill of spotting a rare bird, and keep an eye out for sloths and monkeys hanging from the trees. At the end of your day, relax in an eco-lodge or a rustic cabin. You can find accommodations within easy range of beaches, volcanoes, and cloud forests. Sign up to have a guide take you on a nature hike and come away with a deepened appreciation of Costa Rica's complex ecosystems.
let our experts lead the way
Whether you are passionate about exotic wildlife or looking for an active, educational vacation in the rainforest, Costa Rica offers vacation choices for every budget and set of interests. Set your own flexible itinerary while we provide ongoing support service and advice from some of the people those who know Costa Rica best — our team of local experts.
---
Customer Reviews
"We had the most amazing experience with our guide. He was incredibly knowledgeable, and had his master's in eco-tourism. His passion for the environment and animals was evident from the moment we met him. We had only driven about 10 minutes down the road when he had the driver pull over, and he took out his spotter scope and showed us a beautiful toucan high in the trees. He was utterly amazing! He knew so much about the rainforest, plants, animals, and had an eagle eye for spotting interesting things to show us. We saw two types of toucans, mot mots, sloths, howler monkeys, eyelash vipers, yellow vipers, tarantulas, leaf-cutter ants, and plenty of beautiful flora in the area. He brought a telescope along that he would quickly set up whenever he saw something noteworthy. One of the neatest tricks he had was that he would line up my smartphone through the lens, and now we have multitudes of close-up pictures of these beautiful animals. He knew so much about the ecology and the natural environment of the area — whether it was information about the local dams, the history of the local volcano, or the intricacies of the rainforest. Tony ranks all time in the top tour guides I've ever had the pleasure to learn from. Can't say enough positive things about Tony, the company, and our tour!! Highly recommend!"
- Sunny V.
"I was looking into different tour groups online and spotted Anywhere Costa Rica, so I sent an email describing the type of vacation I was looking for — rainforests, hiking, adventure and a beach. I didn't expect much. Alfonso got back to me immediately. He said he would work on a plan based on my ideas and would make suggestions. About 4 hours later, I received a link with his suggested itinerary. I got so excited looking at it! It starts with a summary and a map. Then each stop is broken down with pictures, descriptions, maps and reviews. You can ask questions throughout. Alfonso answered all questions immediately. We always knew when he would be in the office, but there wouldalways be someone around to answer questions. We spoke on the phone also. He never made me uncomfortable about making changes, although there weren't many, because his plan was exactly what we wanted to do. Once we arrived in Costa Rica, everything went exactly as planned. Jorge, our guide at Curi-Cancha, was amazing and we got great pictures of a couple of resplendent quetzals. He knew how to work my camera better than I did! Minor, our driver from Monteverde to Manuel Antonio was like a tour guide. He made stops at spots of interest, recommended a great place for lunch, and made a long drive enjoyable. We kayaked on Lake Arenal, toured rainforests and cloud forests, soaked in hot springs, and enjoyed the gorgeous beach. We thoroughly enjoyed this trip. Anywhere Costa Rica and Alfonso listened to what we wanted and found us friendly accommodations. Each step and transportation was planned by Alfonso, an itinerary was provided, and we were told what to bring for each step of the trip. It was flawless. "
- Jean W.
"We (a group of 7 family members) had an amazing vacation in Costa Rica planned by Royner from Anywhere Costa Rica. I had told Royner that I wanted a little of everything in 7 days — rainforest, cloudforest, volcano, beach. I also mentioned that we wanted ziplining, whitewater rafting, hot springs, and animal viewing. I was specific in requesting hotels with amazing views from the room. We even had our own private transportation everywhere. Well, he delivered it all (and within our budget)! "
- Tanuja R.
"I traveled to Costa Rica with my wife and son in late July 2015, and tried Anywhere Costa Rica for the first time. From San Jose airport, to the cloud forest. to the primary rainforest on the Osa Peninsula, and all the transportation in between, everything happened like clockwork. Simply outstanding, friendly, professional service. Happy to use them again and would recommend them without hesitation. Special thanks to Yuliana, our agent, and to all the drivers, notably Karlay, who offered valuable commentary about many of the sites outside the window on our two+ hour drive into the mountains. You always feel lucky to be in Costa Rica. Service like this just puts a bow on it."
- Nancy R.
Recommended for rainforest trips