It's time to rediscover the art of leisure! Vacation adventures are great, but let's face it, they can be downright exhausting. Shuffling from one adrenaline activity to the next so that you return with bragging rights and great stories may sound good on paper, until you return from your 'holiday' as worn out as you were when you left. A little Costa Rica leisure is just what you need to return from your vacation well-rested and relaxed.
Odds are that between your professional life and personal life, you don't have much time for sipping tropical drinks in the sunshine. So, why would you deprive yourself of that opportunity on your very own vacation? Let Anywhere help you book the Costa Rica vacation of your dreams — complete with a good night's sleep...one of the perks of not having to rush off in the morning.
If you want a little bit of adventure, don't worry. Anywhere's expert Travel Consultants can help you make the most of your getaway by balancing a small handful of can't miss adventures with lots of Costa Rica leisure activities, for a one of a kind vacation.
#1:

 No Parties, No Big Waves, Just Relaxing at Hermosa Beach in Guanacaste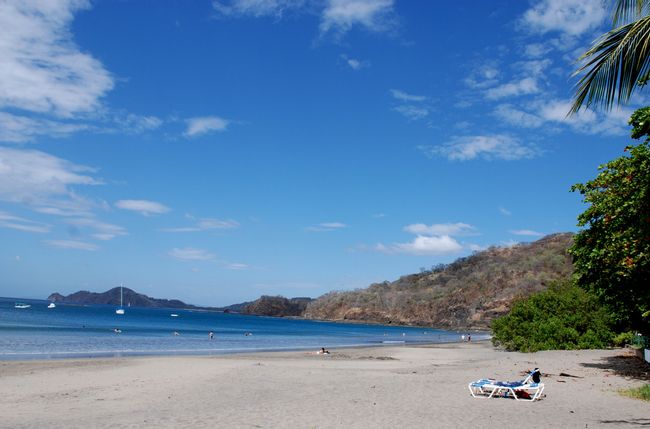 Playa Hermosa Guanacaste, Costa Rica →
Some people like to pack their itinerary with activities. If that isn't you, Playa Hermosa has the beach scene you're craving. This is one of the many beautiful beaches of the Guanacaste coastline (not to be confused with the other Playa Hermosa, further south down the coast). It's not as busy as some of the other beaches in the area, which means you'll have more of the sun and the sand to yourself.
There's just enough development here to make sure everything you need is easy to reach. This area has an abundance of nice resorts and beachside hotels. Fill your days with swimming, bumming on the beach, and exploring the friendly local bars and restaurants.
If you do want to mix it up with some hiking or bird watching, you have lots of options: Rincón de la Vieja National Park, Palo Verde National Park, and Santa Rosa National Park are all an easy distance for a day trip.
#2:

 Sun Dappled Hammocks, Sapphire Waters, and Sweet Tropical Fruit — Take It Easy In Nosara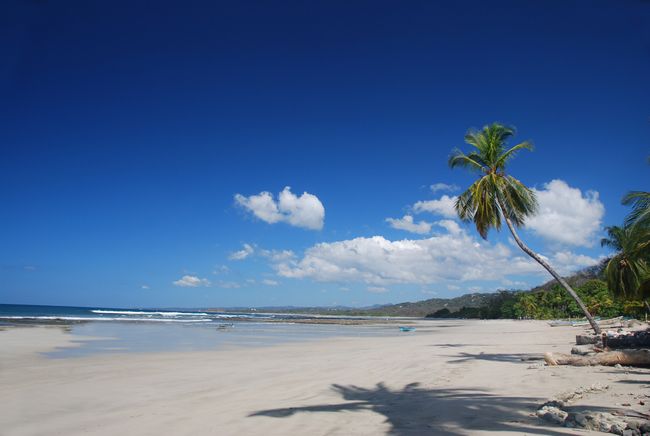 Nosara, Costa Rica →
What alarm clock? That's what you'll ask yourself when you wake up to another glorious day in Nosara, Costa Rica's small beach town of Guiones. Sigh It's time for another tranquil day of immaculate white sand, sapphire waters, and bronzed surfers riding waves. Perhaps you'll join them today when you take a surf lesson. Then again, you could take in the marine life when you go snorkeling. Hmm...maybe this is the day you'll go on that sport fishing excursion.
Wherever the day leads you, the night will be full of fine dining and wining in this upscale enclave where luxury accommodations reign supreme. Between the lodges and resorts with picturesque views, and the expats you'll mingle with, it's going to be difficult to return home at the end of your vacation, but the beauty of Nosara's Guiones Beach is that it will always be awaiting your return.
Get your quota of sunlight when you book a vacation full of tropical fruit, friendly locals, and pristine beauty. The sooner you make your way to Nosara, Costa Rica, the sooner you can relax and unwind on Guiones Beach.