Not all forests are created alike. Cloud forests in Costa Rica are unique highland forests characterized by 100% humidity. A significant portion of their precipitation is derived from the surrounding clouds and mist, and the actual atmosphere of the forest itself can at times appear hazy and dreamlike. This low-hanging mist can make you feel as though you are actually 'walking through the clouds' — especially if you pair a suspension bridge canopy tour with a cloud forest.
As a result of the moisture abundance, cloud forests maintain tremendous biodiversity, captivating visitors and scientists alike. Monteverde Cloud Forest animals are prevalent, which makes the Monteverde Cloud Forest Reserve especially popular, but it's not the only forest you can choose from, as you'll see on this list. For the most part, Costa Rica cloud forest zones are significantly cooler than their lowland and beach counterparts, so bring a sweater, light jacket, and your hiking boots to explore these enchanting highland jungles.
#1:

 Take a Walk Through The Clouds in The Forests of Monteverde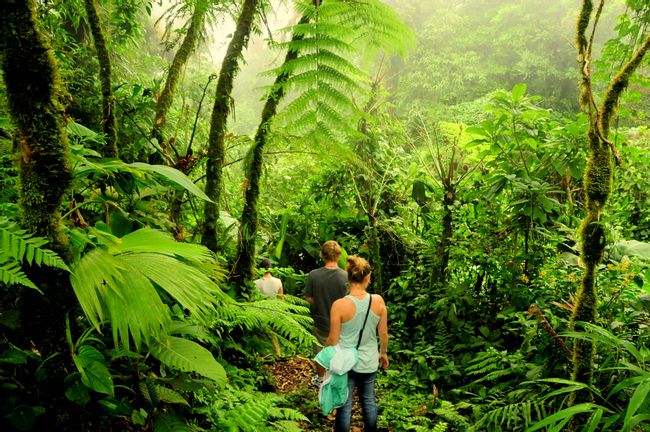 Monteverde, Costa Rica →
Monteverde's cloud forests are the stuff of legend, and rightfully so. These Costa Rican forests are actually quite rare, covering only one percent (1 %) of global woodlands, but what is a cloud forest and why would you spend your vacation at one? This special type of forest takes on a hazy, dream-like appearance thanks to low clouds and a thick canopy which retains moisture and fog — the result? A humid environment full of amazing plants and animals.
Even if you love big cities, the beauty of a Monteverde cloud forest is undeniable. You can soar through the trees on a zip line, or walk within the canopy on a suspension bridge where you will have the chance to come eye to eye with tree-dwelling forest creatures. Stay on the ground and let a naturalist guide help you identify all kinds of plants and wildlife. If you're an early riser, there are plenty of opportunities to go birdwatching and see toucans, and even the elusive resplendent quetzal.
Magic and wonder are just a trip away, and they're waiting for you in the cloud forests of Monteverde, Costa Rica.