Santa Teresa - Mal Pais
Looking to soak up the sun during beachside activities? Santa Teresa is an excellent place to do just that, so get ready to kickback and unwind. Santa Teresa is billed as a surfer's paradise, and the surf is indeed exceptional. It provides consistent and outstanding swells year round. The sleepy beach hamlet of Mal País is Santa Teresa's quiet neighbor located 4 miles (6.5 km) north of Cabo Blanco National Park, Mal País sits at the southwestern cusp of the Nicoya Peninsula, opposite Montezuma.
The booming surf village of Santa Teresa provides a great opportunity for visitors to enjoy international cuisine, daily yoga classes, year round surf and a generally cool vibe. There are excellent place to enjoy the incredible natural surroundings in relative peace. Reflecting this relaxed attitude, the village of Santa Teresa and nearby Mal País offers relatively few services with regard to tours. However, Canopy Tours are available, and one can also take Horseback rides along the beach.
The beaches of Santa Teresa are soft, sandy and with a consistent surf break while Mal País alternates between long stretches of sand and large patches of rock. A green jungle with its mischievous monkeys lines the shore. For the most part, beaches in Mal País have been spared of development. Development has largely taken place in areas to the north, around the Beaches of Santa Teresa.
The nearby Cabo Blanco Absolute Reserve can make an excellent day trip from Santa Teresa and Mal País. Check with locals before heading to the Reserve. Usually a visit requires entering the town of Montezuma. There is a road closer to Mal País, but unfortunately, it is often in disrepair.
The hamlet of Santa Teresa and Mal País is accessible by road via Highway 160, or you can take the ferry from Puntarenas to Paquera or Naranjo Beach, and ride a bus or drive the rest of the way. Flights to the nearby town of Tambor are also available via San Jose and Liberia.
We were pleasanty surprised by this little beach town. so many good resturants to choose from and The beach was so nice too
Beautiful, quiet beach. The city road was difficult to navigate - long, narrow, dusty, full of potholes making drivers swerve and therefore making me nervous walking. It was a 45 minute walk to the only ATM for cash and almost no one took credit cards so I ran out of cash quickly. The very few restaurants with a beach-front eating area were hard to find and a long walk from the hotel. The roads in/out of Santa Teresa are very bad - my lower back has hurt ever since arriving there. I really wish I had brought some Dramamine as the swerving around potholes and roughness of the road for 30-45 minutes made me motion sick. If I came back to the area I would pick an alternate town.
Don't let the roads or the looks deceive you. This place is magic. It is what all surf/beach towns should strive to imitate. The beachfront restaurants cant be beaten. Eat at Banna Beach, Habanero, and Rancho Itauna. The staff is excellent and its all great local food. Get adventurous and try new stuff. Get chile guaro or guaro sour wherever you can. It's the unofficial drink and its great. Rent an ATV for the day and drive up and down the coast. Go up to hermosa beach and all the down to mal pais. Rockamar and Playa Carmen are also must visit spots.
My boyfriend and I loved Santa Teresa! It was our last stop on our 12 day vacation and we spent 4 days there and were happy it was the last place we went. The area had such a good beach/surfer vibe to it and the locals were awesome. Lots of variety of food choices and activities to do if you so choose. The beaches were beautiful, a little rocky in some areas but not a problem at all for us, anyway. The place didn't seem too touristy although i'm sure there were more there than it seemed. Would definitely come here again and would recommend to anyone !
If you're looking for surf culture, this is the place.
The area was crowded but very friendly.
This was probably our favourite place in all of Costa Rica. Its a bit less developed than other areas, and its mostly dirt roads, but a great place to unwind in the surf and sand. Certainly a place for more active people. Don't expect all-inclusive beach service.
Great spot, still enjoyable during the low season
Go to Zwart Cafe! We also enjoyed Banana beach restaurant and bar.
Our favorite! The local sodas were perfect.
Absolutely loved this area and will certainly go back. Would love to retire here!
It was a sleepy beach town which is what we were looking for...not too crowded but with great restaurants not too far away.
Bring lots of sunscreen! Small town charm with a quiet ambiance that was relaxing! Take advantage and eat the local food from local restaurants. Just walk into anyone! I bet you will not be disappointed!
The Bakery, fantastic restaurant. I want to go back just for that!!
This place is mainly for beach lovers and surfers
We tried many restaurants and none of them disappointed us, getting pricey but the food is excellent, so fresh.
Such a great vibe from this location. Much less touched by tourism than Tamarindo. Would suggest renting a 4 wheeler to other guests.
We loved eating at The Bakery!! What a gem! Ate there multiple times. We enjoyed Zula Restaurant, and Ritmo Tropical Restaurant Pizzeria. Their mojitos were deadly. Driving here was hectic at times as the tourists and locals drive their motorbikes and quads super fast and crazy. Also, people stand in the middle of the road talking. We were surprised there weren't more accidents.
Casa del Mar in Santa Teresa for wonderful food and cocktails.
We expected some businesses to be closed for the off-season, but we were really surprised to find only a very small number of restaurants and shops open. We loved that there was hardly anyone else around, but if we visit again, we'll definitely choose a different time to come. The weather was WONDERFUL, though. For being the rainy season, we only got rained on during the daytime once and it was while hiking at Cabo Blanco, so we didn't care at all.
We enjoyed the seclusion of the area, but the place we stayed was a little hard to do without a car. This was stated in their website, so we shouldn't have been surprised, but we thought there would be a few more restaurants and such within walking distance.
Loved this quaint little town. I will certainly be visiting it in the future! The cafes were great, the people were great, the beaches are beautiful... can't wait to return.
Zula restaurant had delicious food and the best smoothies in Santa Teresa. We were happy with all of the sodas we visited in Santa Teresa- all had very friendly service and great traditional Costa Rican food. Chicken Joe's had the best rotisserie chicken we have ever had. Santa Teresa is very touristy but it is so spread out that there is definitely room for everyone. The beach is unbelievably beautiful for miles and there are great surf breaks all along that part of the coast. We also saw a lot of wildlife every day -birds, iguanas, geckos, monkeys, as well as beautiful trees and flowers. The main road that runs through Santa Teresa is extremely dusty in the dry season, which was hard to deal with.
Soooooo gorgeous. Sunset dinners were awesome. Very laid back town. Awesome places to eat. Seemed like half of the town was locals and the other half were people who vacationed there and liked it so much that they moved there permanently!
- CHRISTOPHER G, JAN 2014
We love Santa Teresa. It felt safe, friendly, happy. Mainly young people enjoying the surf, sea, sun and food. We felt as if we had gone to a health farm. WE ran, walked, surfed, did yoga, went to Montezuma and ate in a different place twice a day. Meals were amazing and fresh fresh fresh. Unbelievable value. this goes down as one of my most favourite places in the world.It was not over touristy, we had beaches to ourselves, company at restaurants but they were never too full to have us. It was safe, spacious,friendly, a blast. Liked the fact that roads were bad, everyone on ATVs. WE saw plenty of wildlife, iguanas, monkeys, humming birds... This place is paradise.
This whole area is really spread out along one main road. It was really interesting to walk down the road. There are a ton of good restaurants, a few supermarkets and quite a few places to stay. It felt much more rustic and laid-back than Arenal and Manuel Antonio, but we liked that.
The trip to Mal Pais was definitely long and the roads are not paved and difficult to travel. The beaches here are secluded and were a nice first stop on our honeymoon. We stayed at Pranamar Villas in a beach bungalow. The beach bungalow was spacious and the resort was peaceful. A great first stop for our honeymoon!
A very different feel. Really needs to have the road improved to cut down the dust and make it more accessable. On the other hand, you got a more remote, small town feel here as it wasn't as touristy. Loved the shops with more local artisan work, rather than touristy shops. Locals were lovely. Loved The Bakery. Surf instructors were great.
There is a French Bakery (simply called the Bakery) in the middle of town that is spectacular! Croissants are like those found in Paris and wonderful breakfasts and real French style coffee. The Zula Restaurant has delicious Israeli food. There were lots of surfers and yoga practitioners and the happiest dogs on the planet! Since the road is not paved, it is very, very dusty which makes it difficult to walk on the street. The beach is beautiful and the sunsets are spectacular.
LOVED Santa Teresa!!! Koji and Rancho Burger were great places to eat!
We had no idea it was so undeveloped. It was an eye opening but very enjoyable experience. We loved the food at the Zula Inn Restaurant. Their food was fabulous. Ryan's surfboard rental was knowledgeable and great.
We ate at Zula Restaurant and at Burger Rancho. Both were reasonably priced and delicious.
This area was incredible! My heart is still there.
The Bakery was delicious and affordable. Great smoothies, sandwiches, fruit/granola and 10$ all you can eat pizza Wednesdays. We went there for EVERY meal once we found it!
Most of the locals we saw are actually people who moved here after visiting! We had many great tours here, arranged by Canaima Chill House.
A bit of a cultural surprise and the drive was tough but once acclimatized we loved the area and will go back to the region.
Not many native Ticos in Mal Pais. We met "locals" from France, Portugal, Spain, Palestine, etc. It is a very culturally diverse area and that in itself made it interesting. The surfing was amazing and renting a board with lessons included was very reasonable. we discovered liters of Imperial in Malpais. Nice!
Did not expect a very dusty environment due to unpaved roads. If one is a beach lover and likes the water all day, then this is a good place to visit.
Very laid back beach town...we went with 20 friends....very dusty roads if you choose to walk anywhere. Only one ATM which is located in town. Next time we go we will stay in Mal Pais the whole time!
Felt very safe. Not a touristy spot! Mal Pais is a little piece of paradise...
Santa Teresa - Mal Pais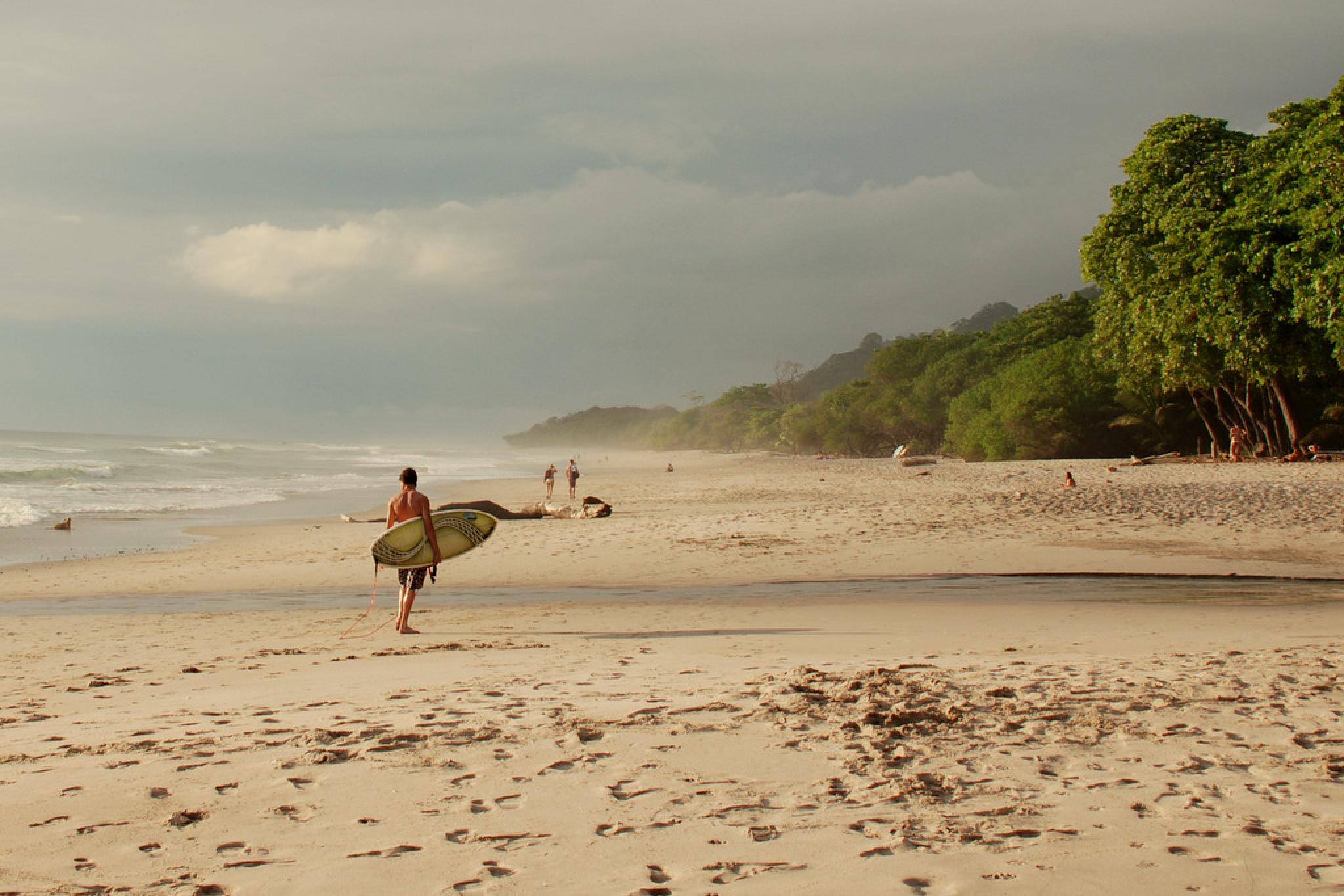 1014
Anywhere.com