In Costa Rica, the beauty of nature is awesome and powerful — literally. The nation has managed to meet a significant portion of its energy needs through the generation of hydroelectric power, courtesy of the many freshwater mountain springs, streams, and rivers which snake through the forests. This significant achievement is an example of how modern technology can allow humans and nature to both coexist and thrive. The best part? Costa Rica's natural beauty remains intact, and nowhere is this more obvious than on Costa Rica waterfall tours.
As the runoff moves through lush terrain on its way out to sea, hundreds of cascading waterfalls can be found throughout the rainforests and mountainous areas. At any moment, you may find yourself witnessing the photo opportunity of a lifetime as tropical birds fly past a roaring and majestic waterfall. Costa Rica waterfalls are numerous, and many are actually unknown or remain closed to the public. Don't fret! There are still many breathtaking waterfalls that make great destinations for a day hike and refreshing afternoon swim.
You'll find Costa Rica's waterfalls all over the country, from the central highlands of Tilaran to Montezuma on the Nicoya Peninsula. Bonus? If you're an adrenaline junkie, then you're in for a treat when you go on a Costa Rica waterfall rappelling tour.
#1:

 Waterfalls that are Swimmable, Jumpable & Instagramable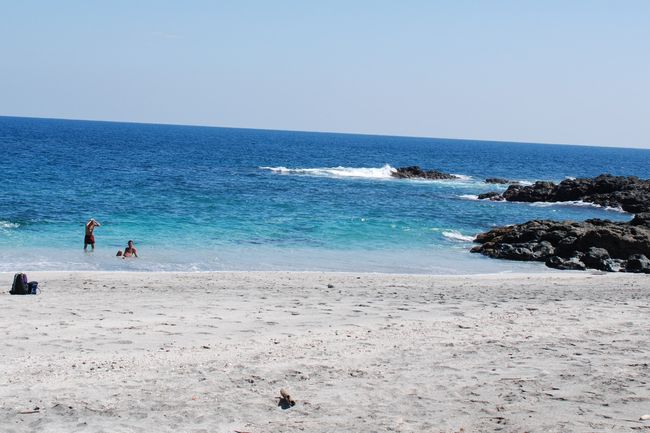 Montezuma, Costa Rica →
A single waterfall is amazing. Three waterfalls are spectacular! Let nature impress you in Montezuma, Costa Rica when you get to enjoy three different waterfalls! Revel in the beauty of an 80 foot (24 m) waterfall, a 50 foot (15 m) waterfall, and a 10 foot (3 m) waterfall. You can swim in all of them!
Don't discount making a trip to Montezuma just to see the falls! The hike itself is its own adventure, and you may spot wildlife along the way. Nature photographers and Instagrammers alike will appreciate these cascading wonders. Pack a picnic and your favorite sketchbook and you've got a great day trip ahead of you.
When you're done splashing about, you still have ATV rides along rugged trails, canopy tours amidst emerald forests, and sport fishing to look forward to. Montezuma's excursions are great for groups, so you can rent a casita and relive the day's adventures over freshly prepared meals in your own kitchen.
Fun, adventure, and surprises are waiting for you in Montezuma. The best way to sum up this destination may be: Come for the waterfalls, stay for the beaches!
#2:

 Tenorio Volcano Area — One Hot Adventure, One Cool Waterfall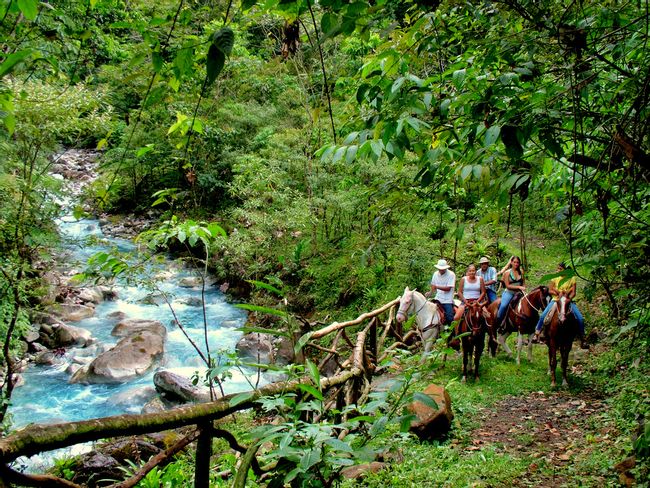 Tenorio Volcano Area, Costa Rica →
The Tenorio Volcano region of Costa Rica may house the namesake volcano, but that's not the only natural wonder to wow you on your getaway. Enjoy the misty roar of a waterfall. As an added bonus, this particular Costa Rica waterfall plunges into an incomparably blue pool...
Enjoy a hike or horseback ride through Tenorio Volcano National Park until you reach Bijagua Waterfall. Flowing from the rocky cliff of the surrounding forest, this waterfall empties into the Río Celeste — a beautiful, vibrant blue river that gets its unique colour from the sulfur and carbonate of the Tenorio Volcano.
See plant and animal species along the way. If you keep following the riverbank, you may even find yourself at a hot spring. Return from your excursion to comfortable accommodations, farm fresh meals, and luscious landscaping.
When packing, don't forget to bring your camera, because you don't want to miss getting your own photograph of Tenorio's Bijagua Waterfall — it's an artist's palette in motion.