Diria National Park, Costa Rica
The Diria National Park is set near the town of Santa Cruz on the Nicoya Peninsula. The park protects some of the last remaining old growth forests on the peninsula and is a part of the Tempisque Conservation Area. Its trails offer good hiking and wildlife viewing opportunities.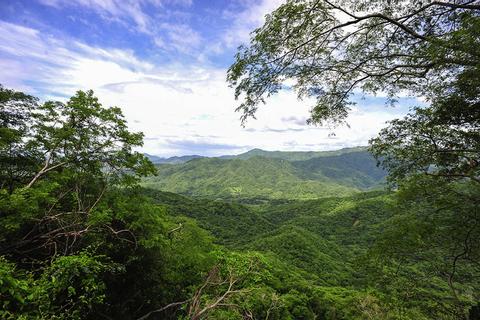 This park was initially created as a wildlife refuge in 1991 to preserve forests on the Nicoya Peninsula. It became a national park in 2004.
The 12,000-acre (5,500-ha) park also protects important watersheds, including those surrounding the Diria, Verde, Tigre, and Enmedio rivers. These rivers are important sources of water for the town of Santa Cruz.
Over 380 species of trees have been identified within the Diria National Park, including tropical hardwoods like mahogany and pochote. At higher elevations there are evergreens and large bromeliads. The park also protects several endemic plant species – including the Pitcairnia bromeliad and a type of Stenocereus cactus – that are only found on the Nicoya Peninsula.
Two trails extend from the park's ranger station. While hiking along these trails, you may see wildlife, including white-faced capuchin monkeys, howler monkeys, peccaries, anteaters, deer, skunk, and iguanas. Over 140 bird species live within the park, as do several species of snakes.
One trail leads to the impressive Brasil Waterfall. This is a nice place to take photographs, swim, or relax.
There is a basic dormitory at the ranger station that allows travelers to stay overnight. Research groups and scientists often stay here.