The Banana Azul hotel is located along the Caribbean Coast in the town of Puerto Viejo, part of the Limon region. Puerto Viejo has a reputation for being beautiful, entertaining, and relaxing.
Featured in:
Beachfront, Honeymoon, Midrange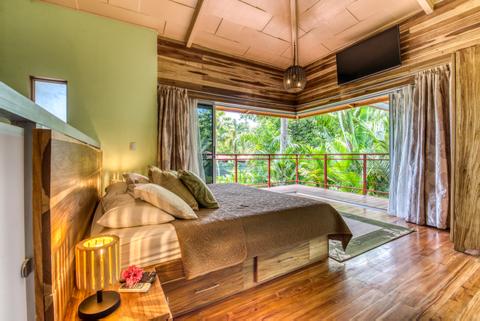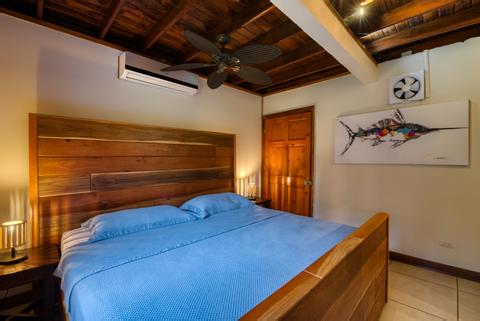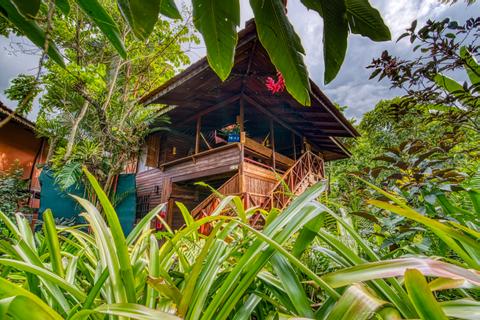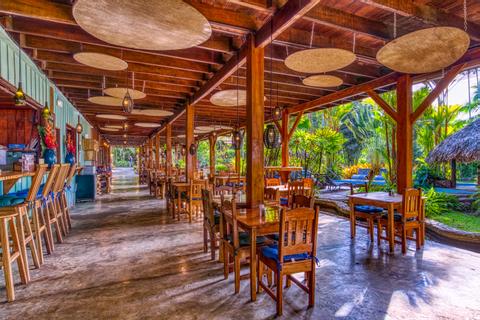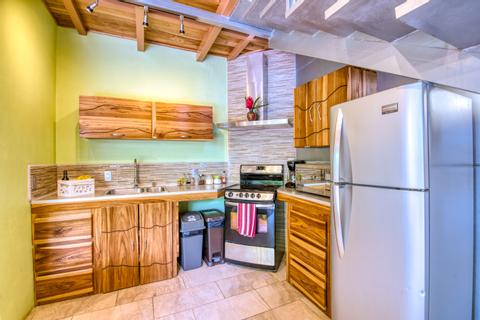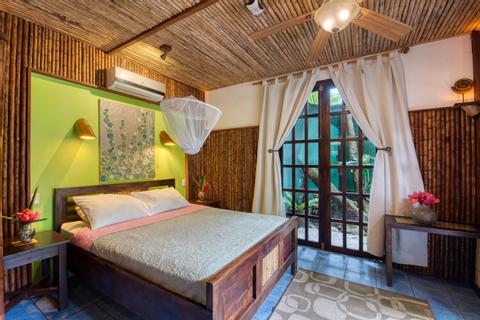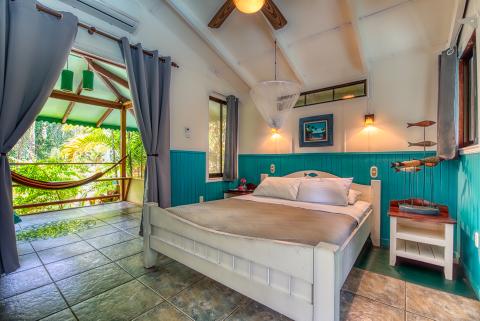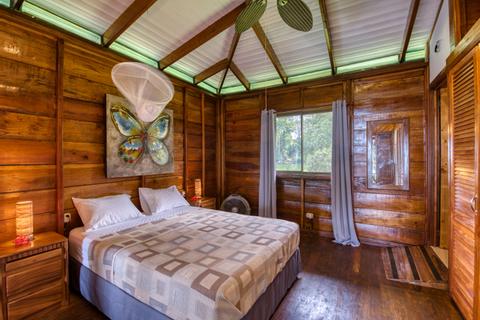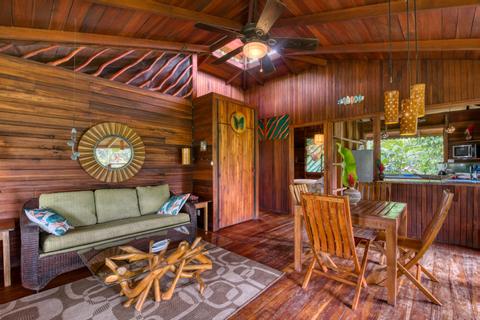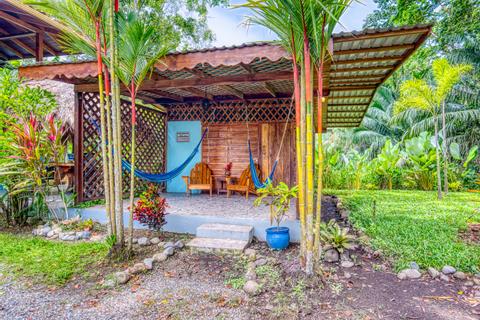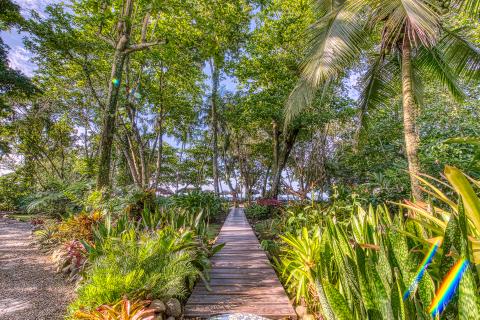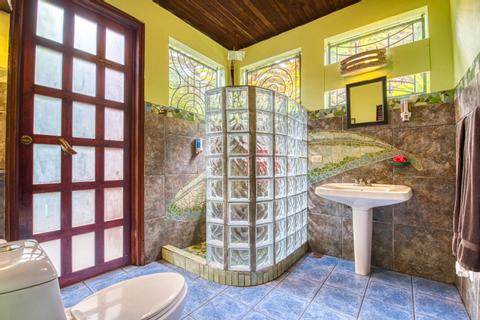 1:00 p.m. check in
12:00 p.m. check out
No children allowed
Swimming Pool
Free Breakfast
Wireless Internet
Restaurant in Hotel
Attractions & Sites
Puerto Viejo offers up a mixture of unspoiled beaches and dense jungles. There are an assortment of restaurants to choose from, and several bars which frequently feature live calypso and reggae bands.
The beaches of Puerto Viejo are beautiful and unspoiled, offering visitors their choice of black or white sand, and providing access to an idyllic Caribbean Ocean. Conditions here are perfect for swimming, surfing, diving, and snorkeling. The jungle stretching to the sand is equally attractive - there are places for canopy tours, waterfall treks, and jungle hikes.
This hotel s next to a calm stretch of sand. Blooming gardens adorn the property and hammocks provide the perfect spot for afternoon napping or leisurely reading. A small river, inhabited by fish and turtles, flows through portions of the property.
Banana Azul has a beachside restaurant that serves breakfast, lunch, and dinner, as well as refreshing drinks and snacks throughout the day. The menu focuses on fresh produce and can accommodate vegetarian, dairy free, and gluten free diets. If you have any special requirements, make sure to let the staff know in advance.
There are 14 rooms in the main building, made with sustainably harvested local timber. Across the street, guests will find four two-story guesthouses. Both rooms and guest houses have Wi-Fi and are a short distance from the pool as well as the beach. Some of the accommodations have air conditioning, and some rely on ceiling fans to keep the spaces cool — make sure to let us know if you have a strong preference.
Each guest house comes with its own kitchen and a private plunge pool. There are comfortable living rooms and air conditioning. Bedrooms in the villas come equipped with satellite TVs.
Guests can also book the 700 square foot (213 sq m) Treehouse Apartment. This fully furnished, two-bedroom apartment looks out over a sea of green forest canopy. It comes with a TV, a safety deposit box, and a ceiling fan — which, combined with a treetop breeze, means you won't miss air conditioning. The apartment also comes with bathroom that has a shower and a bathtub. There's a hammock on the patio where you can unwind and admire the scenery.
More Property Amenities
Hot Water
Cable TV
Laundry Service
Private Parking
Internet Access
Ocean View
Beach Access
Hammocks
Telephone
Gardens
Bar
Accommodations
Air Conditioning
Cable TV
Fan
Mini Refrigerator
Safe Deposit Box
Wireless Internet
Beach Front Apartment
Sleeps 4
Air Conditioning
Fan
Wireless Internet
Living Room
Dining Room
Porch
Fan
Wireless Internet
Porch
Banana Verde Villa
Sleeps 4
Air Conditioning
Balcony
Cable TV
Hot Water
Safe Deposit Box
Dining Room
Caribbean Sloth Cabina
Sleeps 2
Cable TV
Hot Water
Safe Deposit Box
Tree House Apartment
Sleeps 4
Tropical Bath Suite
Sleeps 2
Air Conditioning
Cable TV
Hot Water
Porch
Air Conditioning
Cable TV
Hot Water
Patio
Porch
Caribbean Breeze Cabina
Sleeps 2
Balcony
Fan
Wireless Internet
Feedback from Travelers
We gladly recommend this hotel to anyone!
We absolutely loved Hotel Banana Azul. The food was fresh and delicious. All staff members are welcoming and extremely friendly. The hotel grounds and beach was beautiful and well-maintained.
Such an amazing hotel and the staff was so friendly and helpful with suggesting where to go in town and calling us taxis! The most beautiful view right on the water!
Similar Hotels