On the southern Caribbean coast of Costa Rica, the Tierra de Sueños ecotourism resort is in Playa Chiquita, which is 3.7 miles (6 km) south of Puerto Viejo. The hotel offers comfortable hardwood bungalows in a jungle setting that is just a short walk from the pristine beaches of Playa Chiquita. The Tierra de Sueños staff, an international, multilingual team, is ready to introduce visitors to Playa Chiquita and a memorable vacation.
Featured in:
Eco Lodges, Cabins and Villas, Yoga, Great for Families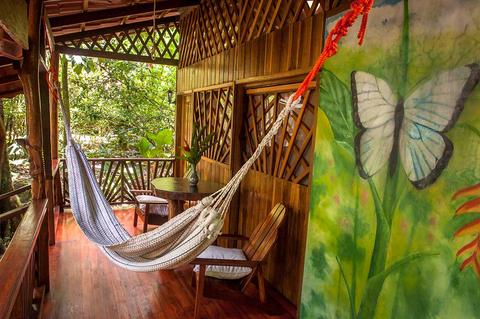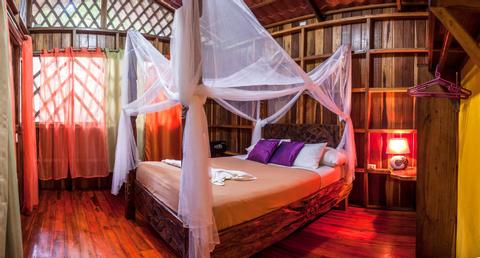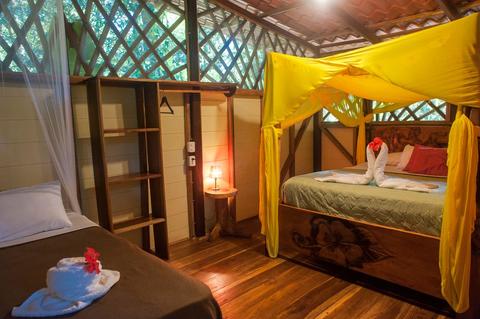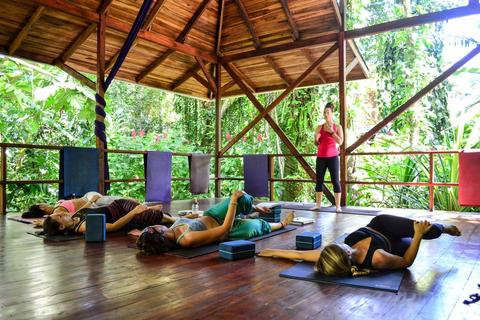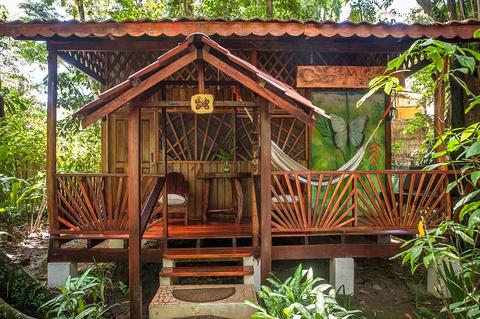 2:00 p.m. check in
12:00 p.m. check out
Restaurant in Hotel
Attractions & Sites
The prime location allows guests to enjoy a natural backdrop of the forests and beaches but also be within a bike ride from lively town of Puerto Viejo. A nature trail leads from the tropical gardens of Tierra de Sueños to Playa Chiquita. The beach is a great place to spend the day swimming, surfing, snorkeling on the reefs, or lounging under some palm trees. Puerto Viejo offers a laid back vibe, a variety of restaurants, travelers from around the globe, and nightlife that includes frequent live concerts.
Guests of Tierra de Sueños can stay at one of seven eco-friendly bungalows. The bungalows are set in a natural environment of exotic tropical plants, multiple fruit trees, and the wildlife filled forest. Toucans, hummingbirds, monkeys, sloths, butterflies and lizards can be seen from the hammock on the front porch of your lodging. Each bungalow is uniquely designed with different hand carved wood, tile mosaics, painted murals, and other artistic details. Orthopedic mattresses, 300+ thread count sheets, and soft organic bamboo and cotton towels are supplied for your comfort.
It's the little details that make your stay at Tierra de Sueños a special one. A library, an indoor area with ample seating and board games, a covered patio for dining or relaxing, and the tour info center make up the reception area located at the front of the property. The hotel has a newly renovated restaurant serving international food for all three meals of the day. The hotel is committed to sustainable tourism that promotes ecological conservation and the development of the local economy while having a minimal impact on the environment.
In addition, Tierra de Suenos has a retreat center that can host retreats, weddings, workshops, seminars, and reunions. The hotel often hosts retreats from expert yoga, Pilates, and wellness instructors. Tierra de Suenos can provide airport transportation, meals, workshop space, classes, tour bookings, and much more. The Tranter Pilates Teacher Training program from Pilates master Monica Tranter and vacation packages are available to guests.
Whether looking for excitement or relaxation, the surrounding area is a playground of activities and tours. Tierra de Sueños provides kayak, bike, and snorkel rentals as well as surf lessons and massages from a certified therapist. Yoga classes are within walking distance. White water rafting and canopy tours, jungle hikes, surfing at the world class Salsa Brava and other Caribbean coast breaks, and horseback riding through Caribbean rainforest are a few of the popular outdoor adventures.
More Property Amenities
Fan
Hot Water
Hammocks
Balcony
Jungle View
Kitchen
Mini Refrigerator
Gardens
Accommodations
Balcony
Fan
Hot Water
Mini Refrigerator
Safe Deposit Box
Porch
Fan
Hot Water
Safe Deposit Box
Porch
Similar Hotels