El Hotel Lomas del Volcán está situado en la región norte del país, cerca del pueblo de La Fortuna. La Fortuna es un punto céntrico ideal para la exploración y aventura. El pueblo en si ofrece una variedad de restaurantes, espacios abiertos, vistas bellas, y tiendas e inclusive los pueblos alrededor ofrecen una buena oportunidad de dar a conocer la vida cotidiana de un Costarricense. Colinas siempre verdes y una tranquilidad absoluta es lo que atrae tantos amantes de la naturaleza y eco-turistas a este pequeño trozo del cielo.
Featured in:
Hilltop, Midrange, Cabins and Villas, Great for Families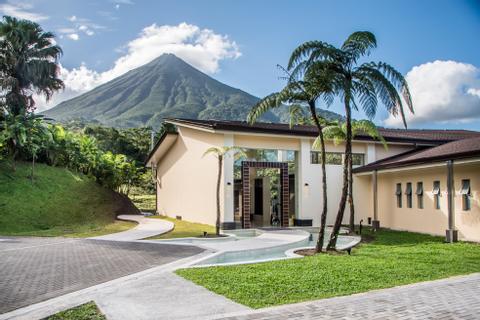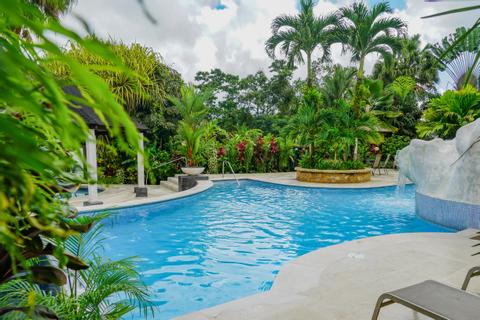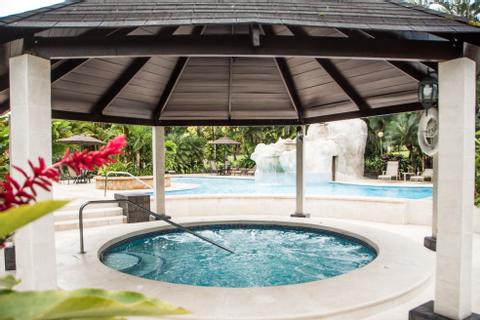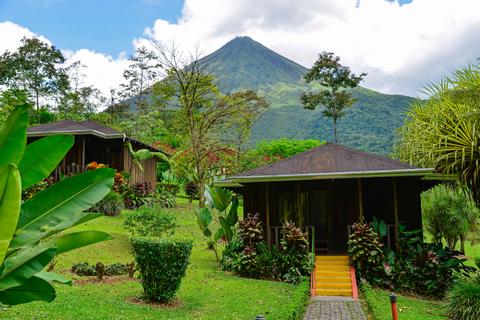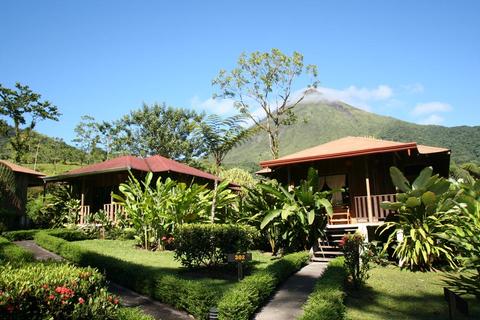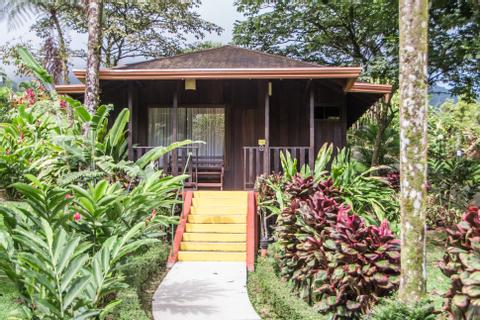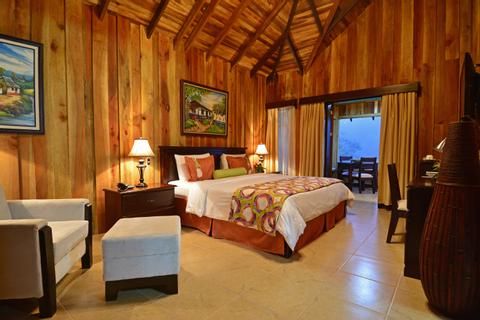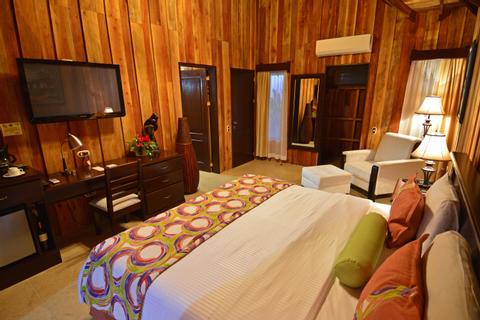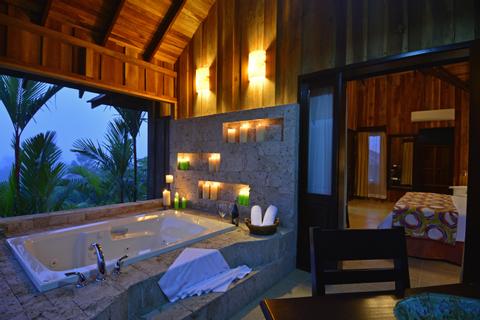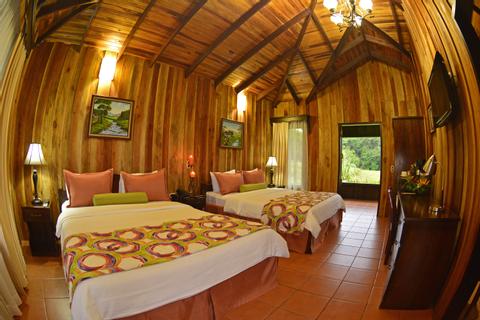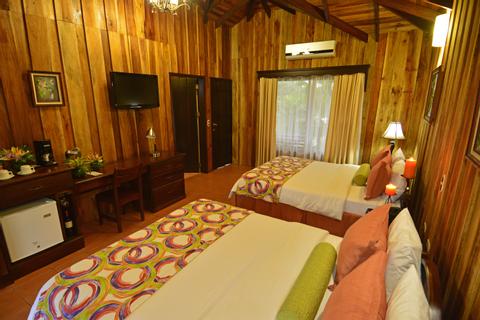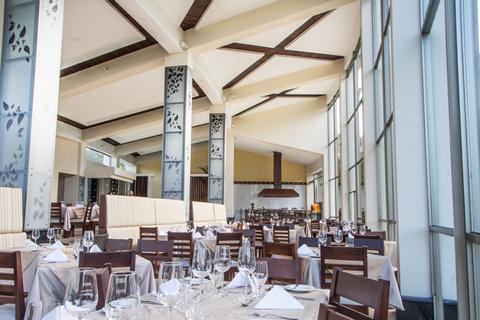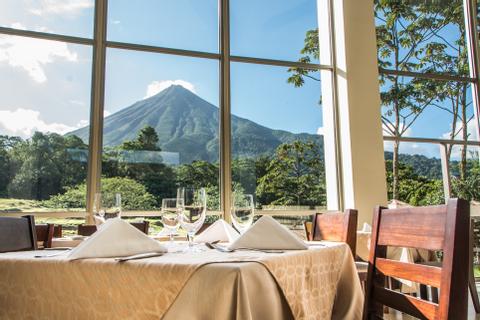 2:00 p.m. check in
12:00 p.m. check out
Free Breakfast
Wheelchair Accesibility
Restaurant in Hotel
Swimming Pool
Wireless Internet
La gente fanática para ir de pesca ú observar aves estarán muy felices paseando por el refugio de vida silvestre Caño Negro donde abundan especies de fauna y aves. Dense el lujo de relajarse por completo yendo a las aguas termales de Tabacón, que seguramente será una experiencia inolvidable. También vale la pena participar en las actividades acuáticas que se realiza en el Lago Arenal como también tomar una caminata ó andar en bicicleta alrededor del lago.
Lomas del Volcán es un hotel cómodo situado en un área de una finca con 150 hectáreas en la base del volcán del lado Este. Tómense el tiempo de disfrutar los senderos privados en un bosque primario donde se encontrarán rodeados por belleza natural, aire puro de montaña y una abundancia de vida silvestre. Para refrescarse al mediodía, métanse en la piscina ó caliéntese en nuestro jacuzzi antes de saborear la rica comida del restaurante de cocina internacional disponible en el hotel.
El hotel se compone de varias decenas de bungalows rústicos, espaciosos y amueblados con fineza. Cada bungalow incluye dos terrazas, desde donde pueden disfrutar una espectacular vista del volcán Arenal. Los bungalows tienen una cama king, una queen, ó dos camas queen, abanicos de cielorraso, refrigeradoras, agua caliente, caja fuerte y servicio de lavandería.
More Property Amenities
Aire Acondicionado
Bar
Televisión por Cable
Servicio de Cafê
Jardines
Agua Caliente
Jacuzzi
Piscina para Niños
Lavandería
Masage
Mini Bar
Mini Refrigerador
Parqueo Privado
Servicio a la Habitación
Caja Fuerte
Teléfono
Vista al Volcán
Accommodations
Aire Acondicionado
Televisión por Cable
Secadora de Cabello
Agua Caliente
Jacuzzi
Mini Bar
Caja Fuerte
Teléfono
Internet Inalámbrico
Standard Bungalow
Sleeps 4
Aire Acondicionado
Televisión por Cable
Abanico
Agua Caliente
Mini Bar
Mini Refrigerador
Caja Fuerte
Teléfono
Terraza
Feedback from Travelers
Beautiful property and bungalows. The Christmas eve dinner was excellent. We enjoyed the breakfast buffet and restaurant meals. The staff was very helpful.
Pearl of the trip!! VERY nice accommodations! Unbelievable location "base of the volcano Arenal", breakfast was located in building with 30' high glass view of the volcano! PRICELESS!!
Beautiful place, very comfortable. Loved it.