Bosque del Cabo Lodge es el sueño de cualquier naturalista. Ubicado en una posición única y afortunada, en la mera punta de la Península de Osa, en la región sur-Pacífica de Costa Rica que abarca parques nacionales, bosque lluvioso y el cercano Océano Pacífico. El hotel se sitúa a 22 km sur de Puerto Jiménez, un lugar muy tranquilo que proporciona fácil acceso a playas y bosques exuberantes.
Featured in:
Eco Lodges, Hilltop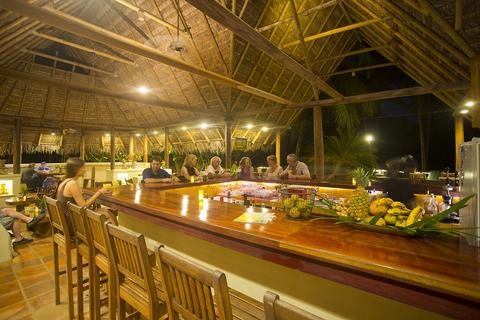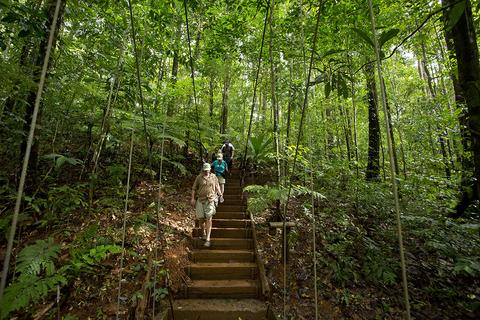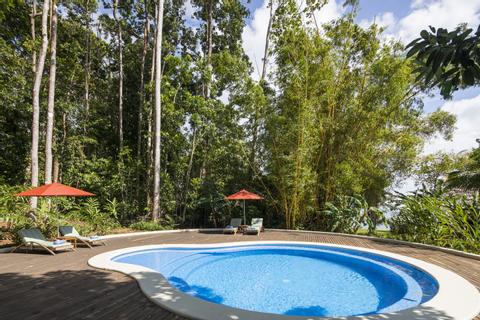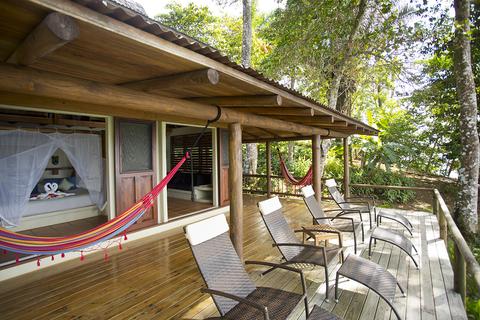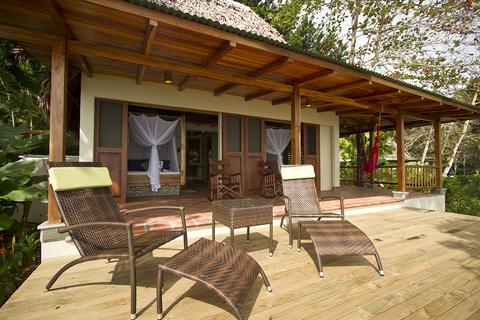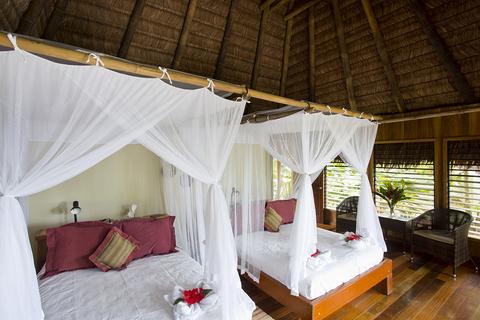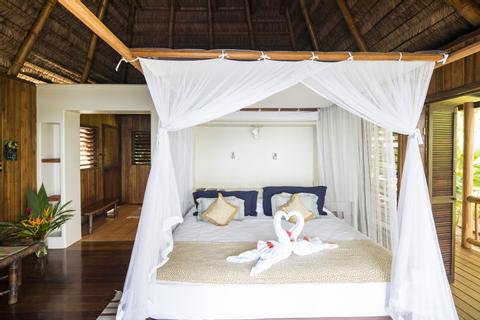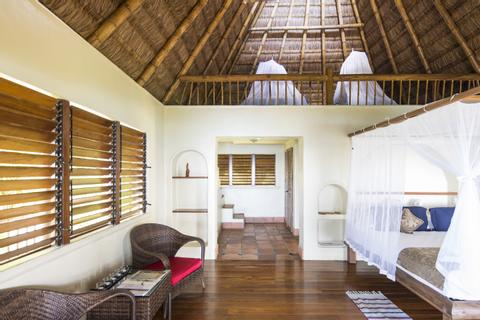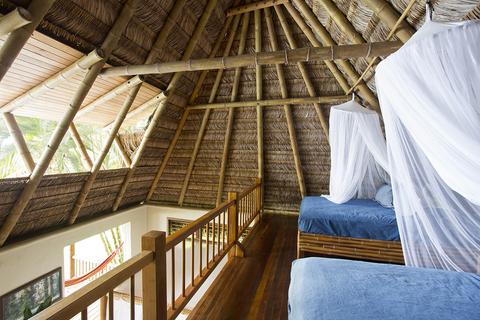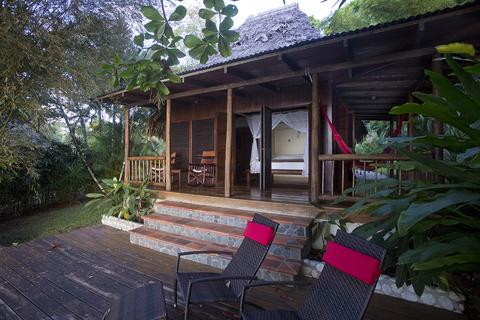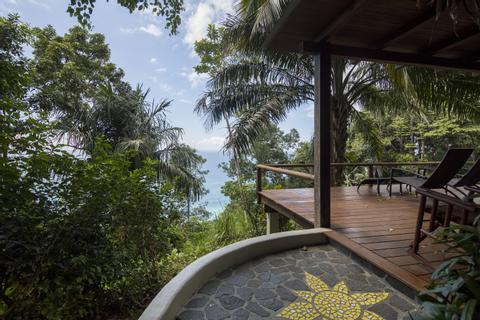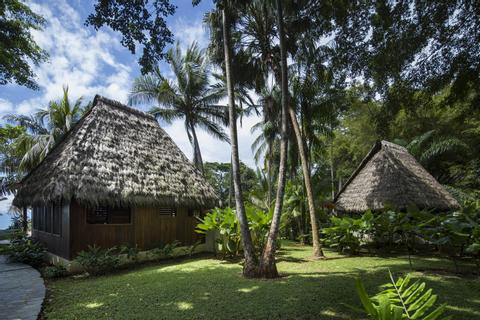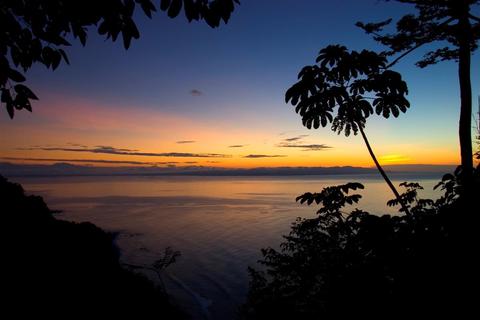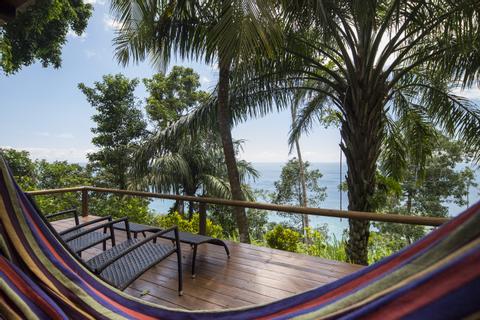 1:00 p.m. check in
11:00 a.m. check out
Restaurant in Hotel
Spa Services
Swimming Pool
La Península de Osa permite el acceso algunos de los bosques más salvajes del país. El Parque Nacional Corcovado consta de 41.800 hectáreas que comprende una tercera parte de la península, tiene abundante bosque lluvioso tropical y una cantidad increíble de diversidad biológica. Los visitantes pueden disfrutar de caminatas a lo largo de los senderos que conducen a los lagos, cascadas y tener la oportunidad de ver monos ardilla, guacamayos e incluso la Danta en peligro de extinción. El Golfo Dulce, una bahía que se encuentra adyacente a la Península de Osa, también presenta una serie de interesantes actividades, incluida la excelente pesca deportiva y surf, así como una cadena de playas aisladas perfectas para tomar el sol. El pequeño pueblo de Puerto Jiménez y Golfito proporcionan a los visitantes instalaciones y servicios básicos.
Bosque del Cabo Lodge se encuentra entre Puerto Jiménez y el Parque Nacional Corcovado, una ubicación que privilegia a sus huéspedes con el acceso a las maravillosas joyas naturales del sur de Costa Rica. El hotel esta en la cima de un acantilado proporcionando increíbles vistas del Golfo Dulce y el Océano Pacífico, además está respaldado por 242 hectáreas de bosque privado. Los senderos de la propiedad lo guiarán a playas aisladas, piscinas naturales, cascadas y sitios con vistas espectaculares. Hay un puente colgante de 300 pies donde los huéspedes podrán observar magníficos paisajes del bosque, así como un canopy tour donde tendrán la misma oportunidad. El bosque aquí está repleto de vida silvestre, exuberantes jardines y variedad de animales incluyendo tucanes, monos y perezosos.
El hotel es igualmente atractivo y acoger como la zona con sus maravillas naturales. El alojamiento consiste de diez cabinas privadas entre verdes jardines. Cada una incluye baño privado y ducha al aire libre, energía solar/micro-hidroeléctrica, mosquitero, vista al océano y terraza con hamacas y sillas. Además Bosque del Cabo Lodge ofrece dos magníficas casas de alquiler, las cuales son grandes con varios baños, dormitorios y una cocina completamente funcional, además de la sala.
Bosque del Cabo Lodge ofrece una refrescante piscina para pasar la tarde, el bar localizado a solo unos pasos sirve una variedad de bebidas, desde batidos, cervezas y cócteles para saciar la sed de los huéspedes. El restaurante del hotel prepara platos deliciosos en combinación de los sabores nacionales e internacionales, con productos locales frescos. La cena es comunal, compartiendo los alimentos y la conversación, el almuerzo puede ser empacado para llevar en una excursión de un día. Para los huéspedes con dolor muscular le invitamos a disfrutar de un masaje con la masajista residente, quien ofrece una variedad de tratamientos incluyendo acupresión, tejido profundo y masajes suecos.
El hotel ofrece a sus huéspedes una serie de otros servicios, incluyendo reservación de tours, caminatas guiadas y lecciones de surf. Bosque del Cabo Lodge ofrece 10 Bungalows privados y 2 casas de alquiler. Todos los bungalows incluyen baño privado, duchas al aire libre en el jardín, electricidad con energía solar, mosquiteros y porches con espectaculares vistas del Océano Pacífico.
More Property Amenities
Balcón
Bar
Acceso a la Playa
Abanico
Jardines
Hamacas
Senderos
Agua Caliente
Vista al Bosque
Cocina
Lavandería
Masage
Vista al Oceano
Lecciones de Yoga
Accommodations
Abanico
Agua Caliente
Patio
Abanico
Agua Caliente
Terraza
Abanico
Agua Caliente
Deck
Terraza
Abanico
Agua Caliente
Sala
Deck
Terraza
Abanico
Agua Caliente
Sala
Terraza
Cabina Almendra or Cabina La Paz
Sleeps 2
Feedback from Travelers
This was wonderful and met our very high expectations. Staff and facilities were exceptional.
The wildlife was simply amazing. All I had to do was sit on my deck and it all came to me. The owners and staff were all excellent and never forgot your name. This place exceeded my expectations...what a gem!!
OH MY! Words cannot in any way express this amazing oasis of nature. The staff is over the top accommodating, caring, kind and professional. The environment of the nature reserve is a special retreat from anything routine. Surrounded by all four species of monkeys that live in Costa Rica, exotic tropical birds, plants and countless amazing creatures. The cabinas are rustic and luxurious at the same time! With doors that open to the Pacific and nets surrounding the beds in the event that folks want to sleep with the doors open, every need is accommodated. And, the outdoor showers are a wonderful experience to enjoy the sky, the fantastic sounds of the jungle and the freedom of being one with nature while still feeling privacy. The meals are healthy and delicious and at times guests are put together at tables to become acquainted with new friends. Finally, the owners are running this jewel of a spot on hydroelectric and solar exclusively and have provided clever ways of reducing excess use of laundry such as giving each cabina a clip with which to hang one's pool towel for re-use. We were thrilled by these clever ways of caring for our limited resources and actually providing practices that most of us do at home such as re-using towels, water bottles and washing sheets only weekly, not daily. They get an A+++ all around and we are eager to return and have more time to explore, hike, surf and relax. Of all the superb places we visited, this is one I pray we can return to.
Similar Hotels