Con un lindo lugar para hospedarse en una ubicación verdaderamente exótica, el Aninga Lodge ofrece unas cabinas privadas conectadas por caminos elevados. Mantenga un ojo abierto en busca de aves, mamíferos, y demás animales durante su estadía y asegúrese de explorar por aquí; Tortuguero se encuentra rebosando con vida silvestre.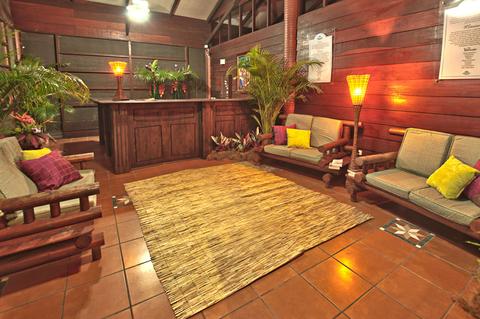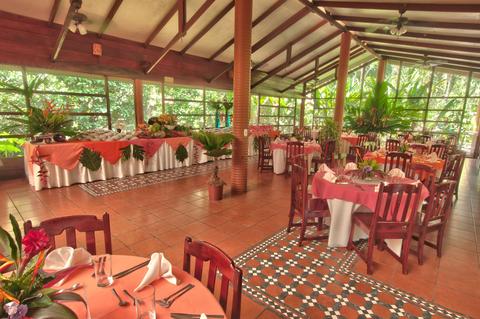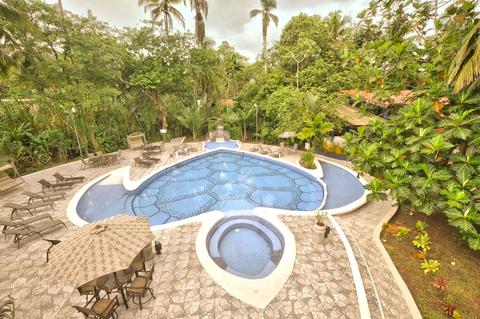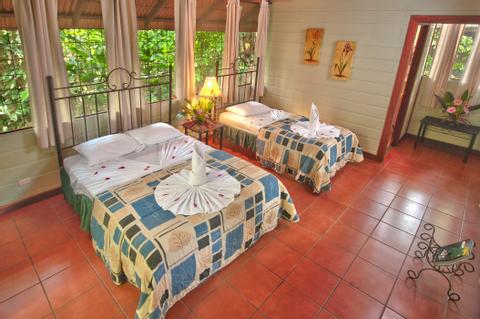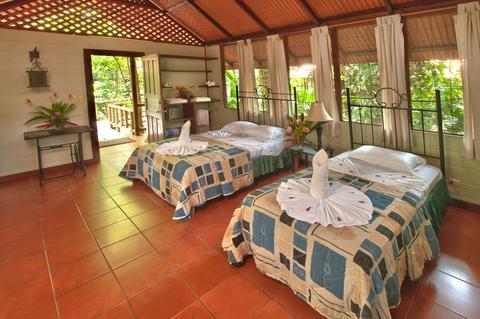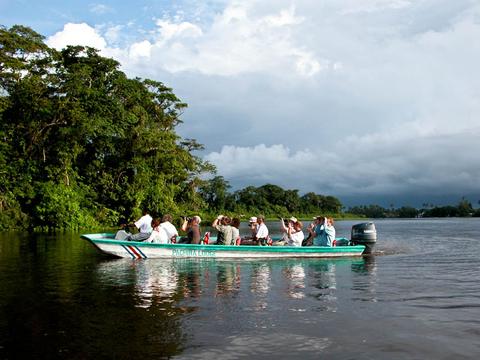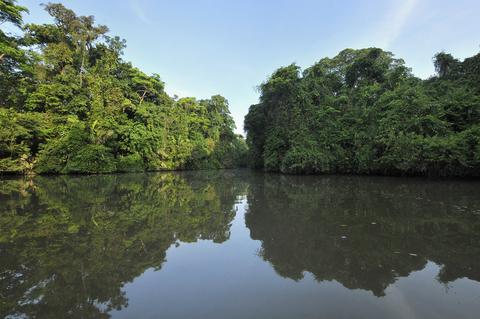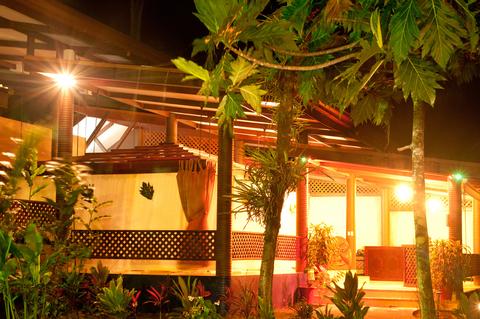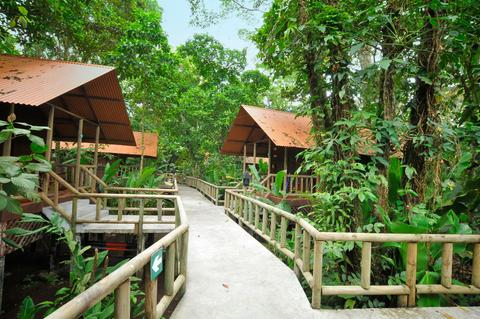 2:00 p.m. check in
12:00 p.m. check out
Free Breakfast
Restaurant in Hotel
Spa Services
Swimming Pool
No hay carreteras que conduzcan hacia Tortuguero, pero canales sí. Aquí los terrenos se encuentran anegados durante una parte tan significativa del año, que son los botes y las avionetas quienes se encargan de todo el transporte. Este pueblo está completamente apartado, pero vale la pena el viaje: el Parque Nacional Tortuguero posee una increíble gama de animales y plantas para que cualquier "pajarero" (o aficionado de las aves), botánico, o amante de la naturaleza disfrute. Realizar caminatas por el parque o practicar kayaking o andar en bote en los canales con frecuencia otorgan avistamientos de caimanes, cocodrilos, monos, iguanas, perezosos, basiliscos, y todo tipo de aves. El pueblo de Tortuguero contiene un pequeño número de tiendas de regalo, restaurantes, y cafés. Aquí, la naturaleza es la principal atracción.
Tortuguero es un gran lugar para visitar durante todo el año, pero desde finales de junio hasta finales de octubre o principios de noviembre, es particularmente especial. Es en ese momento cuando las tortugas verdes, una especie fascinante de tortugas marinas, laboriosamente salen del océano a poner sus huevos en la playa durante la noche. Tortuguero es famoso por sus tours nocturnos por la arena, donde los visitantes podrán caminar y observar en la oscuridad los carriles de las tortugas mamás. Estos tours son guiados profesionalmente.
El pato aguja americano es apenas una especie de larguirucha ave acuática entre más de 300 especies que habitan o pasan por esta área. El Aninga Lodge obtuvo su nombre en honor a esta ave, cuyo nombre en latín es Anhinga anhinga; el hotel sobresale del agua de una forma similar al ave. A unos cuantos minutos del Parque Nacional Tortuguero y al otro lado del canal principal desde el pueblo, ofrece 32 dormitorios conectados por caminos de madera y rodeados por árboles y demás hermosas plantas. Las cabinas y los caminos se encuentran elevados con respecto al suelo para mantener distancia del suelo húmedo y los múltiples animales que habitan este bosque.
Las cabinas son básicas, limpias, y privadas. Cada una dispone de su propio baño, ducha con agua caliente, ventanas serigrafiadas, y ventiladores de techo. A pesar de que ninguna cabina ofrece televisión o aire acondicionado, algunas aves, perezosos, y monos podrían aparecerse en los árboles a lo largo de los caminos, y la piscina con forma de tortuga podrá ayudar a los huéspedes a refrescarse después de una caminata o una excursión por los canales. El Internet inalámbrico será gratuito en el área de comedor, y estará disponible por una tarifa en los dormitorios.
Usted podrá recibir un masaje en el medio de la selva, también. Asimismo, el spa del hotel ofrece masajes de todo tipo al igual que otros tratamientos de spa.
El desayuno, el almuerzo, y la cena se sirven con un estilo bufete en el restaurante en el área del comedor. Además, un bar ofrecerá bebidas alcohólicas.
More Property Amenities
Todas las Comidas Incluidas
Bar
Desayuno Disponible
Servicio de Cafê
Abanico
Jardines
Senderos
Agua Caliente
Internet
Vista al Bosque
Lavandería
Accommodations
2 Nights/3 Days Package
Sleeps 3
Abanico
Agua Caliente
Caja Fuerte
1 Night/2 Days Package
Sleeps 3
Abanico
Agua Caliente
Caja Fuerte
Terraza
3 Nights/4 Days Package
Sleeps 3
Abanico
Agua Caliente
Caja Fuerte
Terraza
4 Nights/5 Days Package
Sleeps 3
Abanico
Agua Caliente
Caja Fuerte
Feedback from Travelers
Wow, the staff in the restaurant are awesome, right there for everything you need. The cleaning staff did a remarkable job.
The lodge was brilliant, probably the highlight of our trip. Organisation was great.
Similar Hotels