Guanacaste National Park, Costa Rica
West of the Inter-American Highway, across from Santa Rosa National Park, lies the Guanacaste National Park, a 80,336 acre (32,512 ha) park. The area spans several ecosystems situated in the watershed of the Tempisque and two volcanoes-Orosi (4,879 ft /1,487 m) and Cacao (5,443 ft / 1,659 m). The most recent addition to the massive Guanacaste Conservation Area, Guanacaste National Park was created on July 25, 1989, on Guanacaste Day (Dia de Guanacaste). The park serves as a testament to the hard work of Dr. Daniel Janzen, who lobbied authorities for a park that encompassed a variety of adjoining habitats to improve the survival rates of local fauna. The wildlife corridor the park forms with neighboring Santa Rosa extends southeast to Rincon de la Vieja, forming a broad triangle of protected area.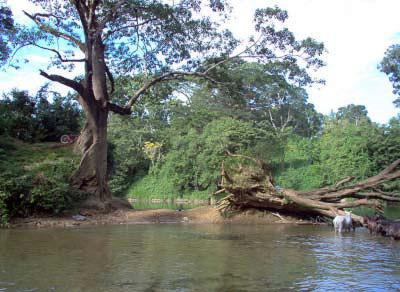 The Tempisque River supports Guanacaste's thriving dry forests that encompass the lowlands, which give way to virgin mountainous and cloud forest at higher elevations. The peaks of Orosi and Cacao, among others, represent the continental divide, east of which lies the park's wetter Atlantic side. Trails span the park, making for ideal hiking.
Guanacaste Park's main attraction is birding and animal observation. Species are plentiful: howler, capuchin, spider and white-faced monkeys, coatis, white-tailed deer, and a plethora of bird species inhabit the park.
Quebrada Grande, the park's main entrance, can be accessed from the Inter-American Highway via Porterillos, where a 6 mile (10 km) dirt road heads northeast to the park. The Cacao Biological Station sits at an elevation of 3,478 ft (1060 m), amidst cloud forest, 3 km from Quebrada Grande. From here a trail leads to the summit of Volcan Cacao.
Pre-Colombian petroglyphs mark the landscape at the open plain of El Pedregal, in route to the summit of Orosi. Below, the Maritza Biological Station is a 1.5 mile (3 km) hike from the Inter-American Highway via Cuaginiquil.
Room and board is available at one of the park&s biological stations, which offer dorm-style rooms and shared bathrooms. Permission from the National Parks Services (Sevicio de Parques Nacionales) in San Jose is required prior to visitation. A number of lodges and haciendas offer accommodation outside of the park. These accommodations are generally characterized as rustic, rural, affable, and familial.
The rainy season lasts from May to November, giving way to the intense sun, typical of Guanacaste. However, weather is sporadic at higher elevations.