This eco-friendly hotel operates a private 600-acre (242-ha) reserve and thermal springs. Its bungalows, restaurant, and grounds are designed to use water and energy efficiently, as well as offer a wealth of fun activities for guests to enjoy.
Featured in:
Luxury, Honeymoon, Boutique, Best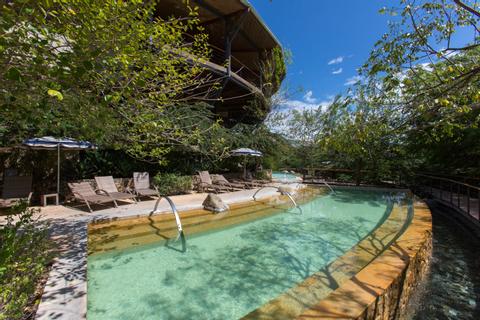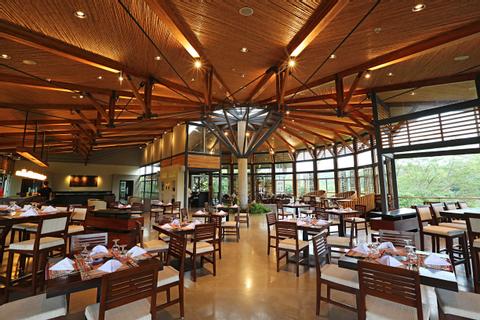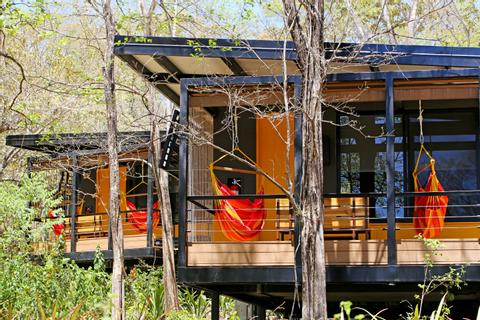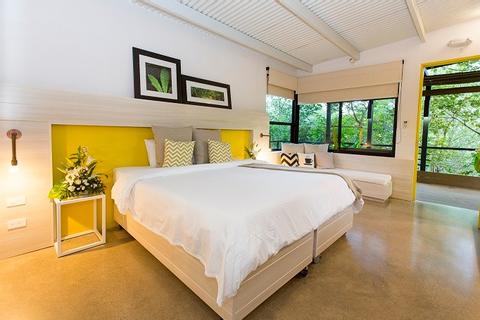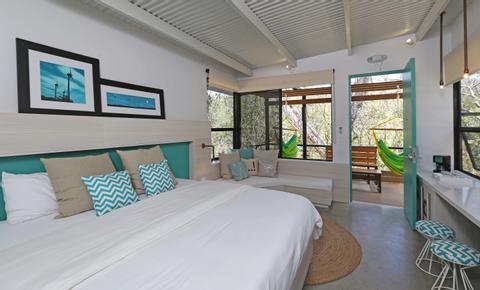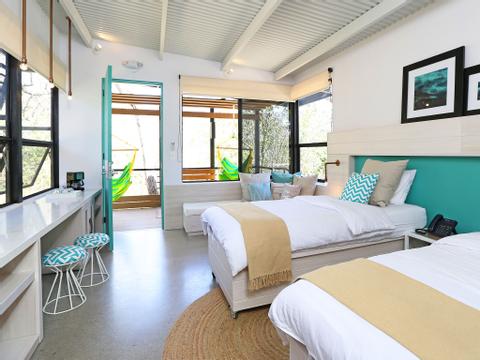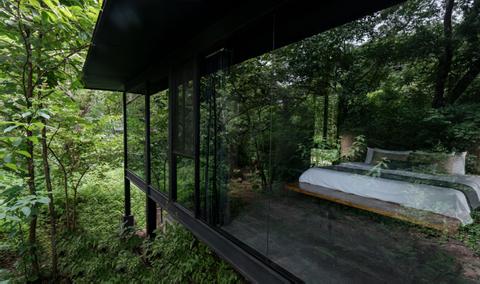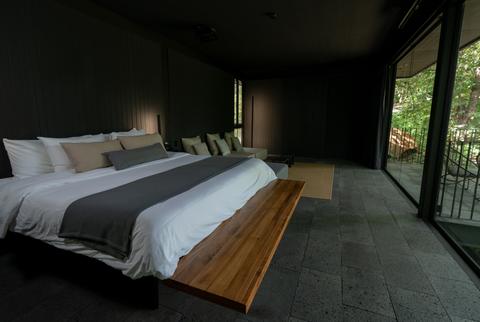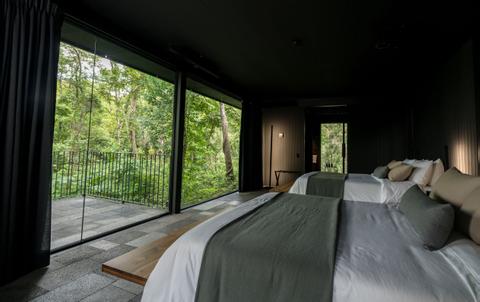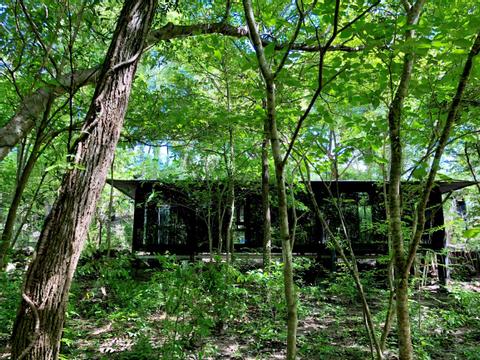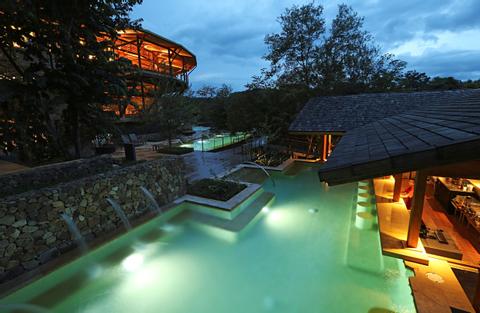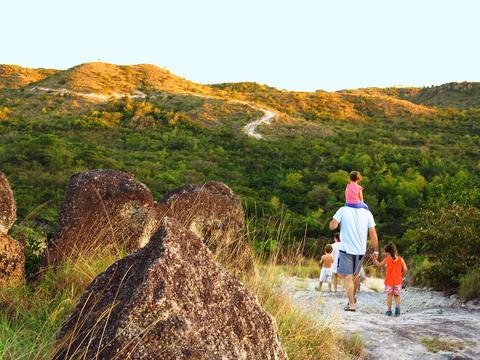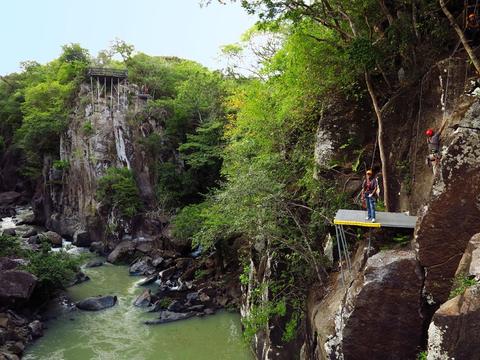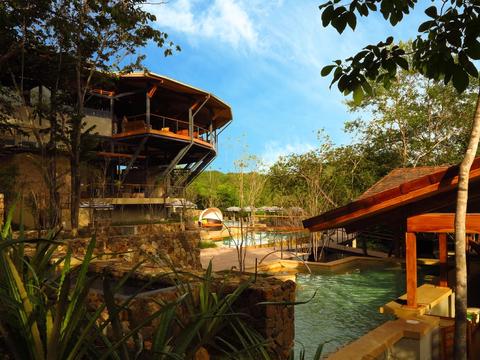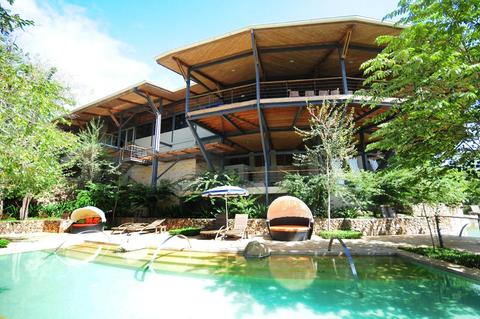 3:00 p.m. check in
12:00 p.m. check out
Restaurant in Hotel
Spa Services
Swimming Pool
Wireless Internet
Free Breakfast
– Some rooms feature –
Wheelchair Accesibility
Costa Rica's pristine beaches, steamy rainforests, and dreamy cloud forests draw lots of well-deserved attention. But the Guanacaste region is another kind of dreamscape: dwarf forest, dry forest, a necklace of volcanoes and rugged mountains littered with volcanic rocks. Where rivers cut through the dry land, such as on Río Perdido's reserve, the sudden lushness of the canyons is startling. Palo Verde National Park and several volcanoes can be visited from here.
Río Perdido makes a big deal of their thermal canyon and hot springs, and it's justifiable. A hike along a cool river brings guests to several hot springs that feed into the river and raise the temperature near the banks up to 90 or even 115°F. You can soak, tube, hike, bike, swing, zip, or laze your way through this private reserve.
The hotel's 20 private bungalows are built into the canyon walls at different heights. Elevated pathways lead from communal trails to an elevated terrace. Bicycles and compact-electric cars are available for traversing the pathways, and you can always use your feet as a transportation option.
Inside, a bungalow offers two twin beds or a king-size bed, plus a spare trundle bed and window seat sofa. The private bathroom and main bedroom area are designed to let in plenty of natural light, and are complimented nicely by bright color choices and wooden accents. A coffee maker, mini bar, telephone, and safe are at your disposal, as are cable television, free wireless Internet, and high-efficiency air conditioning. For those of us who can't be outside enough, the terrace entrance is delightful for reading, sipping a drink, or taking in more sights and sounds.
Two bungalows are accessible to guests using wheelchairs. The design looks very similar to other units, but these have assist bars in the shower and next to the toilet. Sinks and toilets sit lower, doorways are wider, and ramps leading to these bungalows are gradual.
Río Perdido has a pool with a swim-up bar, as well as a spa where you can relax with reflexology and deep tissue massages. Guides are available to lead different activities into and around the canyon.
Breakfast is included. Río Perdido seeks out local growers for their produce. The restaurant dining room is rounded, spacious, naturally ventilated, and features panoramic views. Tables, lounge seats, and a bar await you. You can also arrange to eat a special menu on a Floating Platform under the open Guanacaste sky. Between the activities and the setting, you're liable to work up an appetite. Río Perdido is pretty hard to beat.
More Property Amenities
Air Conditioning
Alarm Clock
Babysitter
Balcony
Bar
Breakfast Available
Cable TV
Coffee Service
Gardens
Hair Dryer
Hammocks
Handicap Accessible
Hiking Trails
Hot Springs
Hot Water
Internet Access
Iron & Ironing board
Laundry Service
Massage
Mini Bar
Private Parking
River View
Safe Deposit Box
Telephone
Wet Bar
Accommodations
Center Bungalow Queen
Sleeps 5
Air Conditioning
Alarm Clock
Cable TV
Hair Dryer
Hot Water
Iron & Ironing board
Mini Bar
Safe Deposit Box
Telephone
Wireless Internet
Porch
Air Conditioning
Alarm Clock
Cable TV
Hair Dryer
Hot Water
Iron & Ironing board
Mini Bar
Safe Deposit Box
Telephone
Wireless Internet
Wheelchair Accessible
Porch
Center Bungalow King Bed
Sleeps 2
Air Conditioning
Alarm Clock
Cable TV
Hair Dryer
Hot Water
Iron & Ironing board
Mini Bar
Safe Deposit Box
Telephone
Wireless Internet
Porch
Feedback from Travelers
Awesome experience in nature and facility. Great time here. Staff was so caring and helpful.
WE LOVED THIS PLACE. WE WANT TO MOVE THERE.BEST PLACE EVER.
This place is expensive but worth every penny. All the persons that work in there are very professional and take care of all your needs and "antojos". Jonathan was our person of the week. Great employee indeed.