Hacienda Baru is an eco-lodge located near Dominical along Costa Rica's central Pacific coast. Dominical is famous for its stellar surfing and relaxed atmosphere.
Featured in:
Eco Lodges, Midrange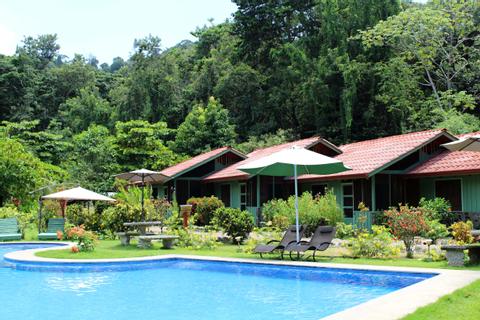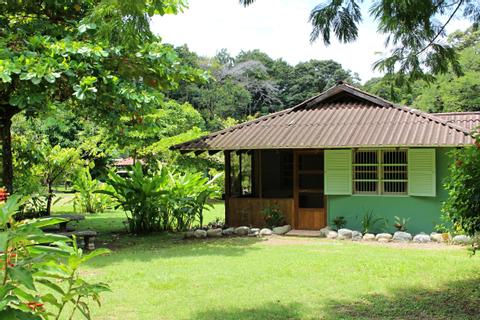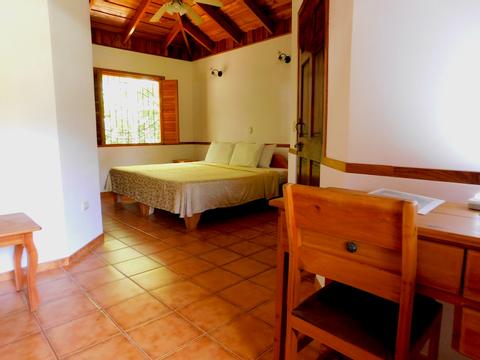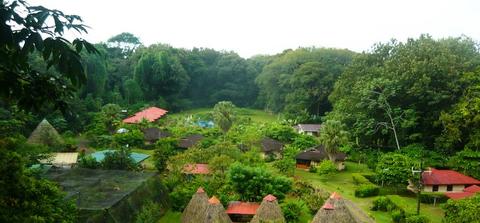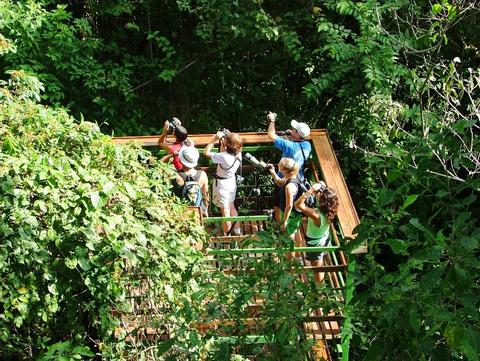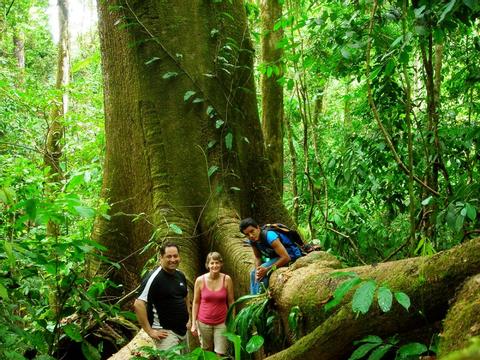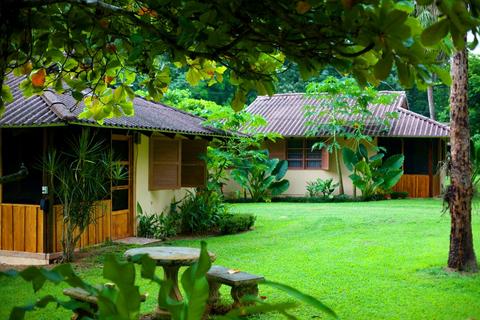 2:00 p.m. check in
12:00 p.m. check out
Restaurant in Hotel
Swimming Pool
Free Breakfast
Attractions & Sites
7 km
11 km
The small town of Dominical – located some 27 miles (44 km) south of Quepos – is a pleasant place to unwind. There are several beaches to choose from and a variety of activities that can be launched from the shore. These include horseback riding, deep sea fishing, sea kayaking, and snorkeling. Other popular activities include trips to the Nauyaca Waterfalls and the Manual Antonio National Park.
Hacienda Baru is set on an 815-acre (330-ha) piece of property that's a short walk from the coast. There are a great variety of habitats within their land, from wetlands and secondary rainforests in the lowlands to primary rainforests on the highland coastal ridge. There are 4 miles (8 km) of walking trails to enjoy, as well as an orchid garden, and bird watching tower. Night tours and bird watching tours are offered onsite, and there is even a zip-line course that stretches across eight cables.
Accommodations at Hacienda Baru are made from environmentally friendly materials. The tile roofs are made from recycled plastic bags and all of the wood that was used in the construction of the cabins – including teak, gmelina, and pine – is from Hacienda Baru's own plantation. There are three types of cabins to choose from. Most have screened porches that are an excellent place to relax and enjoy your morning coffee. Solar heaters provide hot water to the bathroom, and overhead fans ensure that the indoor temperature remains cool. Some cabins have a living room and kitchenette, and several are near the swimming pool.
The pool uses an Ozone Purification System that uses only 1/10 the amount of chlorine that most pools use. It's a great place to enjoy a cool dip after hiking in the jungle or walking on the beach. A complementary breakfast is served every morning in the open-air restaurant. The menu offers a nice assortment of food, including fresh seafood, pastas, salads, deserts and more. Beer, wine, liquor and juices are offered, and there are five private ranchos for guests that would prefer a more intimate setting.
More Property Amenities
Hammocks
Hot Water
Fan
Mini Refrigerator
Safe Deposit Box
Hiking Trails
Gardens
Accommodations
Two Bedroom Cabin
Sleeps 5
Hot Water
Mini Refrigerator
Living Room
Porch
Three Bedroom Cabin
Sleeps 5
Bedrooms:3,
2 Double beds
Fan
Hot Water
Mini Refrigerator
Living Room
Porch
Fan
Hot Water
Safe Deposit Box
Porch
Feedback from Travelers
I really loved Hacienda Baru. But, I think it's important for people to know that without a rented car, it is not easy to get to the surrounding sites in Dominical and Manuel Antonio. Because I didn't have a car, I didn't leave the grounds of Hacienda Baru for the full time I was there. I was ok with this - the grounds were beautiful, the nature trails were easy to explore without running into lots of people, the food was inexpensive and good, my cabin was comfortable, and the beach was mostly vacant. Very relaxing! But, others may be disappointed if they had hopes to leave and explore the area.
We're very much pleased - from the staff to the basic amenities of place. It would be selfish of us not to tell our friends about this piece of paradise.