La Paloma Lodge sits high atop a ridge overlooking Drake Bay and the Pacific Ocean. Located in southern Costa Rica near the Osa Peninsula, this area is bountiful with natural wonders and virtually devoid of tourist crowds.
Featured in:
Luxury, Honeymoon, Hilltop, Great for Families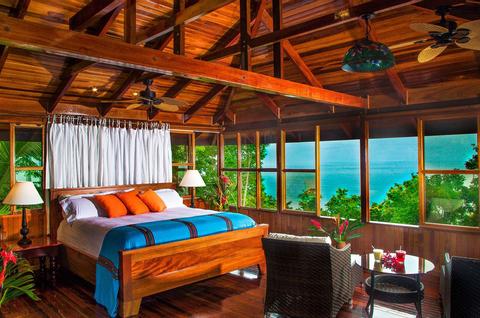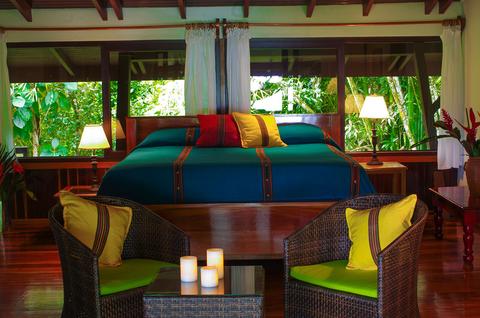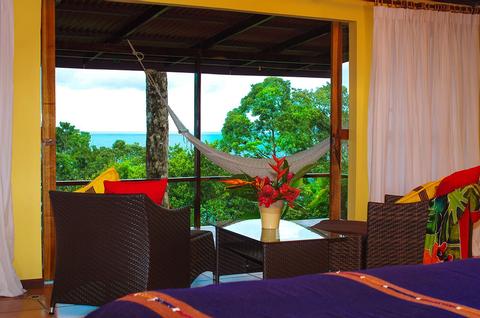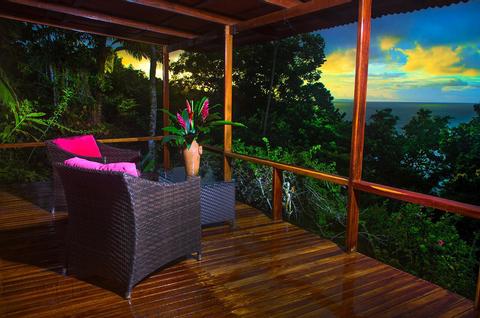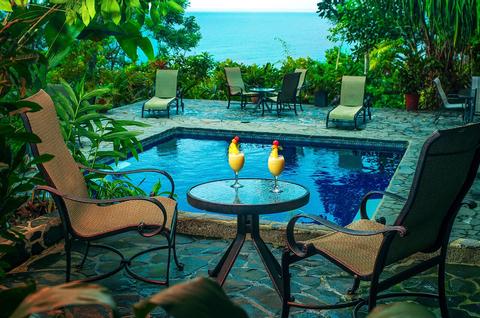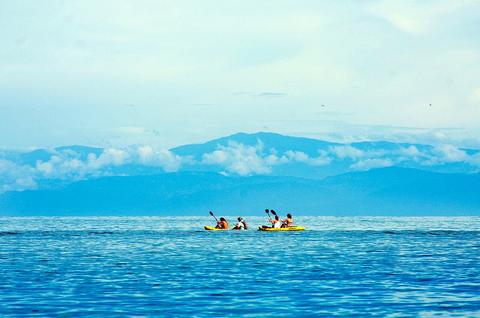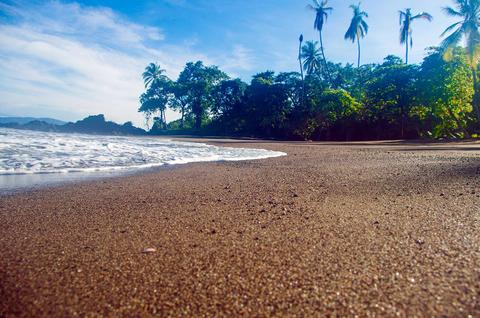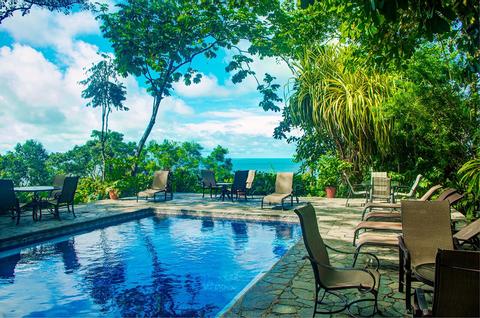 9:00 a.m. check in
11:00 a.m. check out
Swimming Pool
Wireless Internet
Restaurant in Hotel
Free Breakfast
At La Paloma Lodge, you can pick from packages that last 3 or more nights. Packages cover round-trip transportation from Drake Airstrip, all meals, a guided tour to Corcovado National Park, and a full-day tour to Caño Island (entrance fees to the parks are also included).
La Paloma Lodge is a premier eco-lodge that spreads over 12 acres (5 ha) of landscaped gardens and lush tropical rainforest. This lodge contributes to local organizations that promote education for local youngsters, as well as the Corcovado Foundation. The lodge also supplies guests with eco-friendly products.
Transportation to La Paloma Lodge consists of a taxi ride to the river, and then a boat taxi to the hotel. Corcovado National Park has a greater variety of species than anywhere else on Earth. This park covers a vast 100,000-acre (40,468-ha) swath of rainforest. Take unforgettable treks into the jungle, and visit Drake Bay to embark on tours of the coast. Your stay at the lodge includes a guided hike to San Pedrillo Ranger Station and a trip to Caño Island. On hikes to San Pedrillo, you can expect to see glorious waterfalls. In the area surrounding Caño Island, you can sometimes spot humpback whales or dolphins. The area surrounding the island is known for its clear water and fantastic visibility for snorkeling, and the island has pristine beaches where you can take rejuvenating breaks.
Accommodations here come with sumptuous views. From the floor-to-ceiling windows, you'll be treated to a view of the Pacific Ocean, as well as the frenzied activity of surrounding monkeys and birds. You can choose from private bungalows, called "ranchos," or regular rooms. La Paloma Lodge also added a 3-bedroom luxury beach house.
These accommodations have all the amenities that you would expect in a hotel room, including air conditioning, fans, daily housekeeping, and private bathrooms. Bathrooms have hair dryers, as well as biodegradable shampoo and conditioner. Keep your important travel documents and valuables neatly tucked away in the safety deposit box. There is no telephone or Wi-Fi in the rooms, so while you're here you have the chance to reconnect with nature.
The lodge has a swimming pool where you can take a few refreshing laps, and it comes with a view of the beach. You can request a 60- or 90-minute massage in the comfort of your room. The lodge is a short distance from the river, as well as black-sand beaches.
Meals include homemade bread and fresh fruit. Guests can request vegetarian meals if they wish. All food is included in your stay, and you can also order cocktails, beer, and wine.
More Property Amenities
Air Conditioning
Hot Water
Coffee Service
Game Room
Beach Access
Balcony
Fan
Hair Dryer
Safe Deposit Box
Hammocks
Jungle View
Ocean View
Massage
Accommodations
5 Night Package - Superior Room
Sleeps 3
Air Conditioning
Balcony
Fan
Hair Dryer
Hot Water
Safe Deposit Box
3 Night Package - Sunset Rancho
Sleeps 6
Air Conditioning
Balcony
Fan
Hair Dryer
Hot Water
Safe Deposit Box
5 Night Package - Sunset Rancho
Sleeps 6
Air Conditioning
Balcony
Fan
Hair Dryer
Hot Water
Safe Deposit Box
4 Night Package - Superior Room
Sleeps 3
Air Conditioning
Balcony
Fan
Hair Dryer
Hot Water
Safe Deposit Box
3 Night Package - Deluxe Rancho
Sleeps 6
Air Conditioning
Fan
Hair Dryer
Hot Water
Safe Deposit Box
4 Night Package - Deluxe Rancho
Sleeps 6
Air Conditioning
Fan
Hair Dryer
Hot Water
Safe Deposit Box
5 Night Package - Deluxe Rancho
Sleeps 6
Air Conditioning
Fan
Hair Dryer
Hot Water
Safe Deposit Box
4 Night Package - Sunset Rancho
Sleeps 6
Air Conditioning
Balcony
Fan
Hair Dryer
Hot Water
Safe Deposit Box
3 Night Package - Superior Room
Sleeps 3
Air Conditioning
Balcony
Fan
Hair Dryer
Hot Water
Safe Deposit Box