Pirate Cove Hotel
Pirate Cove Hotel lies along the Osa Peninsula in one of Costa Rica's most biologically diverse locations - Drake Bay. For the avid nature lover or the outdoor adventurer, a visit to Drake Bay is the trip of a lifetime, promising encounters with some of the world's most fascinating plant and animal species.
Drake Bay is one of the most inaccessible parts of the entire country, with a spectacularly remote location that has kept its ecosystem thriving and intact. A visit to Drake Bay - with its deserted beaches, warm waters, and lovely hiking trails - is almost ensured to reduce stress levels. The primary rainforest blanketing Corcovado National Park is home to a plethora of remarkable animals, including howler monkeys, sloths, toucans, and more than 450 species of other birds. Also nearby is Isla del Cano, a biological reserve that is a major migratory route for marine animals such as bottle-nosed dolphins and humpback whales. Often compared to diving in the Galapagos Islands, the waters off the shores of Cano are filled with Pacific reef fish, whale sharks, moray eels, manta rays, and white-tipped reef sharks.
Pirate Cove works hard to exist in balance with the surrounding ecosystem. The bohemian-style cabins are tucked away into the tropical foliage, blending seamlessly into the natural environment. The hotel looks down upon a 2-kilometer deserted beach that is perfect for beach combing, and an adjacent ocean which is good for swimming. Although Pirate Cove stresses simplicity, the resort manages to promote a version of eco-tourism that does not sacrifice comfort and tastefulness. Pirate Cove has a selection of accommodations that can lodge the single traveler, the honeymooners, and the family of four. Rooms are beautifully designed with honey-hued wood and simple, tasteful color schemes, and every bed is equipped with an orthopedic mattress. Each room has its own deck, with hammocks and/or deck chairs, providing the perfect place to kick back and relax.
Like most hotels in the Drake Bay area, Pirate Cove has all-inclusive dining, providing its guests with three meals a day. The food here is a fusion of European and Costa Rican influences, drawing heavily on the fresh fruit and seafood that are abundant in the surrounding area. The communal dining area provides a space for guests to compare travel notes, swap stories, and enjoy each other's company. Additionally, there is a common area with a refrigerator stocked with water, soda, beer, yogurt and more, which is available to guests at anytime.
Pirate Cove Lodge offers its guests an abundance of activities to choose from. There are PADI scuba diving courses, whale and dolphin watching tours, sport fishing trips, and sea kayaking adventures. Pirate Cove is a member of PIRA (PADI International Resort Association), with professionals on hand to make sure that the dive tours are both safe and memorable experiences. And although the many available tours are one of the highlights at Pirate Cove, there is no pressure for guests to attend any of them. There are plenty of shady spots, deserted beaches, and swimming holes to keep guests occupied during their stay.
Note: Three meals per day included with the stay.
Facility Amenities
---
Restaurant in Hotel
Free Breakfast
Wireless Internet
Spa Services
Wheelchair Accessible
Swimming Pool
Coffee Service
Hot Water
Laundry Service
Mini Refrigerator
Private Parking
Safe Deposit Box
Facility Amenities
---
Restaurant in Hotel
Free Breakfast
Wireless Internet
Spa Services
Wheelchair Accessible
Swimming Pool
Coffee Service
Hot Water
Laundry Service
Mini Refrigerator
Private Parking
Safe Deposit Box
Check In:
11am
Check Out:
10am
Pirate Cove Hotel Accommodations & Rooms
4 Rooms
Filter Rooms
Room Features
Room View
The staff is outstanding in all respects!
The hotel motor launch picked us up at Sierpe for the hour or so long trip to Pirate Cove in Drake Bay. The boatmen stopped to show us some birds and animals en-route. The boat pulled in at the bottom of some wooden steps that lead up to the hotel from the beach. Our detached room, which overlooked the river where it met the sea, was very pleasant with effective air-conditioning, a secure safe-box, a balcony with a hammock and comfortable beds. The food at the restaurant is first class. The hotel is owned by a Swiss lady and two Americans, who also run Cano Divers from the hotel. The renowned Cano Island is about 18km offshore. In addition to dives, the hotel also organised snorkel trips to the island and nature trail walks on alternate days to San Pedrillo Ranger Station or Sirena Ranger Station in the outstanding Corcovado National Park. The Mangrove Tour is an excellent way to see sloths, crocodiles and much other wildlife. The guided night tour of a nearby creek also reveals many creatures. Do take the opportunity to borrow some kayaks and quietly explore the river for a mile or so upstream of the hotel. We would thoroughly recommend a stay at Pirate Cove in Drake Bay.
We had bungalow #4 which we believe was the best one. The staff was great and the food was good. Lots of birds right there!
This was our favorite place to stay. The first room we had was not great, but the cabin we moved into later was wonderful. The best part was the friendly informal nature of the place were you could meet and talk with many other guests at their family-style dinning room. We met several other couples on the snorkeling or rain forest trips. We then enjoying sharing meals with them and had great conversations. To met and have discussions with people from Catalonia, Belgium, England and of course Costa Rica, was a great part of our experience.
Our favorite location. We loved the remote location, hammocks, kayaks and fresh fruit juices.
Lovely hotel, lovely food, pleasant staff. Would recommend
This was brilliant. The perfect end to our holiday. Also had a fantastic hike in Corcovado National Park with a terrific guide (Gabriel) who went out of this way to show us as much wild life as possible (and was very informative). We were very impressed by the skills of the boat captains.
I had a great room with a balcony overlooking Drake's Bay. I had a lot of interaction with the staff and they were all very friendly, courteous and helpful.
We loved Pirate Cove. It was a perfect home base. Our room was just as Jessica described - spacious with a porch and a great breeze overlooking the Pacific. This was a meditation spot to remember always! The staff was lovely and the food, good and sustaining. Absolutely no complaints.
The staff were professional and extremely helpful. The food was delicious and generous. This is a beautiful spot and good value.
The boat ride there was fun! Nelson was very friendly and helpful. Our room was very clean and the balcony was wonderful. The bed was very comfortable. We enjoyed the night tour and the massages on our balcony. The beach was beautiful. We also enjoyed kayaking down the river. The food was awesome every night! We met some very nice travelers from around the world.
Una experiencia inolvidable gracias al servicio personal y familiar de todo el equipo del hotel. La comida muy rica y variada.
We really enjoyed Pirate Cove and we had a wonderful 3-night stay there. The cabin was clean and large, and the staff were helpful. This place felt eco-friendly with a natural setting in the forest and boardwalks to allow the native vegetation to be preserved. The hotel is fairly expensive, but that is likely in part due to the fact that everything needs to be transported in by boat.
We loved this place. Very relaxed, close to nature, plants, birds, an unspoilt shoreline, and the staff couldn't have been more helpful. We ate well there, and liked the little touches such as the provision of a hammock on our balcony, and swing chair in the dining area (loved by the 7-year old).
We arrived the morning after a big storm and large landslide that knocked out electricity and running water for the first day & half. The staff made this inconvenience hardly noticeable to us... Delicious food, beautiful location, very helpful staff... Loved this remote location. Very good activities booked thru the hotel. Great trip to Cano Island for snorkeling!
This hotel is not for people looking for a full service hotel! It is a basic hotel with tent like rooms over looking the ocean. They do have fans and basic lights in the rooms. There are screens on the windows and doors that keep the jungle outside. Meals are served family style as a group at set times each day. Once you get past these issues, it's a great place to be alone on the beach!! You can be the only person on the beach or you can go on group tours with others. We did enjoy our stay at the hotel.
Very rustic. Loved swinging on the hammock. Remote place. Very friendly staff. Meals served with other guests. Loved the interaction with all the guests. Very small and quiet.
Susan and Owen were very helpful in arranging activities for us. Good food! It is a great place to mingle with other travellers.
Great staff, food.
Suzanne was terrific - as was the rest of the staff. We had good food every where we went in Costa Rica, but the service and food at Pirate Cove was the absolute best!
Pirate Cove Hotel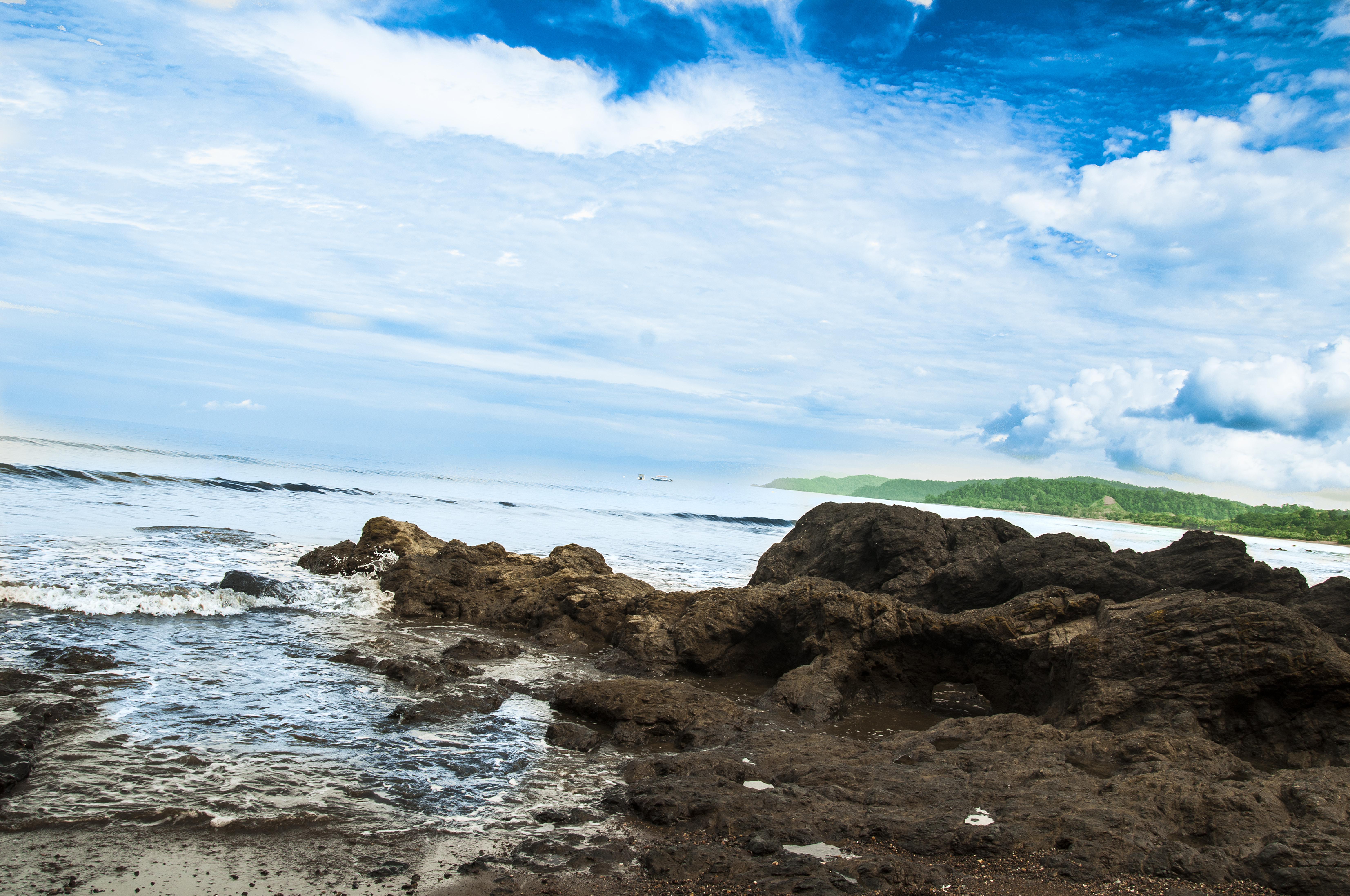 Room rates: $210
125
Anywhere.com