Set amongst 6 acres (2.4 ha) of forested countryside, the Villas Escondidas Hotel is an authentic Central Valley getaway. Five minutes outside of Grecia and 30 minutes from the Juan Santamaria International Airport, guests are immersed in a naturally air-conditioned temperate microclimate and a landscape punctuated by forested volcanoes.
Featured in:
Bed and Breakfast, Budget, Great for Families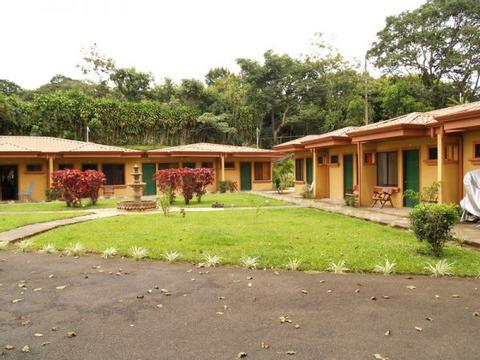 2:00 p.m. check in
12:00 p.m. check out
Swimming Pool
Wireless Internet
Free Breakfast
Upon arrival, travelers are greeted by the soothing sound of the river and the tranquility of the rural Costa Rican lifestyle. Characterized by simplicity and genuinely friendly service, the family run Villas Escondidas Hotel allows visitors to enjoy the peacefulness of the countryside and the luxuries of the surrounding environment. While guests will not find the frills of a high-end resort here, the clean and spacious rooms combined with delicious food options make this a delightful choice. Additionally, the Villas Escondidas features a nearby waterfall, beautifully landscaped gardens, and access to many local adventures. Pets are welcome.
The nearby town of Grecia, accessible by taxi or bus, is an agricultural hub for the local producers of sugar cane, coffee, and pineapple. This charming little town provides basic amenities, a snake museum, unique cathedral, and access to the famous artisan town of Sarchí. Known for its painted oxcarts, handcrafts, and daredevil bungee jumpers, Sarchí is set among lush rolling hills.
Further outside of Grecia, where the lowlands transition to volcanoes, lies an abundance of outdoor excursions. Head to one of many thermal springs to enjoy a rejuvenating afternoon in the tub or explore the geological processes that continue to shape the Poás Volcano National Park. Great hiking options abound in the local rainforest and thrill-seeking travelers can take a canopy tour to view the beautiful butterflies, raging rivers below, and exotic wildlife.
More Property Amenities
Cable TV
Fan
Gardens
Handicap Accessible
Hiking Trails
Hot Water
Internet Access
Private Parking
Telephone
Accommodations
Cable TV
Fan
Hot Water
Wireless Internet
Feedback from Travelers
Could not have been better. Owners and their family treated us as family members. I would recommend it to anyone.