Hotel Karahe and Villas
Hotel Karahe is located in front of Manuel Antonio Beach, and nearby the world famous Manuel Antonio National Park, in Costa Rica's Central Pacific. The area is blessed with gorgeous white sand beaches where the rainforest greets its sands making for a truly exotic experience. The nearby town of Quepos offers a selection of international and national restaurants, bars, shops and is known for its sports fishing excursions.
Here at Hotel Karahe you'll find exotic architecture and gardens that meet the ocean and the entrance of the park only 10 minutes away within easy walking distance. The swimming pool and Jacuzzi, as well as our restaurant, sit within earshot of the ocean. Howler, White-face and Squirrel monkey, basilisks, iguanas and land crabs are among the frequent visitors here. Dine in our international restaurant and snack bar serving up tasty treats.
Among the palms, acacias and Heliconia, we have built 16 modern, air-conditioned rooms some beachfront and others. The hillside behind the hotel rises sharply and on its green slopes, there are nine air-conditioned villas, each with spectacular views of Punta Catedral and the Manuel Antonio beach.
Explore this wondrous area on horseback, through an exciting canopy tour, boat ride or ATV tour. There are also rainforest hikes, catamaran boat rides, scuba diving excursions as well as a night mangrove boat tour.
Facility Amenities
---
Restaurant in Hotel
Free Breakfast
Wireless Internet
Spa Services
Wheelchair Accessible
Swimming Pool
Air Conditioning
Bar
Beach Access
Gardens
Hiking Trails
Hot Water
Jacuzzi
Jungle View
Mini Refrigerator
Private Parking
Safe Deposit Box
Facility Amenities
---
Restaurant in Hotel
Free Breakfast
Wireless Internet
Spa Services
Wheelchair Accessible
Swimming Pool
Air Conditioning
Bar
Beach Access
Gardens
Hiking Trails
Hot Water
Jacuzzi
Jungle View
Mini Refrigerator
Private Parking
Safe Deposit Box
Check In:
2pm
Check Out:
12pm
Hotel Karahe and Villas Accommodations & Rooms
5 Rooms
Filter Rooms
Room Features
Room View
Hotel with it's private beach access and bar/restaurant right there was perfect. Even tho it is a public beach, It was far enough down the beach from the area where people can park that it wasn't crowded as the more southern end of the beach was. Drinks were good and staff was friendly.
Loved it!
Loved the clean big rooms and updates baths. Enjoyed the nice beach and the comfy hammocks in the balconys.The hotel is walkable distance from eating places. The bus runds every twominutes.best is to walk along the beach 10 minutes and get to the restaurant.
Can I say- the best. Ive said before, I wanted something family owned, and NOT too convenient. This was perfect. Thank you for guiding us to this property. We had the conveniences, a/c, wifi, in room fridge, pool but better we were away from the bars and touristy areas. It was a short walk to get to other resorts, restaurants, mini mercados. We had it better than most properties. We had direct beach access! I appreciated the security of a keyed gate at the beach and the entrance. The property had hammocks on the balcony, and chairs and loungers to take to the beach, beach towels. The breakfast buffet very good; eggs breads, juices. The restaurant many good dishes with good prices for lunch and dinner. Really enjoyed my days spent here.
View from room was great. Nice lawn and wonderful foliage, nice birds and animals right outside your door.
This hotel was everything we hoped it would be! We would definitely stay again, and highly recommend! Everyone was just spectacular.
Appreciated being upgraded to a nicer room when the room we expected was not available. Great location close to the park and beach. Staff were excellent, very helpful with restaurant and activity suggestions. Wonderful place to end our vacation.
Great location and fantastic restaurant. The waiting staff were exceptionally friendly and interested in our experiences and our country. It was fantastic to be able to walk right out onto the beach and walk right into Manual Antonio. The room was ordinary but very clean with a comfortable bed.
I loved that we could just walk onto the beach! This made the trip that much more wonderful.
We loved everything about this hotel. Our room was new renovated and over looking the ocean and so close to the beach and restaurant. The staff was so wonderful!!!!
Perfect access to beach, bus, good restaurant. Very enjoyable.
You can't beat the location of this hotel. A basic three star hotel with all you need. Excellent dining and access to the beach was fantastic.
I was told there are only 3 hotels that actually have beachfront properties and this one being one of them. The hotel itself is nothing to write home about, but the fact that is is just a very short walk to the beach, this facts makes this hotel a good place to stay at. Other wise i'd say i did not care for it much, it was nothing great and no great amenities, just a very basic hotel room. It does have very well maintained grounds and pool area. the staff was very friendly and helpful, the restaurant was outdoors and you could see the beach while dinning, an amazing way to begin your day, having breakfast at the restaurant overlooking the beach, aaaaaaaaaaaaaaaaahhhhh VERY NICE. And the food always tasty, loved the breakfast buffet. also the park Manuel Antonio is just a short walk away on the beach, you walk to your left when you leave the hotel grounds and in about 10 minutes or less you make it to the end where the park is. there are a lot of tourists there and shops and restaurants, a nice place to go and hang for a while.
We didn't expect the 90+ steps up to our room, but it did help us get our exercise. It wasn't too bad and the view from the top rooms is nice. Food was good in the restaurant, and the pool/open air restaurant area and surrounding grounds were very nice.
This hotel was perfect for us! We stayed in a room across the street from the beach, but that was fine with us as I had already read reviews about the hill to walk up from the beach to the rooms. We saw monkeys outside our window in the morning and loved the beach accessibility from the restaurant for sunsets and relaxing. There were also beach chairs and lounges for guest use, which was also nice.
very nice and the staff were great.
This part of the trip was the best. We loved the hotel and restaurant. Being at the beach ended our trip with such feelings of calm and relaxation.
The Karahe is in a prime location for beach and wildlife. We saw more wildlife (monkeys) on the property than in Manuel Antonio Park! Highly recommend the beachfront rooms, which really aren't, but are only 250-300 feet away. The restaurant is very nice and is right at the beach. Quiet serene and fantastically landscaped property!
I chose this hotel despite Katia not initially recommending it. I wanted something rustic and medium priced as alternative offered was excessively expensive (though rated exceptionally well). Karahe was great location (if specifying beachfront apartments), accomodation simple but adequate. Food and service not wonderful, but lots of local options for eating so didn't matter. Enjoyed the ambience.
I loved this hotel. It made our visit special...
Hotel Karahe and Villas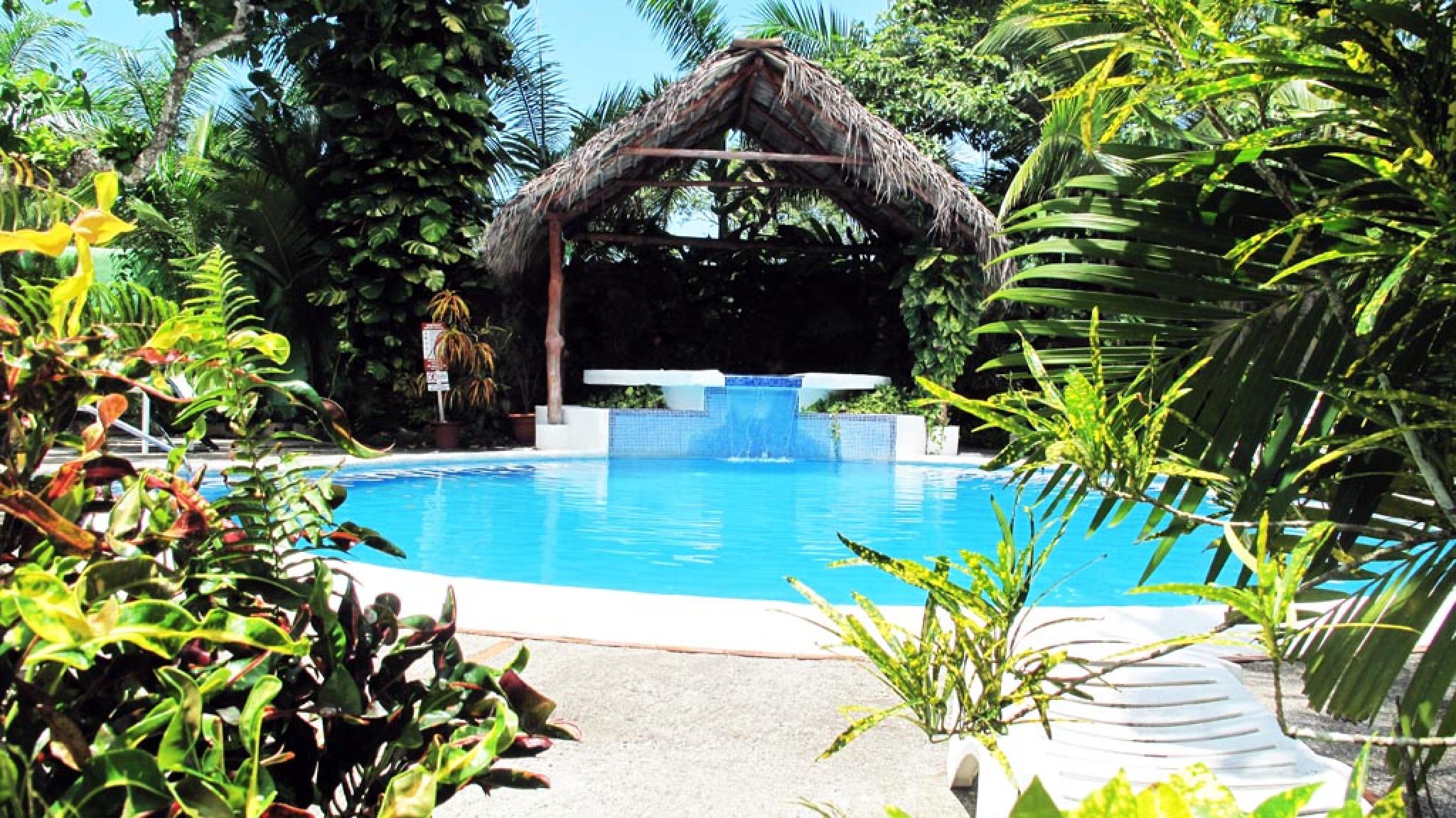 Room rates: $113
207
Anywhere.com