Chayote Lodge is a boutique hotel set in the midst of coffee farms and verdant mountains. This lodge is on the road from San José to Arenal Volcano National Park, which is one of Costa Rica's most popular parks for hiking and sightseeing.
Featured in:
Honeymoon, Hilltop, Boutique, Great for Families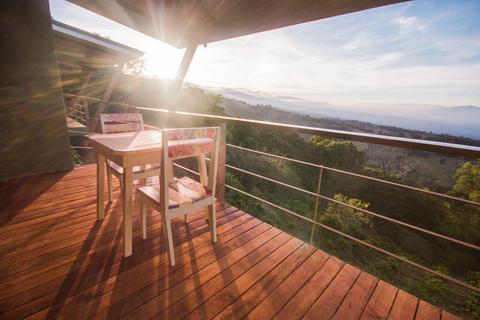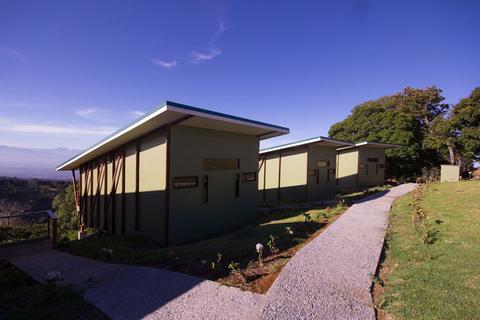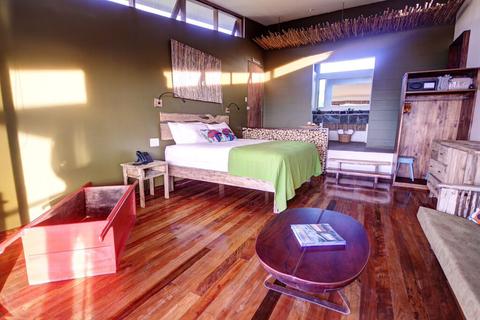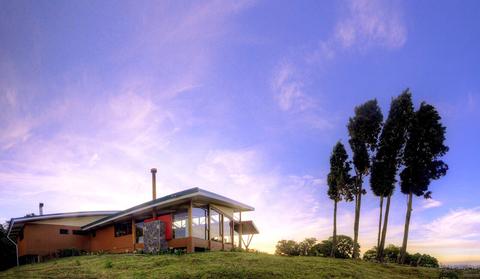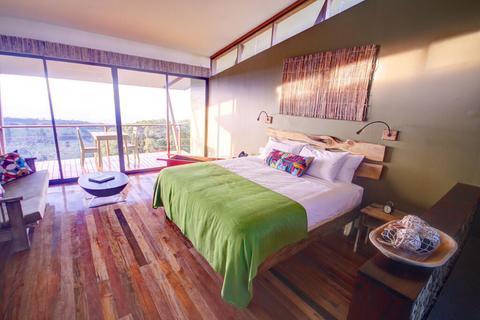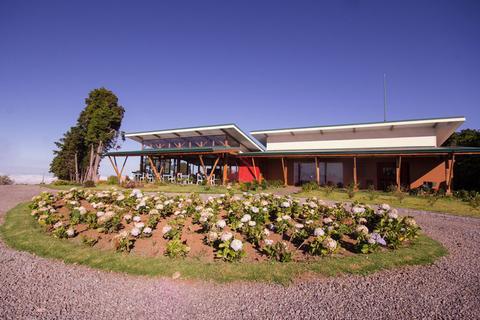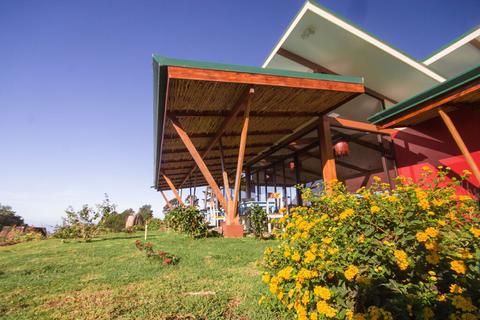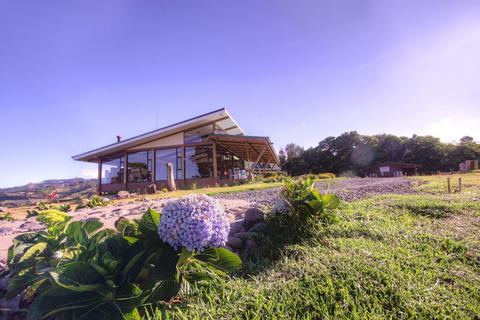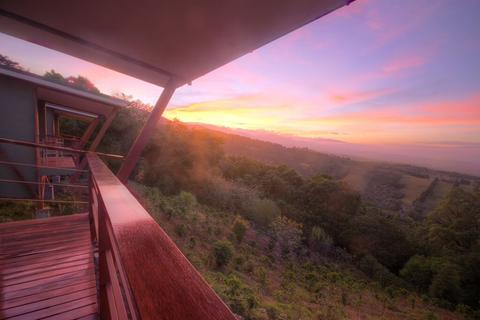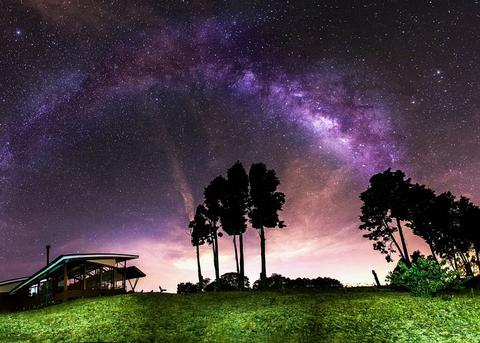 2:00 p.m. check in
12:00 p.m. check out
Restaurant in Hotel
Wireless Internet
Free Breakfast
You'll find Chayote Lodge in a small village, about a 2-hour drive from Arenal Volcano National Park, and slightly closer to Poás Volcano National Park. Chayote Lodge is set high enough on a mountain for you to see the Pacific Ocean in the distance. The soil in this area is known to produce particularly high-quality coffee, which you can sample for yourself at the Doka Estate coffee plantation, just outside of Poás. Coffee farms and cloud forest surround the lodge, and the nearby village is a great place for learning about how coffee is made. The hotel itself incorporates decorative touches throughout the rooms and communal areas that pay homage to the local coffee trade.
Chayote Lodge offers 16 bungalow suites. In every bungalow, you'll find a living room with a pleasant couch. Each bungalow has its own balcony with a sliding glass door. You'll be able to see volcanoes from the balcony. The balconies come equipped with comfortable patio furniture, including a lazy chair. Sunlight will pour in your suite from the balcony, illuminating the artisanal wood furniture, the polished wood floor, and the colorful textiles. You'll fall asleep on a king-sized bed, kept warm and comfy by the plush duvet.
Suite bathrooms are decorated in a rustic style and outfitted with upscale amenities. They all come with a shower, a large counter, and two sinks. In the living room and bedroom area, you can make calls on the IP phone, and access the Internet on the lodge's complimentary Wi-Fi. Keep your valuables safe in the room's safety deposit box.
Chayote Lodge has a restaurant that serves Latin fusion as well as international cuisine. This restaurant has an upscale atmosphere and offers food made from fresh, local ingredients. You can order coffee as well as breakfast and lunch at the lodge's outdoor terrace café, and chat with locals in the hotel's charmingly low-key bar. There is also a sitting area in the main lodge where you can access the Wi-Fi or unwind with a book.
This lodge offers several tours:
On the Costa Rica Food Tour, you can visit a rustic kitchen and have a local cook show you how to make either a traditional breakfast or lunch. Afterward, you'll get to visit a coffee farm and try a cup of freshly brewed coffee.
Visit the Toro Waterfall to see a waterfall surrounded by a jungle and enjoy a scenic drive on the way there.
Sign up for the Narajo Coffee and Town for a 90-minute tour of the Espiritu Santo Coffee plantation and a sumptuous lunch. This farm is operated by a co-op of coffee growers that implements ecologically friendly agricultural practices. You'll also visit the nearby marketplace for lunch. As the last stop on the tour, you'll visit a local church called the Basilica de la Nuestra Señora de las Piedades (Our Lady of Piousness), which was rebuilt after a series of earthquakes in the 1940s.
More Property Amenities
Balcony
Bar
Breakfast Available
Coffee Service
Gardens
Hot Water
Internet Access
Private Parking
Safe Deposit Box
Yoga Lessons
Accommodations
Dona Gladys Forest Suite
Sleeps 3
Balcony
Hot Water
Mini Bar
Mini Refrigerator
Safe Deposit Box
Telephone
Wireless Internet
Living Room
Deck
Fireplace
Balcony
Hot Water
Mini Bar
Safe Deposit Box
Telephone
Wireless Internet