Mono Feliz – which means "The Happy Monkey" in Spanish – is located near the village of Ojochal in Costa Rica's Southern Pacific Region. Although Ojochal is less developed than other parts of the country, it is by no means lacking in natural beauty or a bounty of things to do.
Featured in:
Eco Lodges, Budget, Cabins and Villas, Great for Families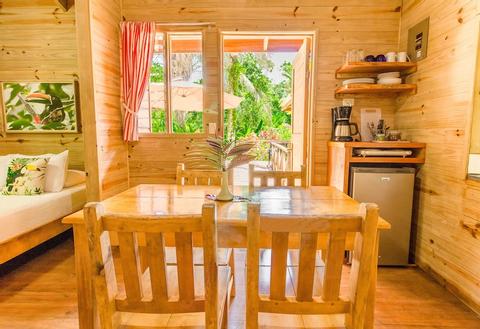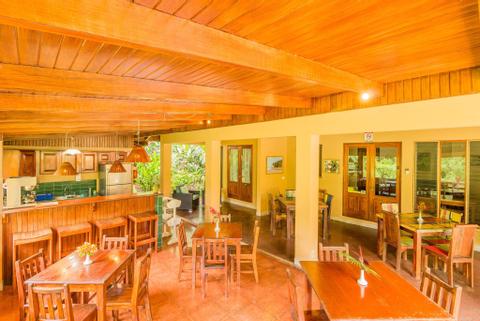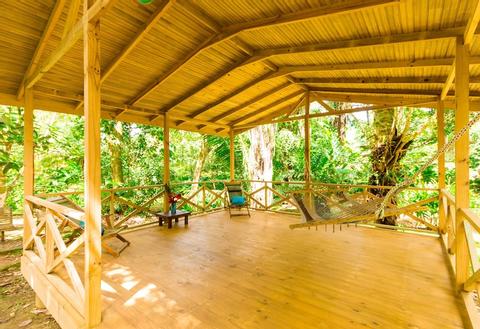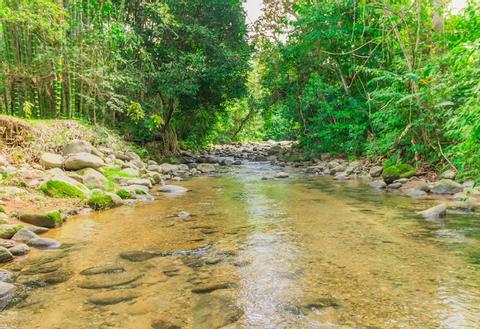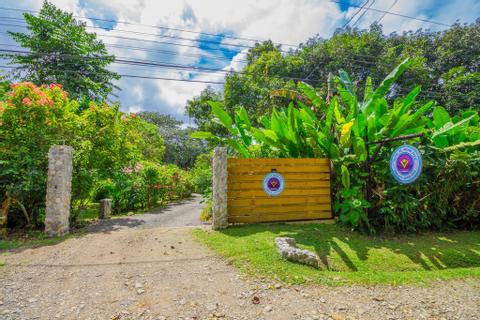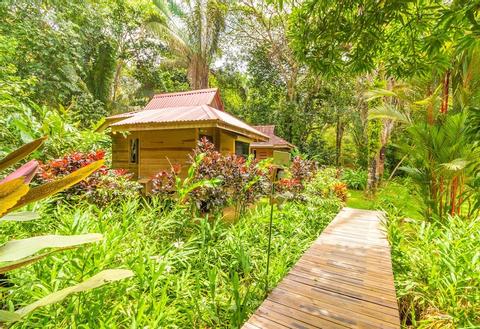 2:00 p.m. check in
10:30 a.m. check out
Swimming Pool
Free Breakfast
– Some rooms feature –
Wireless Internet
Attractions & Sites
19 km
5 km
The town of Ojochal offers travelers an authentic glimpse into Costa Rican life. Its pace is slow, its services are basic, and its locals are friendly. The town itself sits a bit off the coast, but has easy access to a clean and clear stretch of beach. Here is the perfect place to sunbathe or swim in the calm blue waters of the Pacific. There aren't many people around, so solitude and relaxation can be easily enjoyed.Travelers can also make visits to the Nauyaca Waterfalls – which many believe to be the best falls in the country – and the Marino Ballenas National Park. Hiking, kayaking, and horseback riding are another great way to experience the outdoors, as are trips into the ocean for sport fishing, scuba diving or snorkeling.
The Hotel El Mono Feliz is a hidden gem of ahotel set amidst a vibrant outdoor area. The hotel's garden isexpansive and filled with flowers and trees. Birds and butterflies tend to frequent this area, allowing visitors the convenience of searching for wildlife within their own backyard. What's more, two streams and a river run through the property. The relaxing sound of moving water can be enjoyed from the benches and chairs that are set near the water. Accommodations consist of both rooms and cabañas. The cabañas are set within the garden near the river. There are both one and two bedroom options that are capable of sleeping up to four people. Each is a simple wooden affair equipped with a private hot water bathroom, ceiling fan, kitchenette, and terrace. The rooms are more basic, but just as cozy. They also have doors that lead to either a shared porch or garden.
Every morning a complimentary breakfast with vegan and gluten free options is served on the hotel's large outdoor dining area. For lunch and dinner guests can grab a bite at one of the restaurants in Ojochal. Also on hand is a mid-size swimming pool. It's surrounded by chairs and shaded areas, providing guests with a perfect place to cool off during the afternoon.
**Children under 5 years old are not allowed.
More Property Amenities
Hot Water
Coffee Service
Private Parking
Fan
Internet Access
Hiking Trails
Kitchen
Hammocks
Balcony
Gardens
Breakfast Available
Accommodations
Garden View Villa
Sleeps 4
Air Conditioning
Hot Water
Wireless Internet
Comfort Basic Room
Sleeps 2
Air Conditioning
Balcony
Fan
Hot Water
Wireless Internet
Family Comfort Two Bedroom Suite
Sleeps 4
Bedrooms:2,
2 Double beds
Air Conditioning
Fan
Hot Water
Wireless Internet
Family Jungle Bungalow Suite
Sleeps 4
Air Conditioning
Fan
Hot Water
Mini Refrigerator
Wireless Internet
Dining Room
Deck
Air Conditioning
Balcony
Fan
Hot Water
Wireless Internet
Feedback from Travelers
Extremely pleasant caring and considerate owners. Wonderful environment in which to stay near Playa Tortuga with lots of restaurants nearby. Exotica French Restaurant, recommended by Mono Feliz owners was the perfect choice. El Mono Feliz cabins were private, located in a beautiful setting, and the breakfast was delightful with exceptional fresh fruit.
Similar Hotels