Playa Coyote, Costa Rica
Playa Coyote is one of several pristine beaches along the relatively remote shores of the Nicoya Peninsula's southwestern edge. As one of the best beaches in Costa Rica, Playa Coyote is a long horseshoe-shaped bay with soft sand. It is fringed with tall coconut palms, and dissecting the bay, Rio Jabillo sustains a fascinating mangrove estuary that teems with birdlife.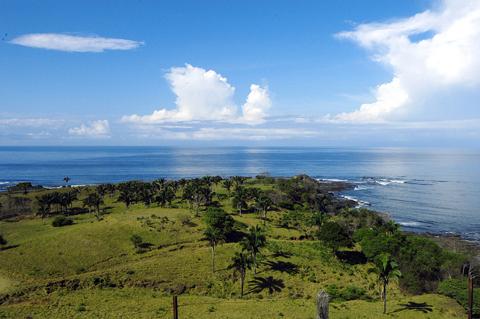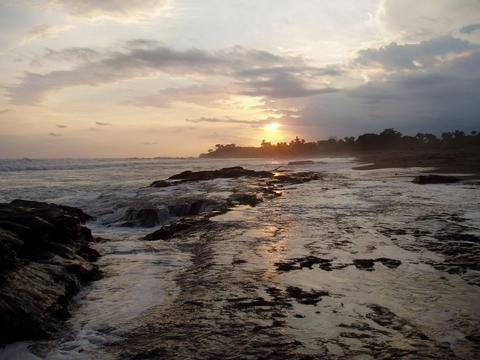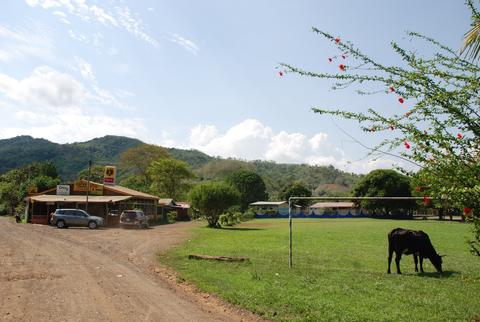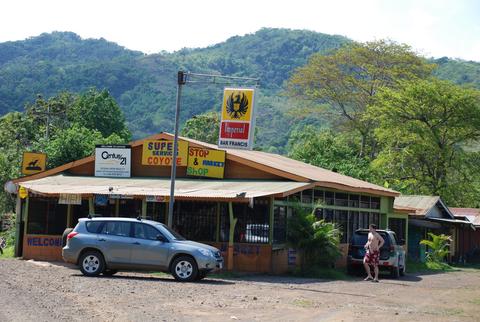 Playa Coyote is situated midway between the beach resorts of Malpais and Samara. The waters at Playa Coyote are tranquil and shallow, ideal for swimming, and Coyote's beach is a perfect getaway for families and nature lovers seeking tropical beauty and relaxation. The sunsets are spectacular, and there are many opportunities for spotting wildlife. South of Playa Coyote, Punta Coyote offers a great break for surfers.
On the beach itself, there is a campground with basic amenities, a new hotel- Casa Caletas- and a small restaurant that is reportedly one of the best fish restaurants in Costa Rica! Five kilometers inland sits the small and traditional village of San Francisco de Coyote. Here you will find several small hotels and cabinas, a few restaurants, a grocery store, gasoline station, and Internet access. Twice daily bus service runs from San Francisco de Coyote to San Jose. (At Playa Naranjo, a car ferry takes you to the port of Puntarenas.)
The beach at Playa Coyote offers swimming, surfing, and other water sport activities. Alternatively, there are horseback rides on the beach, mountain bike rentals, forest hikes, and wildlife watching. Walking along the beach or in the forest, you are likely to see howler and white-faced monkeys, iguanas, snakes, vultures, pelicans, and maybe even anteaters or a wild boar. Flamingos and frigate are often seen around the estuary, and at the rocky Punta Coyote there are several bat colony caves to explore.
On the southern side of Punta Coyote lies Playa Caletas, where during the rainy season, one can see as many as 50 species of bird in a single day. Playa Caletas is also home to an important marine turtle rehabilitation area. Since 2002, the Costa Rican conservation organization, PRETOMA, has monitored and protected the Olive Ridley, Leatherback, and Pacific Green turtles. Its project is run in collaboration with the local community and international volunteers, who monitor nesting activities, operate 'hatcheries' to safeguard the eggs, and help ensure the turtle babies make it safely to sea. The project also provides environmental education activities for local children. It is possible to visit the rehabilitation project during turtle-nesting season, which runs from August to December.
Relatively close by, just beyond the pretty beach resorts of Santa Teresa and Malpais, there are other important conservation projects. The Cabo Blanco Nature Reserve was Costa Rica's first National Park, established in 1963 by the Swedish environmentalists, Nicolas Wessberg and Karen Mogenson. The reserve encompasses 1,272 hectares of primary and secondary moist tropical forest and 1700 hectares of surrounding ocean. It is home to hundreds of plant, animal, and bird species. The park is open to visitors from Wednesday to Sunday, 8am to 4pm. The entrance fee is $8.
Also nearby, the Rainsong Wildlife Sanctuary and Refuge is a new reserve, created around the limits of Cabo Blanco Park. It stretches to the southeast, towards the town of Paquera. On-going projects at the refuge include: the creation of a community Wildlife Refuge, extensive reforestation projects, a wildlife hospital, and an endangered species re-introduction program, for species such as the Scarlet Macaw, Great Green Macaw, Three-Toed Sloth, Spider Monkey, and Baird's Tapir. It is possible to visit the project from the small town of Cabuya, a gateway to both Reserves.
Twice-daily bus service runs from San Jose to San Francisco de Coyote. The bus departs San Jose at 6am and 3pm. The return bus leaves from San Francisco around 3am and 2pm. However, these times are not reliable during the rainy season! By car, Coyote's town and beach can be accessed from Playa Naranja, on the eastern side of the peninsula, and from Samara to the north. In dry season the road is fairly easy to navigate with a passenger car. However, in rainy season a four-wheel drive is strongly advised. Even with a 4WD, some areas may be impassable.