San Vito, Costa Rica
San Vito, the regional capital of the area, is situated along Highwy 237 about 40 miles (65 km) to the northeast of Golfito. Tucked away deep in the southwestern quadrant of the country, in a narrow valley between the Talamanca Mountain Range and Fila Costena, the small quaint city provides a good starting point for surrounding attractions. Surveying the surrounding landscape, visitors can bare witness to baron patches in the forest, revealing the scar caused by deforestation.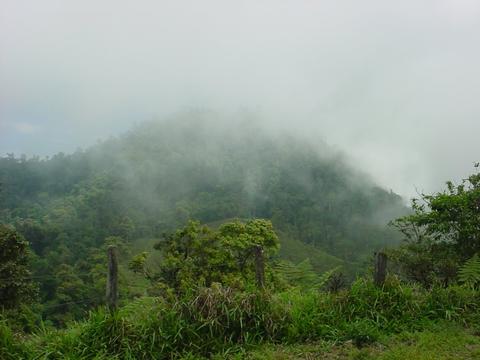 Shiny green leaves of the coffee and fruit plantations line the surrounding farmlands, as the rich soil is set apart as being incredibly nutrient rich, thanks to the ubiquitous web of rivers transporting the alluvial soil from the Talamancas and the Fila Costeña. When out exploring San Vito and the surrounding area, don't forget to check out some of the great Italian eateries, as the community was founded by Italian farmers in the 1800's. San Vito is a splendid relaxed city that grants close, easy access to some of the most complete tropical gardens on the planet—Las Cruces Biological Station and the real attraction, the park within, the Wilson Botanical Gardens.
South of San Vito 4 miles (6.4 km) is one of the most important research centers for tropical biota in the world. The Las Cruces Biological Station (Estación Biológica Las Cruces) sits on 583 acres (236 ha) of patchy tropical forest varying in elevation, and harbors a very complete array of tropical plants—some 2,000 species from all over the world. Overseen by the Organization for Tropical Studies (OTS), the very well kept park has many inhabitants including 330 documented species of birds and a wide variety of mammals including sloths, monkeys, deer and anteaters. The best time to visit is from December to mid-April.
The Wilson Botanical Gardens (Jardín Botánico Wilson) are home to around 1,000 species of tropical plants from Costa Rica and beyond. The grounds feature endangered species from Costa Rica, as well as from other parts of the globe, many of which appear quite strange and unusual—definitely worth a stop! Interested visitors can stroll through the well marked, well-maintained 6 miles (10 km) of trails in this 25 acre (10 ha) assortment of gardens. Throughout the grounds, strategic overlooks allow passers-by to take-in this amazing assortment of biology which includes lily beds, heliconia groves, ferns, gingers, bromeliads, marantas and a mammoth collection of palms.