El Arenal Observatory Lodge está situado en las afueras del pueblo de La Fortuna en las faldas del volcán Arenal. Maravillando miles de turistas alrededor del mundo, este majestuoso volcán está rodeado de bosque lluvioso tropical y ofrece una vista excepcional. La fortuna es un atractivo pueblo que le brinda una gran variedad de restaurantes, tiendas y atracciones.
Featured in:
Great for Families, Isolated, Eco Lodges, Sustainable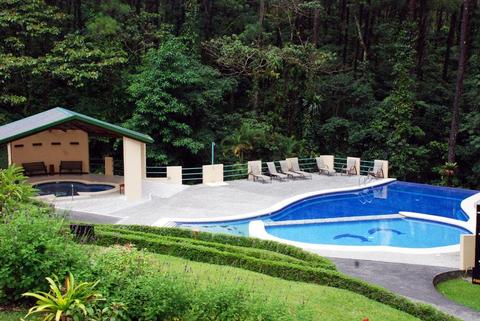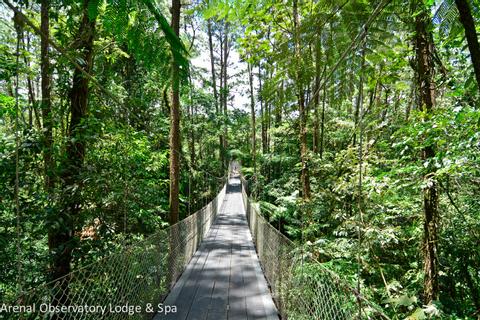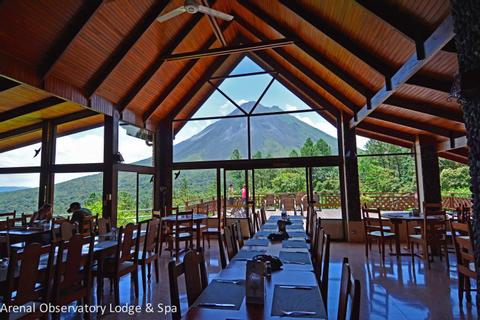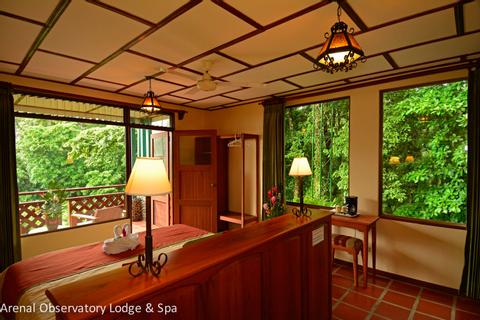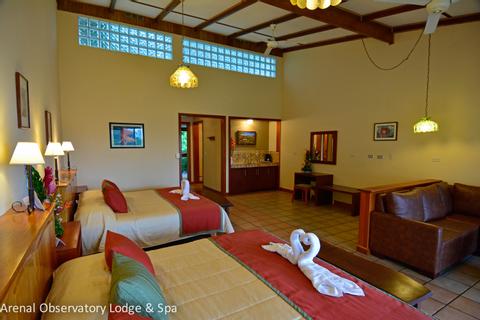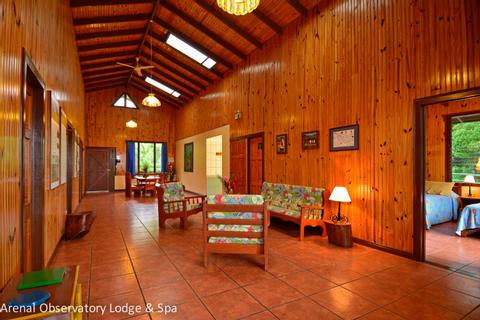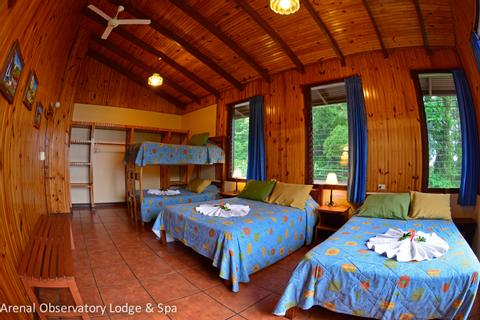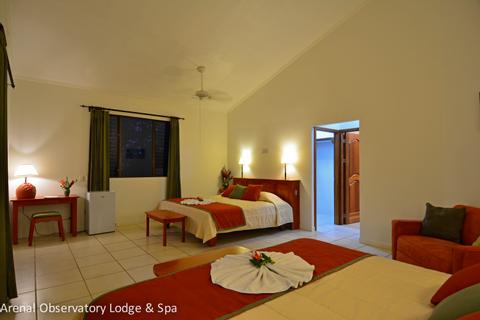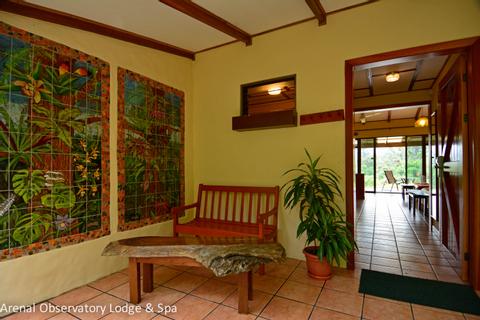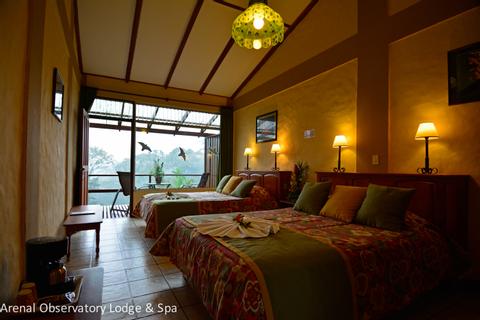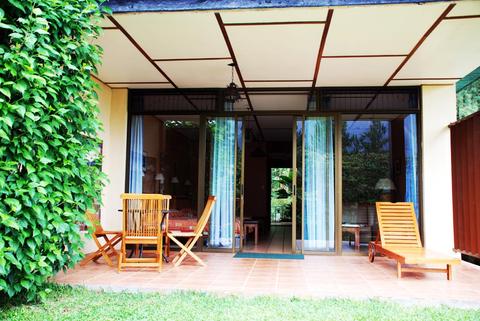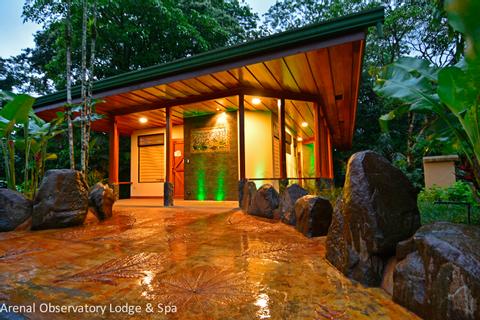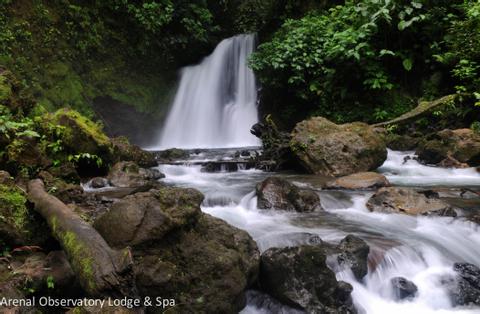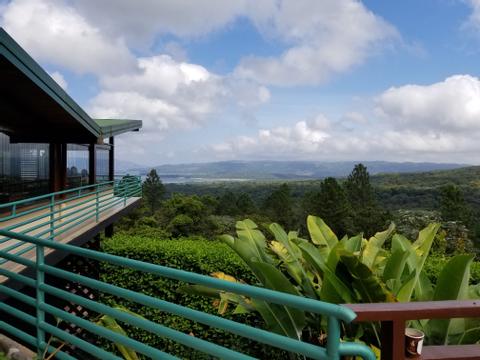 3:00 p.m. check in
12:00 p.m. check out
Free Breakfast
Restaurant in Hotel
Spa Services
Swimming Pool
Wireless Internet
Attractions & Sites
27 km
34 km
9 km
61 km
Para una inolvidable noche disfrute de la tranquilidad de la naturaleza caminando por el bosque secundario en El Silencio. Los sonidos y aromas de la selva como de la inolvidable vista del volcán la cual podrá disfrutar desde un paseo en kayak por el Lago Arenal o un tour de pesca. Visite las bellas formaciones de estalactitas y estalagmitas de las cuevas de Venado en esta excursión de un día.
Ubicado en lo alto de una colina frente al espectacular volcán, el Arenal Observatory Lodge ofrece al viajero aventurero una experiencia única en la vida. El lodge se encuentra en una reserva natural privada, sus senderos bien señalizados son perfectos para practicar senderismo, ciclismo y paseos a caballo por el bosque lluvioso tropical. Además de la piscina infinita que se mezcla con el bosque, hay un jacuzzi bajo una glorieta de vidrio que le proporciona relajación y enmarca la cima del volcán contra un cielo estrellado. Deleite su paladar en el restaurante del lodge.
El lodge le ofrece habitaciones Standard, Smithsonian y Junior Suites, todas con excelentes vistas al volcán. Las paredes de las junior Suites están decoradas con pinturas originales en cerámica hechas por artistas locales. La Casona cuenta con una gran terraza y 5 habitaciones con camas tamaño queen o camarotes y dos baños grandes para compartir, una excelente opción para familias o grupos grandes. La Villa White Hawk está separada de los demás edificios y se llega a ella después de una pequeña caminata con increíbles vistas. En la villa encontrará un comedor y cocina totalmente equipada.
Nota: La recepción del hotel cierra a las 9:00 p.m. por lo que será imposible hacer el registro de entrada después de esa hora. En caso de llegar más tarde, será necesario buscar otro hotel para pasar la noche.
More Property Amenities
Bar
Servicio de Cafê
Cambio de Moneda
Sala de Juegos
Jardines
Senderos
Agua Caliente
Internet
Jacuzzi
Vista al Bosque
Piscina para Niños
Lavandería
Mini Refrigerador
Parqueo Privado
Caja Fuerte
Teléfono
Vista al Volcán
Accommodations
Balcón
Televisión por Cable
Abanico
Agua Caliente
Caja Fuerte
Teléfono
Sala
Abanico
Agua Caliente
Caja Fuerte
Terraza
Abanico
Agua Caliente
Caja Fuerte
Acceso a Silla de Ruedas
Terraza
Abanico
Agua Caliente
Caja Fuerte
Abanico
Agua Caliente
Mini Refrigerador
Caja Fuerte
Terraza
Balcón
Televisión por Cable
Abanico
Agua Caliente
Caja Fuerte
Sala
Comedor
Patio
Terraza
Chimenea
Feedback from Travelers
Fabulous hotel at the foothills of Arenal volcano. Unfortunately we never saw it due to low cloud and almost constant rain. We were lucky enough to have the best room in the hotel with double aspect windows- over the lake and volcano. The staff each day made a beautiful arrangement with the towels for our silver wedding anniversary. Lovely buffet breakfast. Ate in the restaurant once and enjoyed happy hour. All staff lovely and helpful. Free morning guided walk through the grounds. Lots of self guided trails too. Would recommend this hotel 100%
Staff on site were all very helpful and professional. Facilities were fantastic!
This was amazing, we loved the hikes the staff and the grounds. Would definitely return and definitely recommend everybody go there.
Similar Hotels