El hotel Pirate Cove es un hotel pequeño localizado en la Península de Osa en Bahía Drake, es el área menos desarrollada y biológicamente más diversa de Costa Rica. Para los amantes de la naturaleza o aventureros, una visita a Bahía Drake será una experiencia inolvidable, con la seguridad de encontrarse con las especies de plantes y animales más fascinantes del mundo.
Featured in:
Beachfront, Cabins and Villas, Midrange, Isolated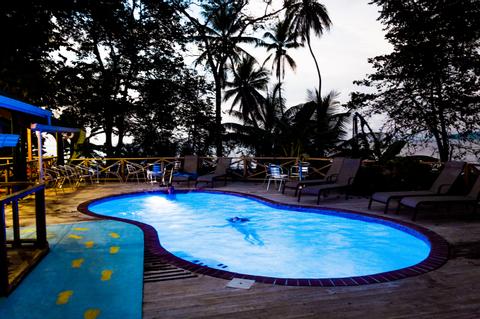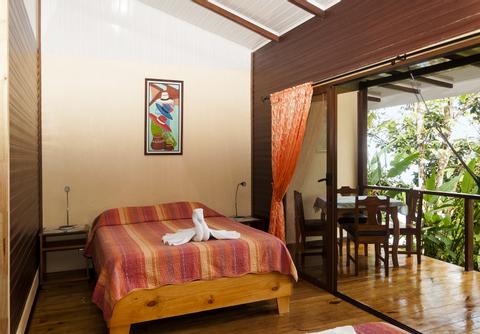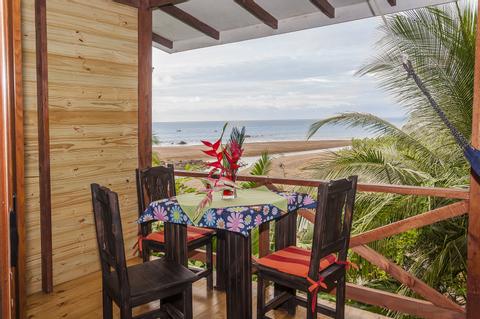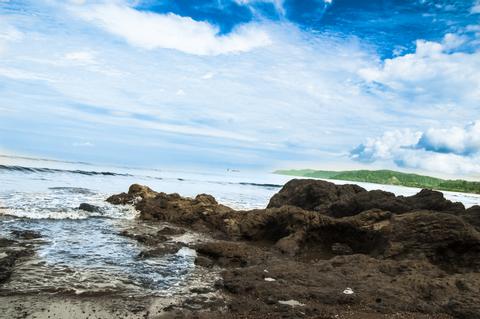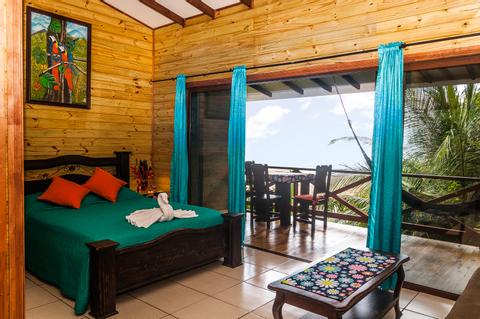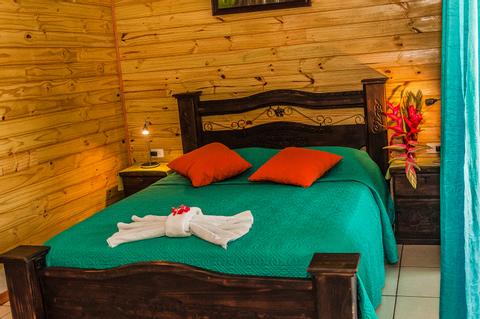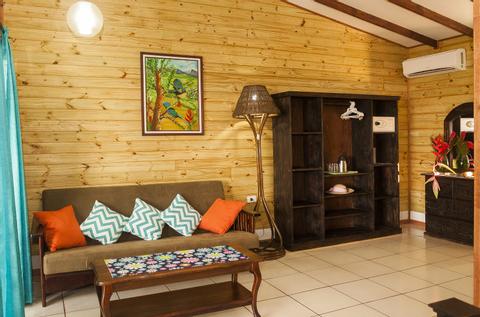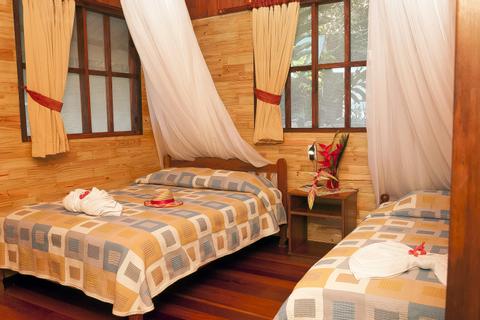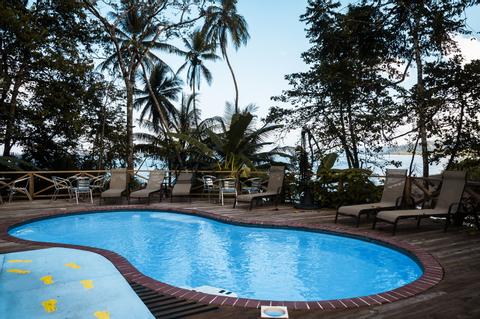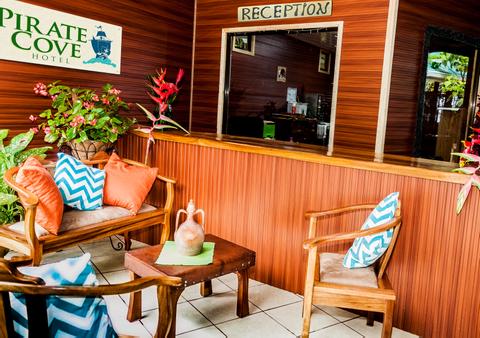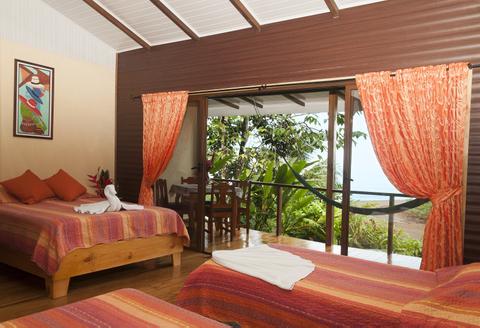 11:00 a.m. check in
10:00 a.m. check out
Free Breakfast
Restaurant in Hotel
Bahía Drake es uno de los lugares más inaccesibles de todo el país, pero con una ubicación espectacular y remota que ha mantenido su ecosistema floreciente e intacto. Una visita a Bahía Drake con sus playas solitarias, aguas cálidas y encantadores senderos, casi se puede asegurar que reducirá los niveles de estrés de cualquier persona. El bosque primario que cubre el Parque Nacional Corcovado es el hogar de un sinnúmero de animales notables, incluyendo los monos aulladores, perezosos, tucanes y más de 450 especies aves. También cerca está la Isla del Ca?o, una reserva biológica con las principales rutas migratorias de animales marinos como los delfines Tursion y ballenas jorobadas. A menudo, se compara con el buceo de las Islas Galápagos, las aguas frente a la costa están llenas de peces de arrecifes, tiburones ballena, morenas, manta rayas y tiburones.
Pirata Cove trabaja duro para existir en equilibrio con el ecosistema circundante. Las cabinas están ubicadas en el follaje tropical y en conjunto con el entorno natural. El hotel tiene vista a dos kilómetros de playa, un lugar perfecto para tomar el sol y disfrutar del océano ideal para nadar. Aunque Pirata Cove, hace énfasis en la sencillez para promover el turismo ecológico, no sacrifica la comodidad y el buen gusto.
Pirata Cove tiene una selección de alojamiento que puede hospedar viajeros individuales, de Luna de Miel y familias de cuatro. Las habitaciones están bellamente decoradas con madera pulida, lindos colores y cada cama tiene su colchón ortopédico. Además los dormitorios tienen su propia terraza con hamacas o sillas, ofreciendo el lugar perfecto para relajarse.
Como la mayoría de los hoteles en el área de Bahía Drake, Pirata Cove es todo incluido, proporcionando a sus huéspedes las tres comidas del día. La comida es una mezcla de la cocina Europea y costarricense, ofreciendo en gran medida fruta fresca y mariscos que son abundantes en la zona. El comedor comunal ofrece un espacio para que los clientes puedan compartir los eventos de su viaje, historias y disfrutar de la mutua compañía. Además, esta a su disposición un refrigerador con agua fresca, refrescos, cerveza, yogurt y mucho más.
El hotel Pirate Cove ofrece a sus huéspedes una abundancia de actividades para elegir. Hay cursos de buceo PADI, observación de delfines y ballenas, pesca deportiva y kayak de mar. Pirate Cove es miembro de PIRA (PADI International Resort Association), con profesionales disponibles para cerciorarse de que el buceo sea seguro y la experiencia memorable. Aunque las diferentes actividades son lo más destacado de Pirate Cove, no hay ningún tipo de presión si los huéspedes no lo desean. Hay muchos sitios con sombra, playas solitarias y pequeñas lagunas para nadar, donde los clientes podrán mantenerse ocupados durante su estancia.
Nota: La estadía incluye tres comidas por día.
More Property Amenities
Todas las Comidas Incluidas
Servicio de Cafê
Agua Caliente
Lavandería
Mini Refrigerador
Parqueo Privado
Caja Fuerte
Accommodations
Aire Acondicionado
Abanico
Agua Caliente
Terraza
Abanico
Agua Caliente
Terraza
Aire Acondicionado
Balcón
Abanico
Agua Caliente
Sala
Standard Room With AC
Sleeps 3
Aire Acondicionado
Agua Caliente
Feedback from Travelers
Loved it and great beach for walking. Sat on our balcony and watched the monkeys eat and hang out.
Our favorite. Excellent staff and food. Great with AC in room and clean. At the same time very much in nature.
Our favorite. Excellent staff and food. Great with AC in room and clean. At the same time very much in nature.