Casa Camaleón en Las Catalinas es un Resort Boutique centrado en la salud y el bienestar, sólo para adultos. Este complejo se esfuerza por mantenerse en armonía con la naturaleza y la comunidad que lo rodea, utilizando la energía eficientemente y apoyando las escuelas locales.
Featured in:
Honeymoon, Hilltop, Best, Adults Only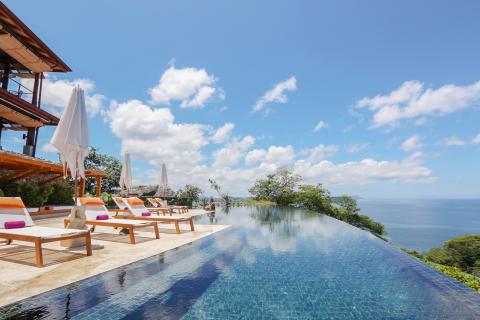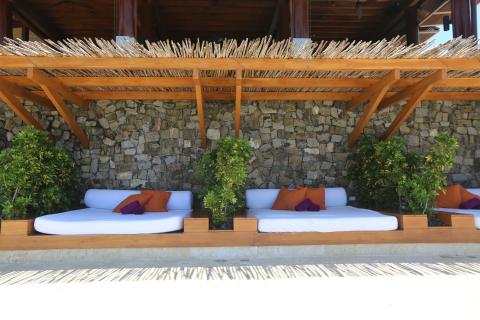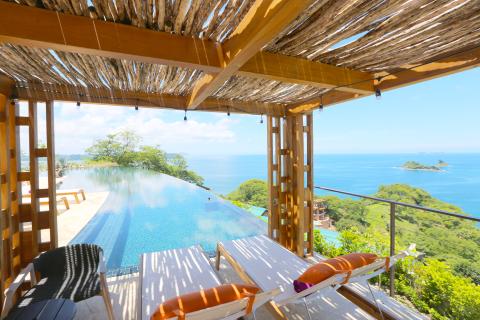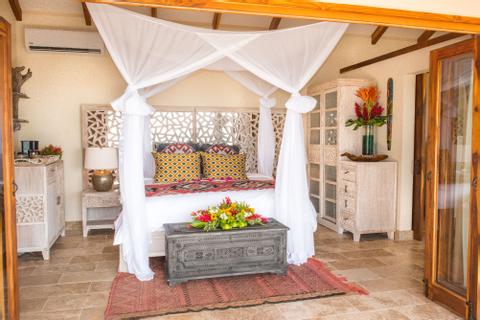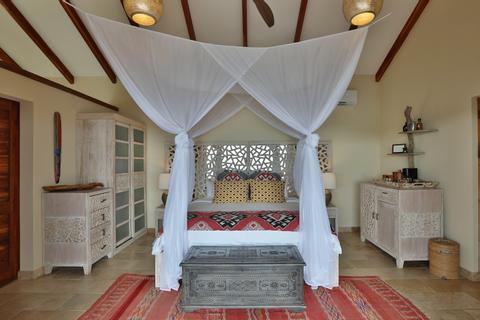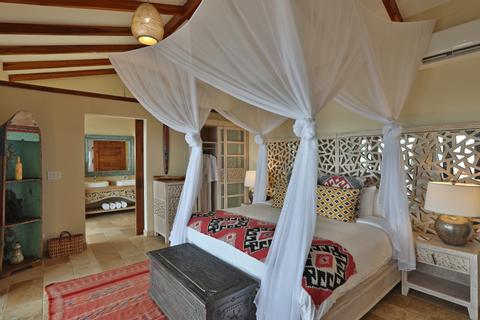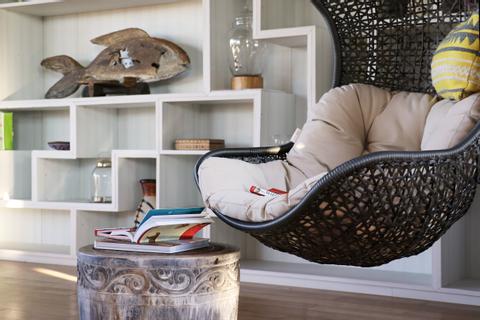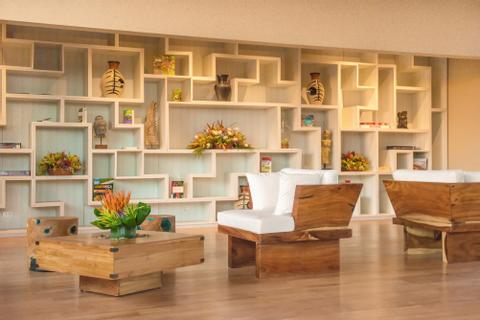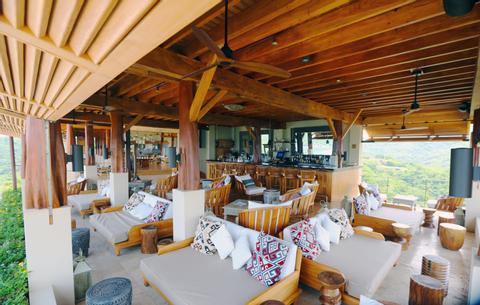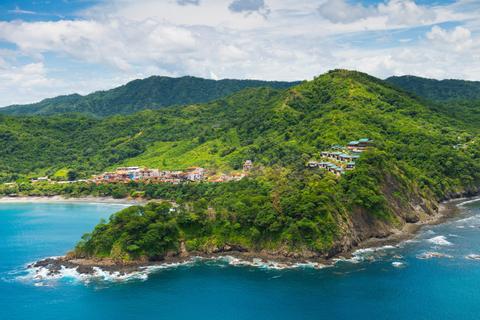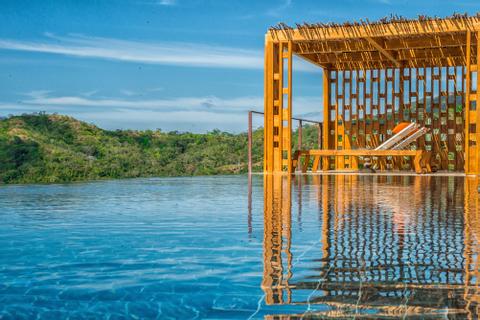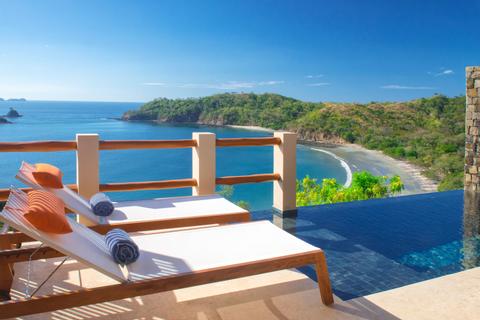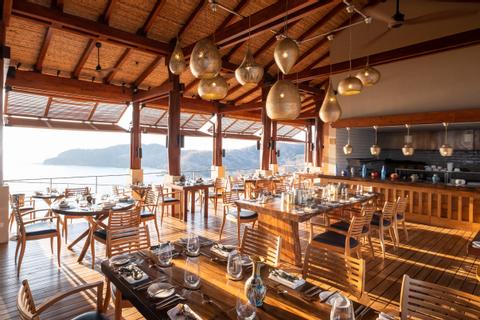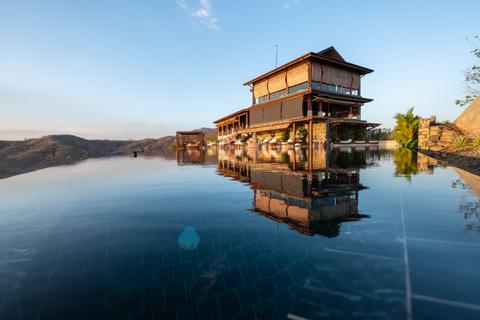 2:00 p.m. check in
12:00 p.m. check out
No children allowed
Free Breakfast
Restaurant in Hotel
Swimming Pool
Wireless Internet
Disfrute las olas con el surf o stand-up paddle. Esta parte de la costa costarricense ofrece excelentes oportunidades para la pesca deportiva. El resort está situado entre Playa Danta y Las Catalinas; Las Catalinas es conocida por su cuidadosa planificación donde no se permiten autos y todo es completamente transitable. Hay un puñado de restaurantes, tiendas y galerías que conocer. Los agradables senderos que rodean el complejo convierten el sitio en un lugar encantador para excursiones de senderismo y ciclismo, pero hay muchas más razones para pasar tiempo de relajación en la propiedad: la piscina infinita se integra a la perfección con el paisaje playero que lo rodea.
Casa Camaleón le ofrece una variedad de servicios diseñados para su confort. Se pueden organizar clases privadas de fitness y yoga, hay esterillas de yoga y pesas ligeras en cada villa. El resort le tiene una suite completa con servicios de Spa traídos directamente a su villa. Elija entre el masaje de parejas.
Este complejo le brinda tres tipos diferentes de alojamiento: Villas con piscinas y balcón, villas con vista al atardecer y la opción más opulenta, las villas suites; estas villas tienen las mejores vistas al océano, más privacidad y amplias terrazas. Todas las villas están equipadas con aire acondicionado, baño privado, mini refrigerador y mini bar. El Wi-Fi de alta velocidad está disponible en todo el complejo. También se ofrecen servicios de limpieza en seco y de lavandería.
El chef le brinda un menú de mariscos frescos y platillos tradicionales costarricenses. Puede solicitar servicio a la habitación si no desea abandonar la comodidad y las hermosas vistas de su villa; el desayuno está incluido en su estancia. Cuando se sienta listo para el ¡¡Happy hour!! de una vuelta por el agradable bar diseñado especialmente para disfrutar de un cóctel al atardecer.
More Property Amenities
Aire Acondicionado
Balcón
Agua Caliente
Vista al Oceano
Teléfono
Accommodations
Aire Acondicionado
Balcón
Agua Caliente
Caja Fuerte
Teléfono
Internet Inalámbrico
Aire Acondicionado
Balcón
Agua Caliente
Caja Fuerte
Teléfono
Internet Inalámbrico
Aire Acondicionado
Agua Caliente
Mini Bar
Caja Fuerte
Teléfono
Internet Inalámbrico
Terraza
Feedback from Travelers
Beautiful hotel with the most amazing view of the ocean and sunset!!
We absolutely loved our experience here. The scenery is breathtaking and we enjoyed the pools (including in our cabin!) and the easy access to the beach.
Casa Chameleon was AMAZING! I have never enjoyed a hotel stay more. The staff was so friendly and accommodating. The villa was spacious and very clean, and the plunge pool w ocean view was spectacular. We had a hard time ecen leaving our villa is was so peaceful