Las exclusivas y lujosas Kura Boutique Hotel se asientan sobre una impresionante cadena montañosa donde el exuberante bosque tropical cae hasta el Océano Pacífico. Este hotel boutique de pequeña escala, en la región del Pacífico Sur, funde a la perfección la arquitectura contemporánea con el medio ambiente natural para producir una escapada sumamente romántica.
Featured in:
Luxury, Best, Hilltop, Honeymoon, Boutique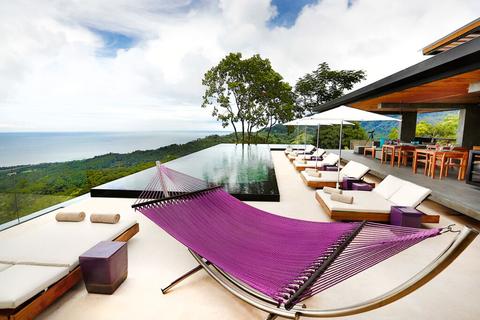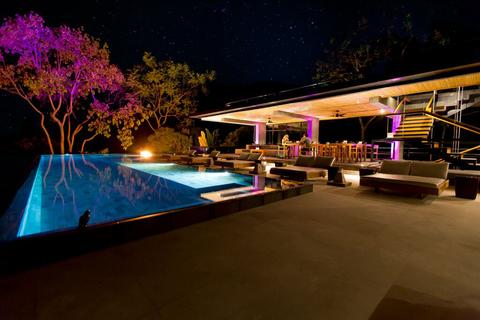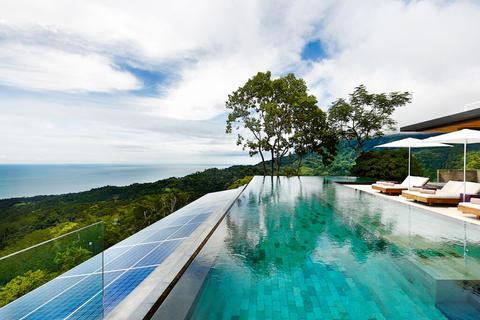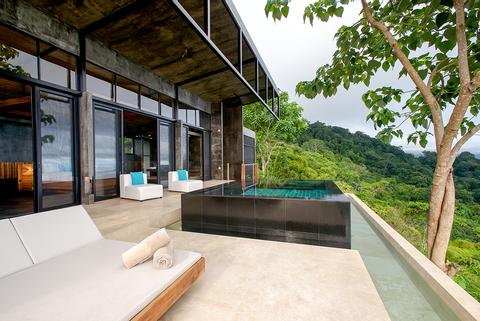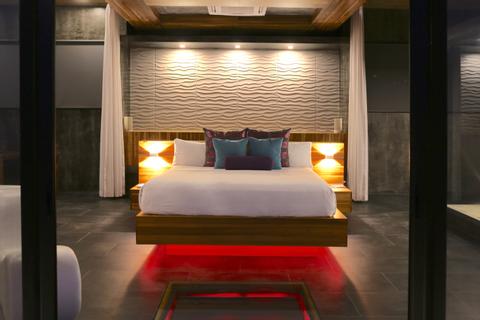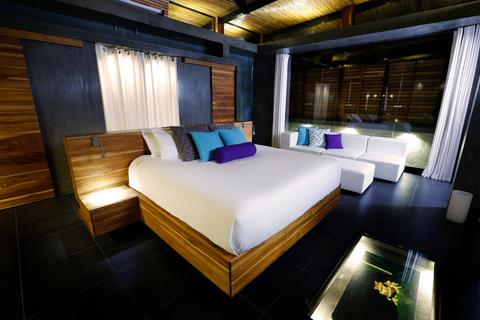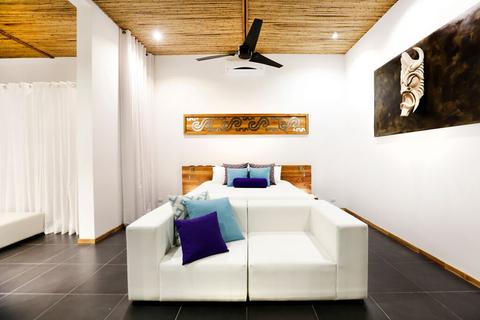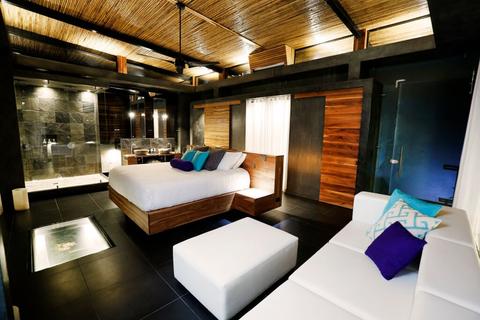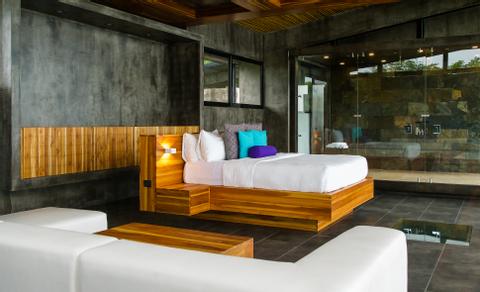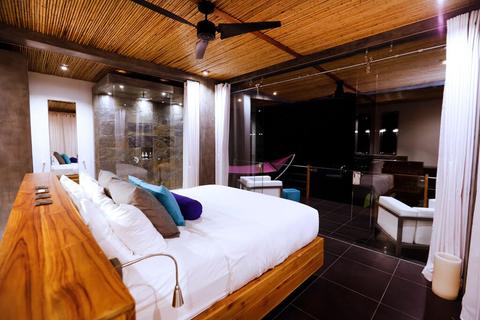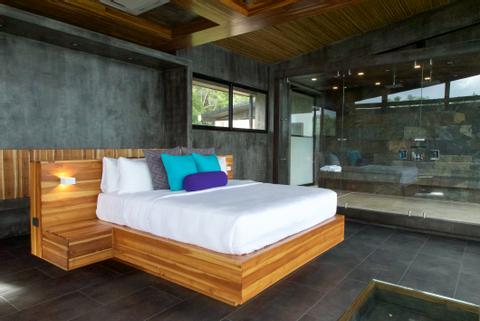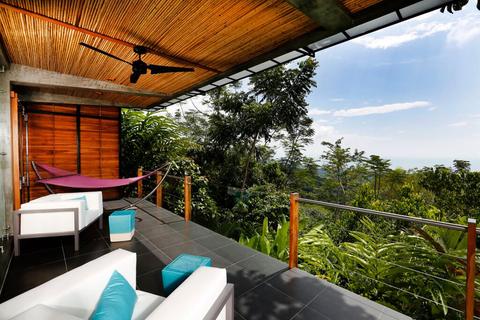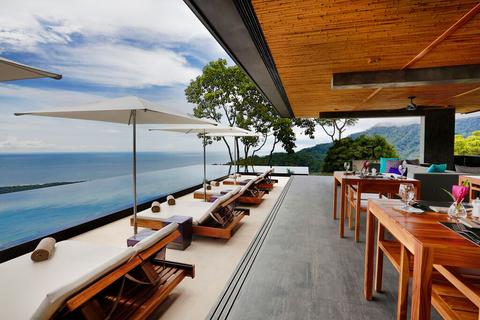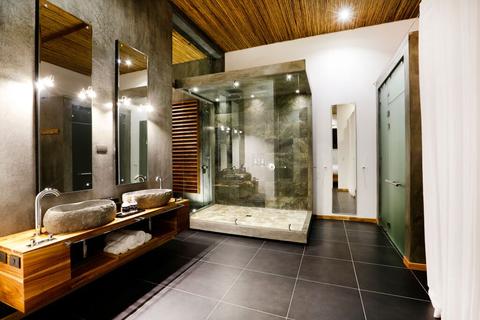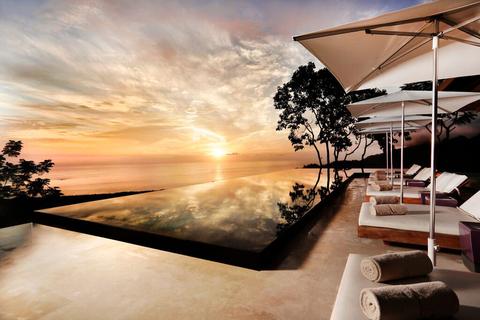 Promotions
5x4 Special
–
Valid for stays between May 1st, 2022 to Nov 18th, 2022.
Stay 5 nights for the price of 4
2:00 p.m. check in
12:00 p.m. check out
No children allowed
Free Breakfast
Restaurant in Hotel
Spa Services
Swimming Pool
Wireless Internet
Attractions & Sites
2 km
Las seis Villas Kura Boutique Hotel reflejan una visión sofisticada de un arquitecto y biólogo. La joven pareja, Alejandra y Martín, se inspiraron para crear los lujosos alojamientos de una manera elocuente y sensible con el medio ambiente. Con techos de bambú, persianas de teca, y muebles de madera local cada villa de un solo dormitorio exhiben un minimalismo pulcro que se mezcla con el estilo indígena local con sostenibilidad.
Indudablemente conformando uno de los mejores destinos románticos en Costa Rica, las villas en Kura Boutique Hotel están aisladas en un área biológicamente famosa por su exuberante vegetación, prístinas playas, y abundante vida silvestre. Proclamada por la National Geographic como "una de las regiones más biológicamente intensas del planeta", los visitantes podrán explorar con facilidad el banco de arena "Cola de Ballena" en el Parque Nacional Marino Ballena o una de las siete playas aisladas. Además, los visitantes se encontrarán a un viaje en bote de distancia del Parque Nacional Corcovado o la Reserva Biológica Isla Caño.
La gastronomía en Kura presenta una cocina costarricense fusión. El chef creativamente combina ingredientes orgánicos locales para producir una amplia gama de sabores complejos a partir de ingredientes simples. El Diablitos Bar es donde los huéspedes podrán disfrutar de cócteles con un toque personalizado costarricense. Asimismo, el Sky Lounge ofrece a los huéspedes un panorama de 360° del denso valle selvático y del océano mientras disfrutan de un buen vino. La piscina estilo infinito de agua salada y el bar poseen una vista panorámica de la costa del Pacífico.
More Property Amenities
Aire Acondicionado
Bar
Desayuno Disponible
Agua Caliente
Vista al Bosque
Mini Bar
Vista al Oceano
Caja Fuerte
Accommodations
Aire Acondicionado
Agua Caliente
Mini Bar
Caja Fuerte
Internet Inalámbrico
Terraza
Aire Acondicionado
Agua Caliente
Mini Bar
Caja Fuerte
Internet Inalámbrico
Terraza
Infinity Suite- 4x3 Special
Sleeps 2
Junior Suite Villas- 4x3 Special
Sleeps 2
Master Suite- 4x3 Special
Sleeps 2
Agua Caliente
Mini Bar
Caja Fuerte
Internet Inalámbrico
Terraza
Aire Acondicionado
Agua Caliente
Mini Bar
Internet Inalámbrico