Arenal Oasis Eco Lodge is located 2 miles (3 km) from the town of La Fortuna, at the foot of the Arenal Volcano. This is one of the most popular places in Costa Rica to see wildlife.
Featured in:
Eco Lodges, Cabins and Villas, Great for Families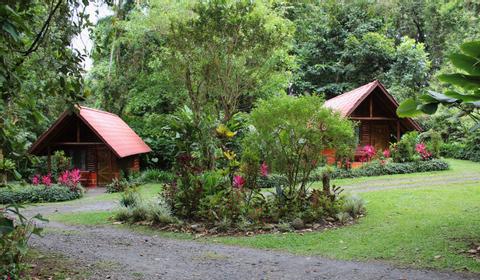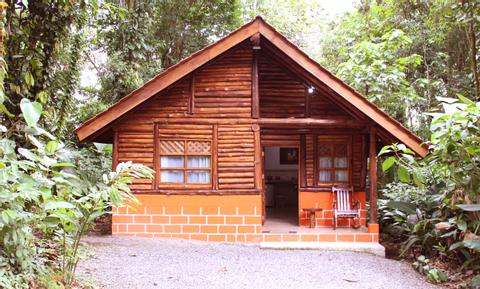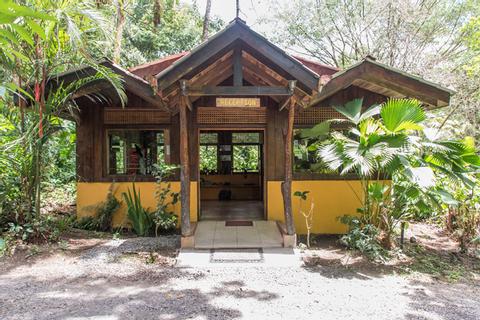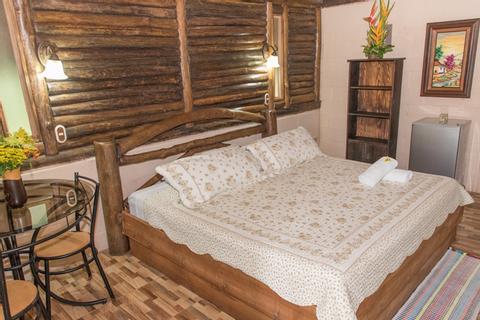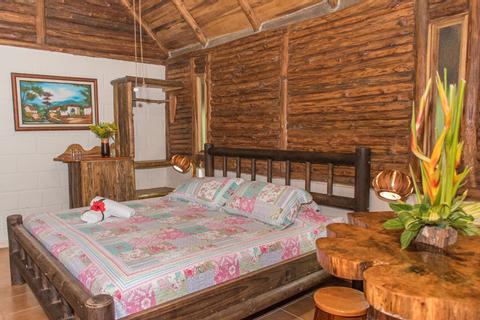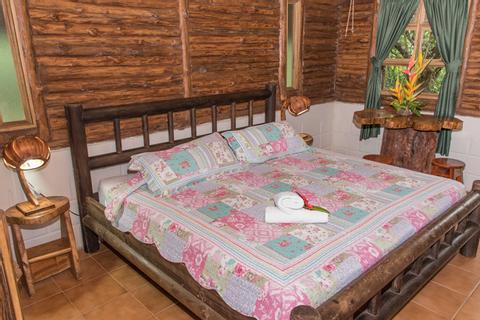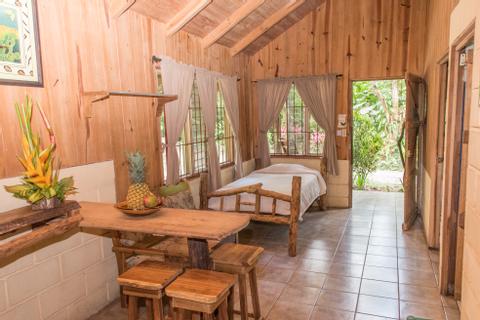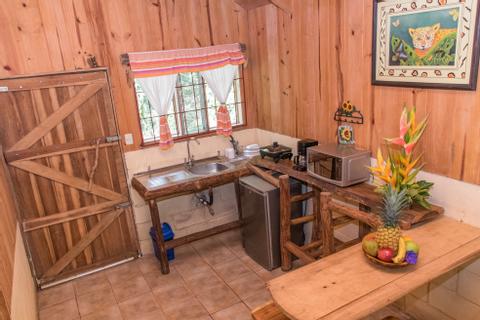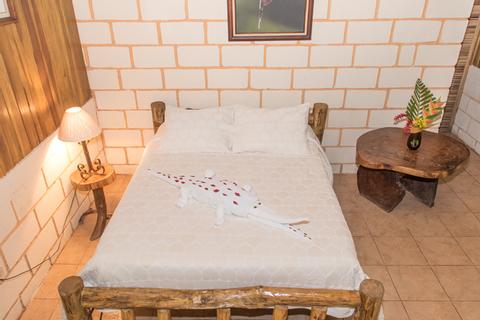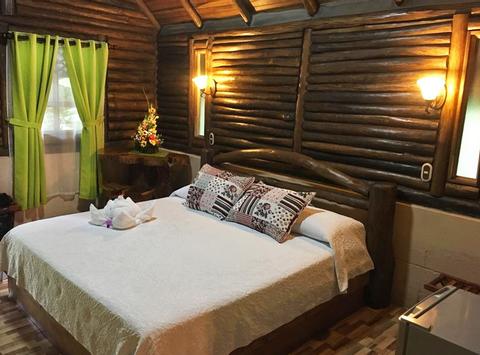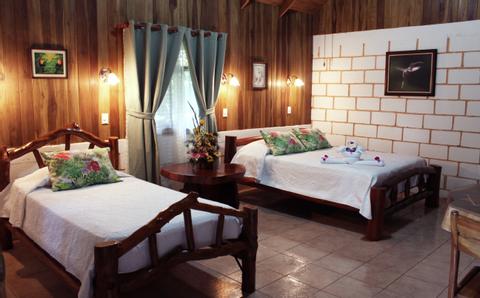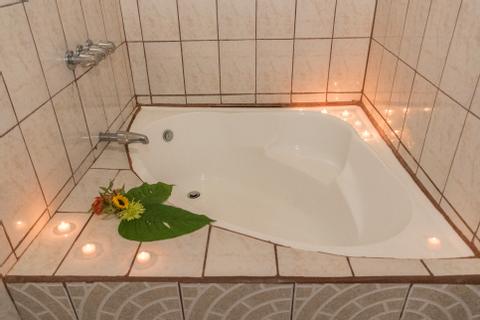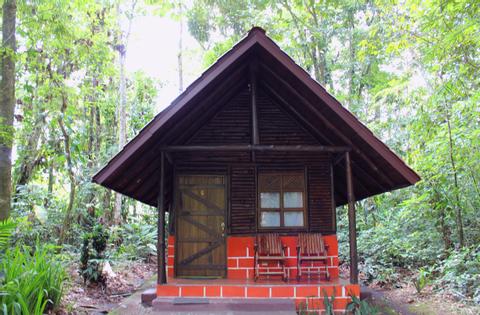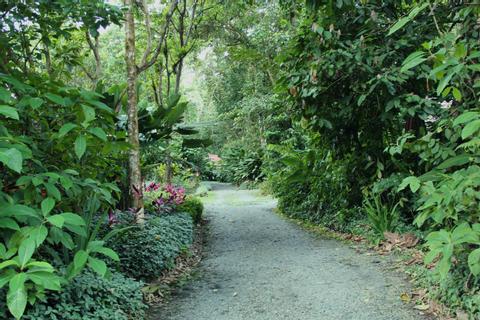 2:00 p.m. check in
12:00 p.m. check out
Free Breakfast
In the area surrounding the Arenal Volcano you can explore the rainforest, you should take guided tours to learn more about the names of the local plants and animals. Go for a zip-line ride through the trees, and get an impressive view of the surrounding canopy life. Highlights of this area include the Tabacón Hot Springs and the La Fortuna Waterfall. Suit up to take a dip in the warm, mineral-ly enhanced waters of the springs, or head to the waterfall for a dip in the refreshing, bright blue plunge pool.
Arenal Oasis Eco-Lodge gets sustainable energy from hydroelectric and geothermal power sources. The hotel supplies guests with biodegradable products and have a recycling program in place. Guest spaces at the hotel are designed like rustic cabins, but they all come with cozy interiors. The hotel's Mi Tierrita Restaurant serves guests organic foods as much as possible. These meals are hearty and savory, and represent the best of Costa Rican cooking. You'll get plenty of beans and rice, plantains, and tortillas with your daily meals. When you want to go out to eat, the town of La Fortuna has a good selection of restaurants.
At the hotel you have the choice of reserving a bungalow that can accommodate up to three people, or a villa that can host as many as five guests. All of the accommodations come with ceiling fans, as well as safety deposit boxes. In the private bathroom guests will find a bathtub and a hairdryer. These facilities provide hot running water.
No matter what accommodation you choose you'll have a view overlooking the surrounding forest. All of the bungalows come with mini-refrigerators. Each villa has a kitchenette that is equipped with a coffee maker and a mini stove. If you stay in a villa you will also be able to access the hotel's free Wi-Fi.
More Property Amenities
Fan
Gardens
Hair Dryer
Hot Water
Internet Access
Laundry Service
Massage
Microwave
Mini Refrigerator
Private Parking
Safe Deposit Box
Accommodations
Villa
Sleeps 5
Bedrooms:2,
2 Double beds
Fan
Hair Dryer
Hot Water
Microwave
Mini Refrigerator
Safe Deposit Box
Fan
Hair Dryer
Hot Water
Mini Refrigerator
Safe Deposit Box
Feedback from Travelers
One of my favorite places we stayed. So cozy and beautiful flowers and gardens.
The villa was somewhat rustic, so it wouldn't appeal to everyone, but it was clean, quiet and comfortable. We appreciated having a kitchenette, loved the setting and grounds, the convenient location, and the restaurant. It didn't feel touristy at all--just what we wanted!
Great location! Not having an a/c was a little rough with how hot/humid it was but with the windows open and the fan on, it was manageable. The staff was very friendly and even made us meals-to-go on our last day since we would be missing breakfast!
Similar Hotels