Bosque de Paz is set within a 2,470-acre (1,000-ha) private reserve in Bajos del Toro, Costa Rica. This hotel is perfect for outdoorsy types and travelers who want a quiet, nature-driven experience in Costa Rica.
Featured in:
Eco Lodges, Budget, Isolated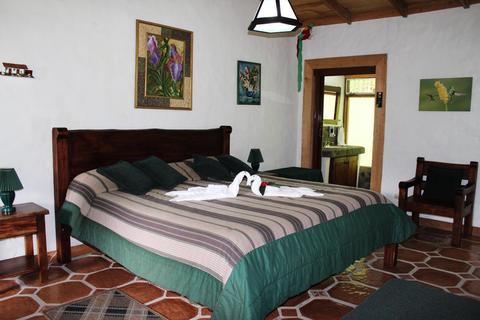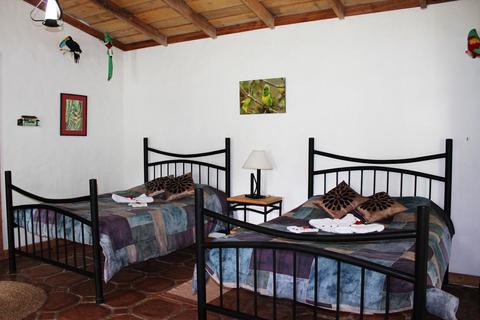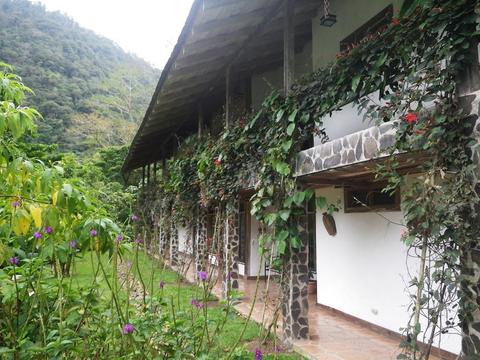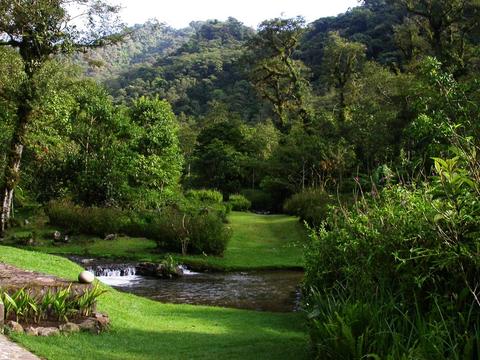 12:00 p.m. check in
10:00 a.m. check out
Free Breakfast
Bajos del Toro is located in the Central Highlands amidst volcanoes, mountains, and forests. The outdoor offerings in this area are amazing—you have access to the Poás Volcano National Park, the Juan Castro Blanco National Part, and the Bosque de Paz Rain/Cloud Forest Biological Reserve. Aside from hiking, activities include mountain biking, horseback riding, river rafting, fishing, waterfall rappelling, and zip lining. It takes about 1.5 hours to drive here from San José.
Bosque de Paz means "Forest of Peace" in Spanish. True to its name, this hotel is set within a peaceful and beautiful forest. It's offers travelers an idyllic place to unwind and become immersed in the Costa Rican outdoors.
The hotel is set on a 2,470-acre (1,000-ha) private reserve along the Continental Divide. The reserve is part of a biological corridor that connects the Poás Volcano National Park with the Juan Castro Blanco National Park. Signed trails wind through the reserve and allow guests easy access to colorful, vibrant ecosystems. The trails range in length from 1 km to 7.5 km and run through both primary and secondary forests. Birders, delight—more than 331 bird species have been recorded here.
Accommodations consist of 12 rooms set in a two-story lodge. Each room has two double beds and a private bathroom with a hot water shower. The rooms are spacious and comfortable, with simple decorations and large windows. Outside the rooms are patios and balconies that have spectacular views of the forest. Guests can sit outside their room and search for birds, monkeys, coatis, and more.
Healthy and tasty homemade meals are served in the hotel's dining room at set times each day. The dining room is located in a wooden building that has big windows that look out over a butterfly garden. Vegetarian, vegan and special dietary dishes can be prepared on request. Beer, wine, and soda are available for purchase.
The hotel has a meeting room with an entertainment system, as well as a reference library with natural history books. The staff has a reputation for being extremely friendly and accommodating.
More Property Amenities
Hot Springs
Jungle View
Yoga Lessons
Feedback from Travelers
This is a beautiful peaceful quiet lodge. The nature hiking paths are wonderful. There was lots of birds to enjoy and coatis and agoutis came to the lodge frequently. The staff was amazing. So friendly and helpful. We felt like family there. We met the owner and he was also so friendly and helpful. Even made us a map on how to get to our next destination when we left. The food was delicious. Our stay only had room so food was extra. I would suggest that people staying only for a day or 2 get the meals included as it is a little way to the village especially if you do not have transportation. Highly recommend Bosque de Paz for anyone who loves nature and peace.
Was delighted with this small eco lodge, the rooms were rustic but comfortable. The food was delicious & plentiful. The staff were friendly & very knowledgeable about the numerous animals, birds & plants. The trails were well sign posted & the orchid garden was delightful. Wished we had booked more nights at this location