Bosque del Cabo Lodge's location at the tip of the Osa Peninsula is a nature lover's dream - rainforests and national parks blanket the land, while the pristine Pacific Ocean undulates serenely nearby. The lodge is set 22 km south of Puerto Jimenez in southern Costa Rica, a laid-back, off-the-beaten-path type destination that provides easy access to scenic beaches and lush forests.
Featured in:
Eco Lodges, Hilltop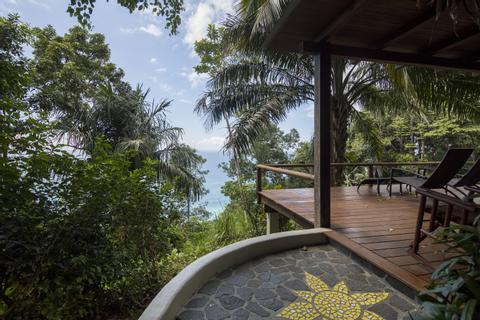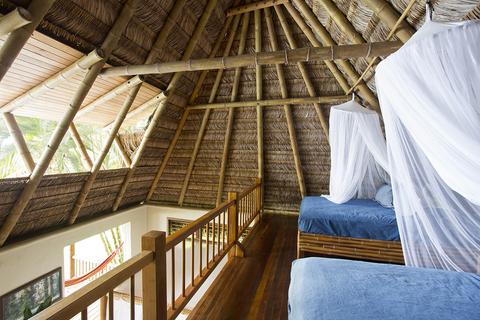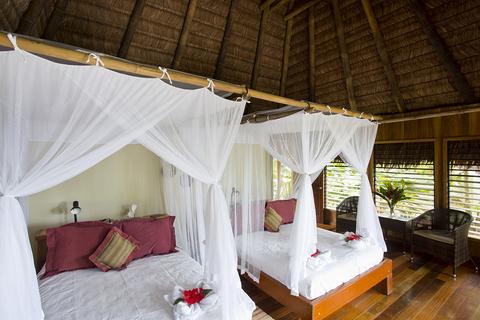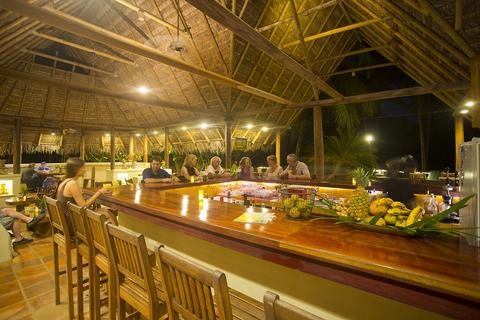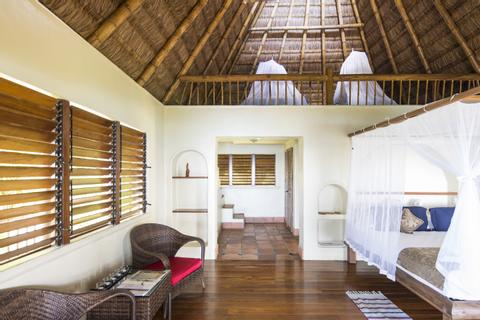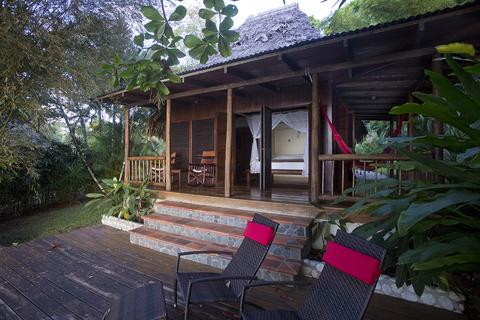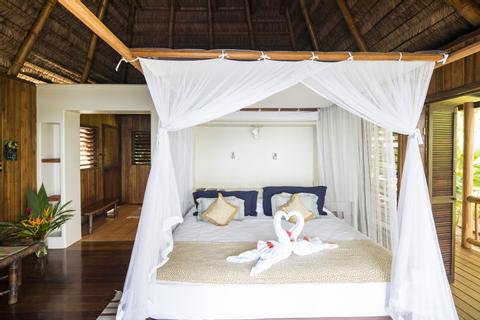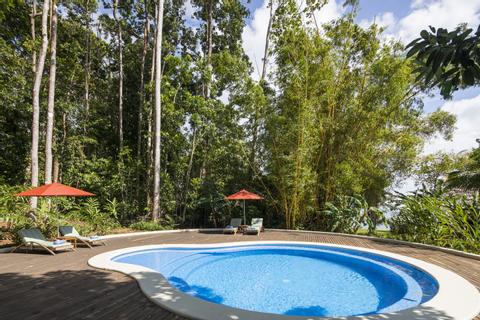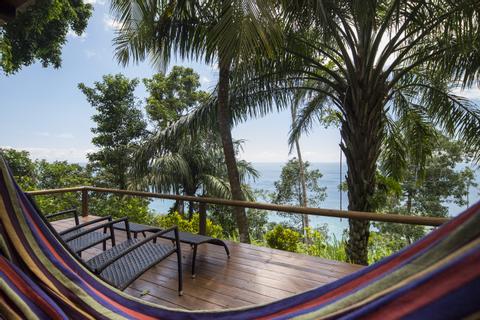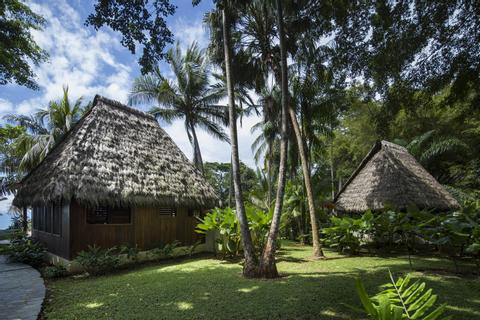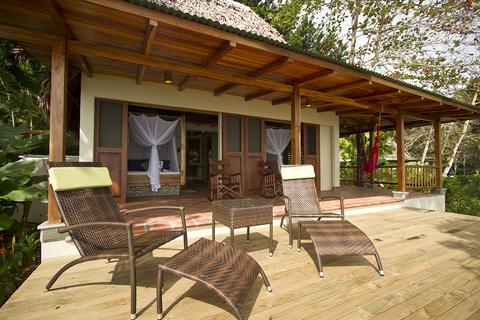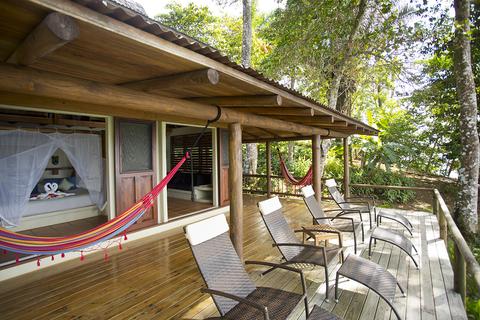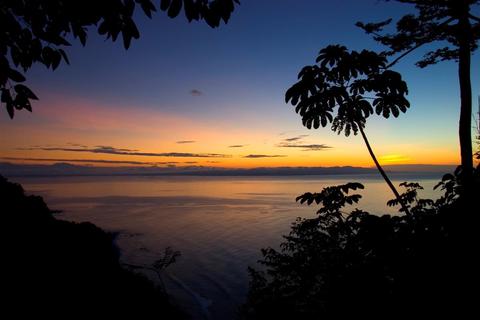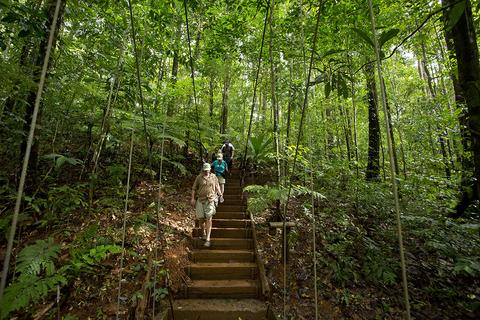 1:00 p.m. check in
11:00 a.m. check out
Restaurant in Hotel
Spa Services
Swimming Pool
The Osa Peninsula allows access into some of the country's most untamed forests. The Corcovado National Park - a massive 103,290 acre (41,800 ha) park that comprises a third of the peninsula - is filled with huge swaths of tropical rainforest and an unbelievable amount of biodiversity. Visitors can enjoy hikes along rugged trails that lead to lakes and waterfalls, and have the opportunity to spot squirrel monkeys, macaws, and even the endangered Baird's tapir. The Golfo Dulce, a bay that lies adjacent to the Osa Peninsula, also presents a number of exciting activities, including excellent sport fishing and surfing, as well as a string of deserted beaches perfect for sun bathing. The small port towns of Puerto Jimenez and Golfito lie along either side of the bay, providing visitors with access to basic facilities and services.
Bosque del Cabo Lodge sits halfway between Puerto Jimenez and the Corcovado National Park, a location that privileges its guests with wonderful access to the natural gems of southern Costa Rica. The lodge is set atop a cliff looking out onto the confluence of the Golfo Dulce and Pacific Ocean, and is backed by a 600 acre private rainforest reserve. Hiking trails leading through the property bring guests to deserted beaches and breathtaking lookouts, natural pools and cascading waterfalls. There is a 300 ft. suspension bridge where guests can get lovely views of the surrounding rainforest, as well as a series of fast-flying, treetop zip-lines. The forest here is teeming with wildlife, and the lodge's lush gardens routinely attract a variety of animals, including toucans, monkeys, and sloths.
And while the immediate area is enticing with its natural wonders, the lodge itself is equally attractive and inviting. Accommodations consist of ten beautifully crafted thatched-roof bungalows, privately scattered amongst the lodge's verdant gardens. Each offers private bathrooms with outdoor showers, solar-powered electricity, mosquito nets, porches furnished with hammocks and easy chairs, and some seriously stunning views of the ocean below. In addition to the bungalows, Bosque del Cabo Lodge offers two gorgeous rental houses, which are larger, with several bathrooms and bedrooms, and a fully functional kitchen and living room.
Bosque del Cabo Lodge's swimming pool provides a nice place to cool off during the afternoon, and its poolside bar serves up a variety of drinks - from smoothies to beer to cocktails - for thirsty guests. The lodge's restaurant prepares tasty cuisine, which blends both Costa Rican and international flavors, and uses fresh, local ingredients. Dinners are communal, mixing conversation and food, and lunches can be packed for daytime excursions. Guests with aching muscles are invited to enjoy a massage from the resident masseuse, who offers a variety of treatments including acupressure, deep tissue, and Swedish massages.
The lodge offers its guests a number of other services, including tour arrangements, guided hikes, and surfing lessons. Bosque del Cabo Lodge offers 10 private bungalows and 2 rental houses. All of the bungalows have private bathrooms, outdoor garden showers, solar-powered electricity, mosquito nets, screened windows, and porches with spectacular views of the Pacific Ocean.
More Property Amenities
Balcony
Bar
Beach Access
Fan
Gardens
Hammocks
Hiking Trails
Hot Water
Jungle View
Kitchen
Laundry Service
Massage
Ocean View
Yoga Lessons
Accommodations
Fan
Hot Water
Living Room
Deck
Porch
Fan
Hot Water
Living Room
Porch
Feedback from Travelers
This was wonderful and met our very high expectations. Staff and facilities were exceptional.
The wildlife was simply amazing. All I had to do was sit on my deck and it all came to me. The owners and staff were all excellent and never forgot your name. This place exceeded my expectations...what a gem!!
OH MY! Words cannot in any way express this amazing oasis of nature. The staff is over the top accommodating, caring, kind and professional. The environment of the nature reserve is a special retreat from anything routine. Surrounded by all four species of monkeys that live in Costa Rica, exotic tropical birds, plants and countless amazing creatures. The cabinas are rustic and luxurious at the same time! With doors that open to the Pacific and nets surrounding the beds in the event that folks want to sleep with the doors open, every need is accommodated. And, the outdoor showers are a wonderful experience to enjoy the sky, the fantastic sounds of the jungle and the freedom of being one with nature while still feeling privacy. The meals are healthy and delicious and at times guests are put together at tables to become acquainted with new friends. Finally, the owners are running this jewel of a spot on hydroelectric and solar exclusively and have provided clever ways of reducing excess use of laundry such as giving each cabina a clip with which to hang one's pool towel for re-use. We were thrilled by these clever ways of caring for our limited resources and actually providing practices that most of us do at home such as re-using towels, water bottles and washing sheets only weekly, not daily. They get an A+++ all around and we are eager to return and have more time to explore, hike, surf and relax. Of all the superb places we visited, this is one I pray we can return to.
Similar Hotels