Casa de Las Brisas sits on a hillside overlooking Manuel Antonio and the Pacific Ocean. This nine bedroom, 10,200 square foot house is very the definition of tropical luxury and privacy – with several swimming pools, terraces and living spaces, this home offers travelers a one of a kind experience. Best suited for large groups, Casa de Las Brisas can sleep up to 22 people.
Featured in:
Hilltop, Vacation Home, Great for Families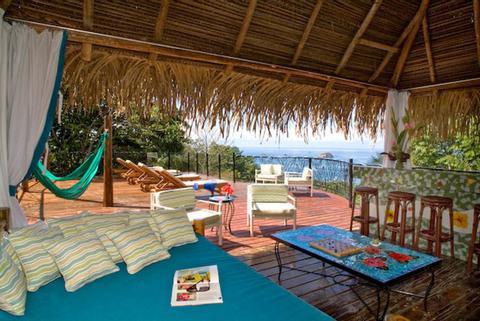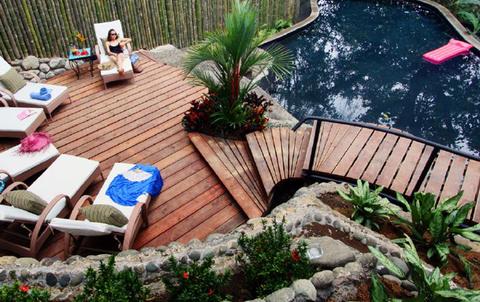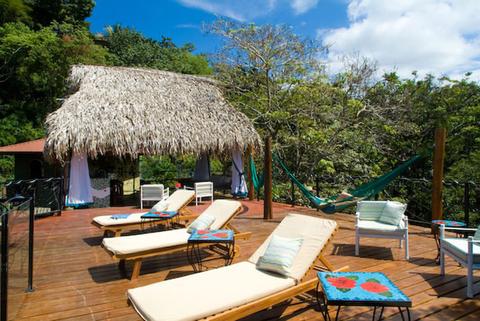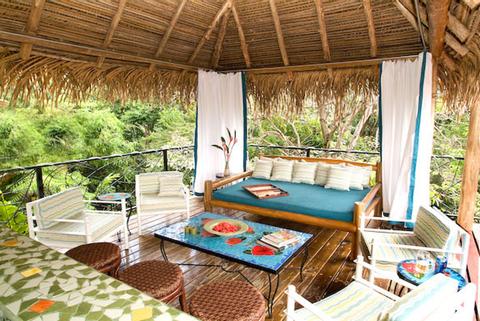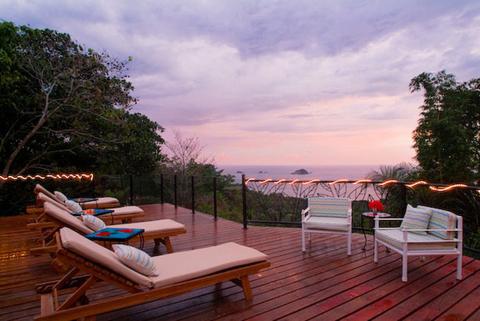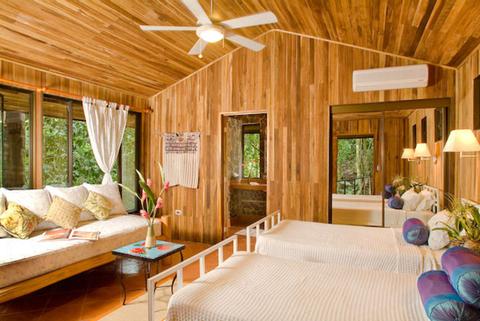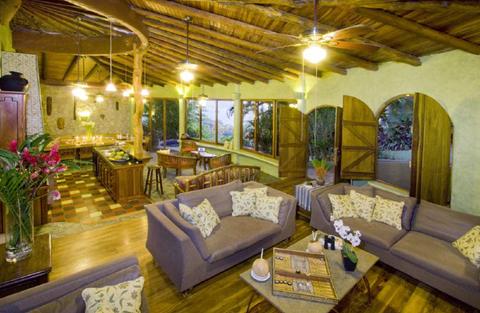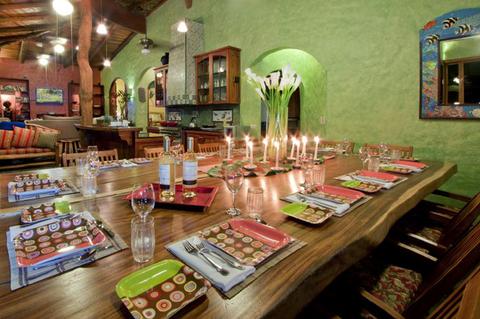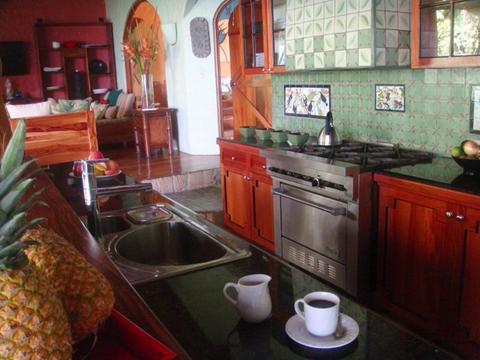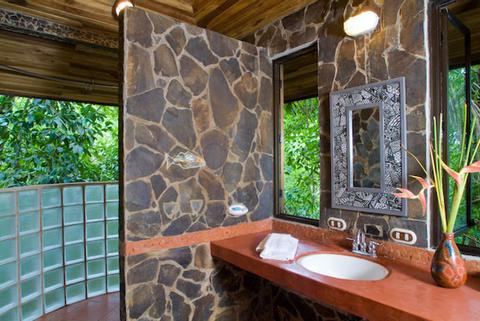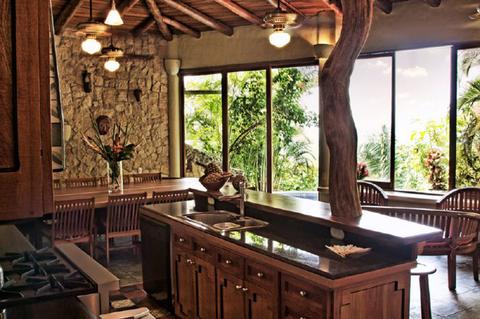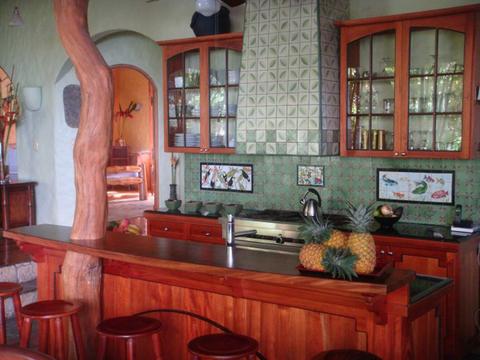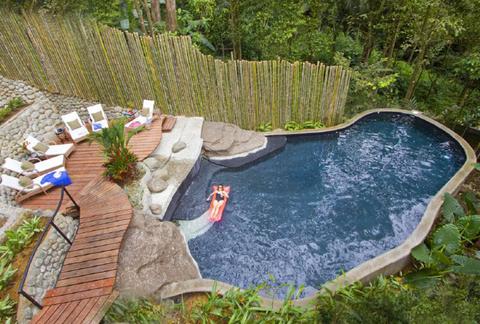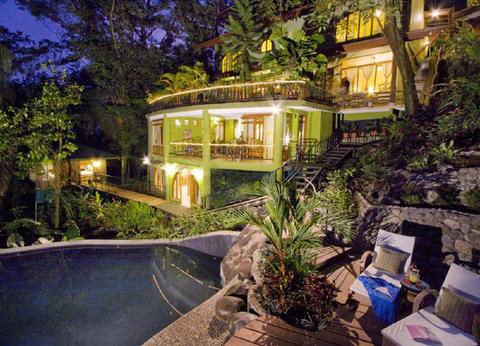 8:00 a.m. check in
2:00 p.m. check out
Swimming Pool
Wireless Internet
Casa de Las Brisas spreads across five luxuriant levels. At the top of it all is a 1,000 sq ft sky deck, an ideal location from which to watch the ocean and the nightly sunsets that fall above it. Beneath this expands bedrooms, bathrooms, kitchens, living rooms, and all kinds of terraces. In total, there are nine bedrooms and one guesthouse. Eight of the bedrooms have a private adjoining bathroom; of these bathrooms, two have a whirlpool tub and one has an outdoor shower. Guests will sleep soundly and comfortably on king size, queen size, double and single beds. All bedrooms are air conditioned and there are ceiling fans set throughout the house.
The ground-level living area features a fully equipped kitchen. The entire area opens up to the pool area, with glass doors that allow for ocean views to be had while in the kitchen and living room. Guests are invited to whip-up their own specialties or have the on-site chef prepare up to two meals a day. There is an indoor dining table made of beautifully finished wood that can seat up to 16 people; outdoors, there is seating for an additional 8 people.
Amazingly, this house has three swimming pools. Each of the pools is set on a different level, but all come equipped with their own private waterfall. There is a hotel-sized pool that looks into the jungle and another that has fabulous views of the Pacific Ocean. Finally, there is a small heated pool in the house's game room. The game room itself is marvelous – it has a pool table, foosball table, wet bar and kitchenette. It's large glass doors open onto a deck bordered by thick tropical plants. What's more, throughout the house are two cable TVs and a Bose stereo system. A video library makes it easy to select and watch movies, while wireless internet allows guests to stay in touch with friends and family at home.
Casa de Las Brisas' terraces are fitted with hammocks, daybeds, lounge chairs and a rancho. Some border swimming pools and others look out onto huge swaths of jungle. As always, the undulating Pacific Ocean can be seen through an opening in the foliage.
With its opulent living spaces, comfortable bedrooms and array of entertaining features, this home is perfect for groups of travelers craving a unique experience. Simply put, there's nothing like waking up to the sounds and sights of Manuel Antonio with a great number of your friends. There is also a separate guesthouse with a private bathroom, mini-fridge and microwave.
Casa de las Brisas is available only for reservations checking in on Saturdays with a minimum stay of 6 nights.
Incidental Damage Protection is required to rent this property, to choose beteween: $35 covers up to $750 worth on incidental damage. $70 covers up to $1500 worth on incidental damage. $100 covers up to $1750 worth on incidental damage.
$120 covers up to $2000 worth on incidental damage.
It is not refundable.
More Property Amenities
Air Conditioning
Balcony
Bar
Cable TV
Coffee Service
Fan
Game Room
Gardens
Hair Dryer
Hot Water
Internet Access
Iron & Ironing board
Jacuzzi
Kitchen
Laundry Service
Microwave
Ocean View
Private Parking
Safe Deposit Box
Telephone
Accommodations
Air Conditioning
Balcony
Cable TV
Fan
Hair Dryer
Jacuzzi
Microwave
Safe Deposit Box
Telephone
Wireless Internet
Living Room
Air Conditioning
Balcony
Cable TV
Fan
Hair Dryer
Jacuzzi
Microwave
Safe Deposit Box
Telephone
Wireless Internet
Living Room
Deck
Air Conditioning
Balcony
Cable TV
Fan
Hair Dryer
Jacuzzi
Microwave
Safe Deposit Box
Telephone
Wireless Internet
Living Room
Deck
Air Conditioning
Balcony
Cable TV
Fan
Hair Dryer
Jacuzzi
Microwave
Safe Deposit Box
Telephone
Wireless Internet
Living Room
Deck
Air Conditioning
Balcony
Cable TV
Fan
Hair Dryer
Jacuzzi
Microwave
Safe Deposit Box
Telephone
Wireless Internet
Living Room
Deck
Similar Hotels