Monteverde Lodge & Gardens
The gorgeous Monteverde Lodge & Gardens is situated up in the Tilaran Mountain range in Monteverde. Monteverde is world renowned for its mystical primary cloud forest reserve. The reserve houses an abundance of bird species, mammals, and diverse vegetation. This is a true paradise for nature lovers and eco-travelers looking to be surrounded by nothing but untouched natural beauty.
Activities in the area are abundant and appeal to every taste. Monteverde is known for its Cheese Factory, which offers daily tours and delicious homemade ice cream. The area is also big on coffee, so visitors can tour several of the coffee farms to learn all about the stages of coffee processing. The Monteverde and Santa Elena Cloud Forest Reserves are great places for nature hikes, bird watching, suspension bridge tours and canopy tours.
The dining room of the Monteverde Lodge & Gardens boasts a cloud forest mural, tropical plants, and contemporary design, making it the perfect setting for enjoying a unique a la carte cuisine. Guests can enjoy the lodge gardens which are rich in ferns, bromelias, a running stream, pond and small waterfall, all designed to replicate the natural cloud forest setting. Benches allow guests to sit in tranquility as they watch the birds that frequent the gardens.
The rooms are designed to bring you closer to nature, all within a comfortable and elegant setting. Accommodations include rooms in the first floors and rooms on the top floor with balcony, all spacious with solar heated hot water in the private bathrooms. The large picture window makes for stunning views of the forest.
Note: Monteverde Lodge & Gardens has a strict cancellation policy of NO REFUNDS 60 days prior to the arrival on high season.
Facility Amenities
---
Restaurant in Hotel
Free Breakfast
Wireless Internet
Spa Services
Wheelchair Accessible
Swimming Pool
Bar
Coffee Service
Conference Rooms
Gardens
Hair Dryer
Hiking Trails
Hot Water
Laundry Service
Private Parking
Safe Deposit Box
Facility Amenities
---
Restaurant in Hotel
Free Breakfast
Wireless Internet
Spa Services
Wheelchair Accessible
Swimming Pool
Bar
Coffee Service
Conference Rooms
Gardens
Hair Dryer
Hiking Trails
Hot Water
Laundry Service
Private Parking
Safe Deposit Box
Check In:
2pm
Check Out:
12pm
Monteverde Lodge & Gardens Accommodations & Rooms
2 Rooms
Forest View Downstairs Room
2 Double
Forest Views
Alarm Clock
Fan
Hair Dryer
Hot Water
Safe Deposit Box
Forest Views
Alarm Clock
Balcony
Fan
Hair Dryer
Hot Water
Safe Deposit Box
LOVED this lodge!! Looked like the nicest place to stay within walking distanace of Santa Elena. Ridiculous gorgeous gardens and grounds, bonus butterfly gardens, super serene room with a gorgeous view. Would highly recommend this hotel! Thanks for putting us up here!
Absolutely brilliant hotel. Nice rooms, wonderful staff - and the gardens - WOW! It has its ow n internal butterfly garden, and then amazing views over the forest if you walk down from the pool. I think I could sit there forever.
This hotel was amazing and so was the staff. The butterfly garden was a real plus
friendly staff. beautiful property easy to walk to restaurants. massage good too!
Staff was fantastic at this hotel. Only comment is that it was a little bit of a disappointment amentity-wise after staying at the Springs.
This Hotel was amazing!!! It was very nice and clean. The balcony view was great. The small trails around the hotel were perfect! The Hotel was within walking distance to a small town with great restaurants.
WOW! That's the only thing we could say upon entering this room. It was a cloud forest oasis. So glad Alejandra suggested upgrading to this location. It was heavenly. Service, rooms, the evening drink and cookies, welcome juice, small hotel, grounds, gardens, pools, hummingbirds, monkeys. We could have stayed right there.
Love this place. It is like coming home. Keep up the great work. Friendly staff, great food. Beautiful property.
Nice hotel close to all walking parts of town...was quiet but food good in restaurants. Great view of forests
I loved this hotel and the staff. The restaurant was wonderful. The food at breakfast and dinner was of high quality and well prepared. The grounds were beautiful and tranquil. We did a night hike with their guide, Carlos, and he was superb. I would definitely like to come here again, I would consider using their guides as well.
The lodge and our room overlooking the forest were just perfect.
The Lodge was excellent, very well maintained, and again with exemplary staff from the concierge to the very special waiters and the knowledgable bar tender. They all conveyed a pleasure in their work and joy of sharing their experience with the guests. This is all unusual.
Very nice place with its climate. The rooms are small but enough for a short stay. Very good kitchen - we really loved dinners and did not try to find anything different!
A beautiful setting from which to observe the cloud forest.
We had an excellent room with a balcony that looked right into the forest. The room was large, very clean and comfortable. They always put treats in our room at night. The dining room was excellent and the servers were outstanding. A couple of days that we were sick, the servers got the kitchen to make meals (off the menu) that we were able to handle. Everyone was so friendly, helpful and fun to be with.
The restaurant was excellent in the Monteverde Lodge although a bit pricey for the locale. The lodge itself has interesting, modern architecture and was very clean. The grounds are amazing!
Loved this Lodge! It was perfect....I wished we stayed more days!!! Gerald, Jeffrey, Juan, the girls in the Front desk were all great! Excellent service. This was my favorite hotel in Costa Rica! Had lunch in a place called The Tree House....excellent food and service. The owner sat down with us and chatted for a while!!
The staff at this hotel were the best anywhere- personable, professional, and caring! The restaurant was outstanding and the breakfasts, included in the room price, were an excellent value, we enjoyed staying at this hotel very much and would definitely like to return there.
A great second stop! The rooms were quaint, the balcony was a nice added touch - open to the forest. We even saw the aguoti and beautiful birds from our room. The many walking trails were peaceful. The hotel offered a "night hike" which was fabulous. Monkeys, sloths and flashlights = who could ask for more? The location was great = we were able to visit St. Elena just by walking. We were able to shop in the local market and enjoyed fresh pasteries and coffee. Thanks, The Vunaks
LOVED this hotel! and Monteverde in general!
Monteverde Lodge & Gardens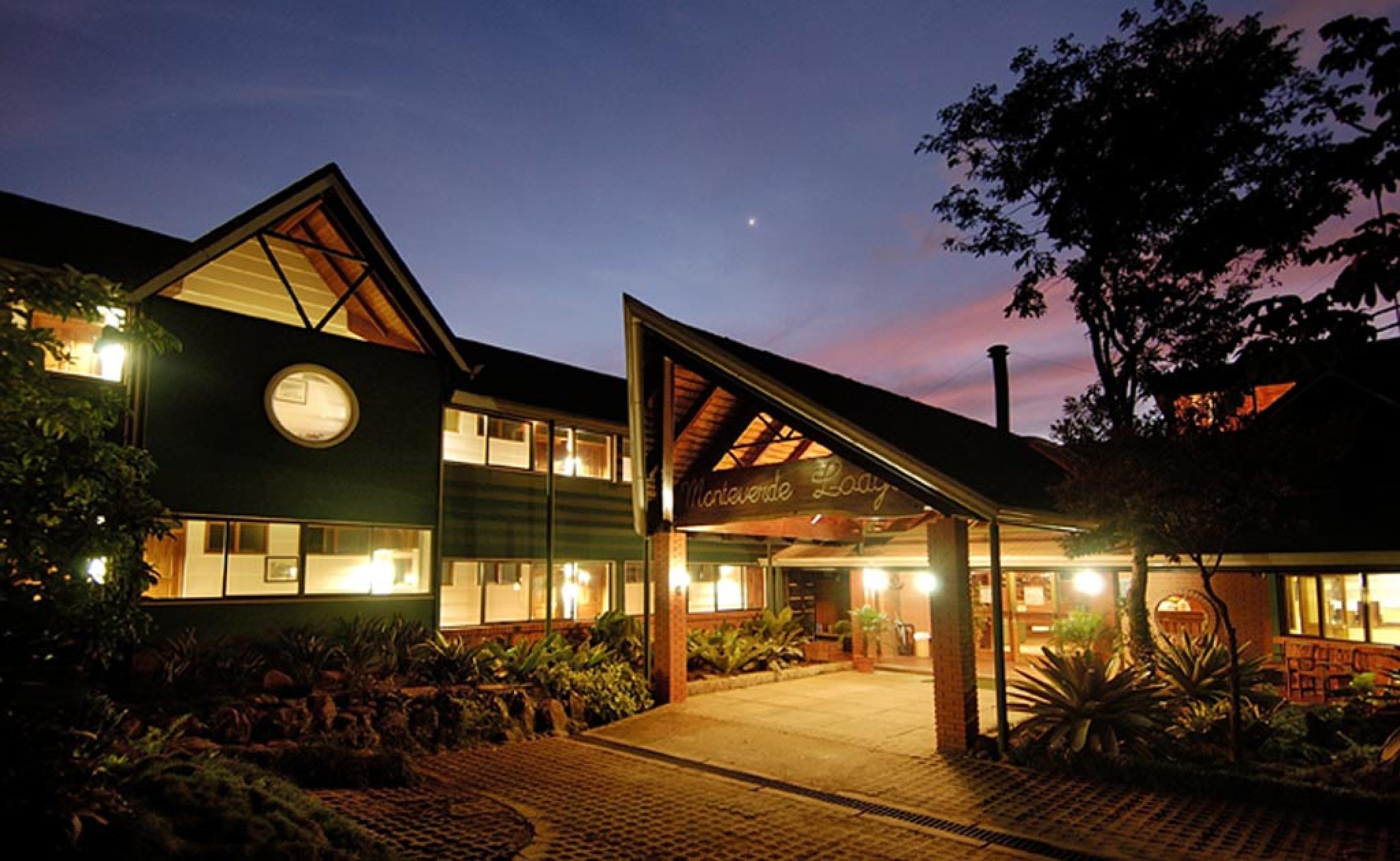 Room rates: $267
301
Anywhere.com