Casitas Tenorio puts you right in the midst of Costa Rica's incredible wildlife. Many different types of animals call this property their home, including sloths, monkeys, and a variety of exotic birds.
Featured in:
Eco Lodges, Bed and Breakfast, Great for Families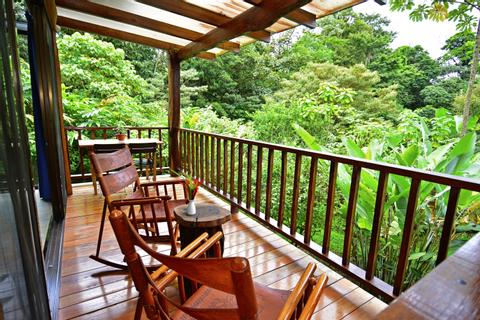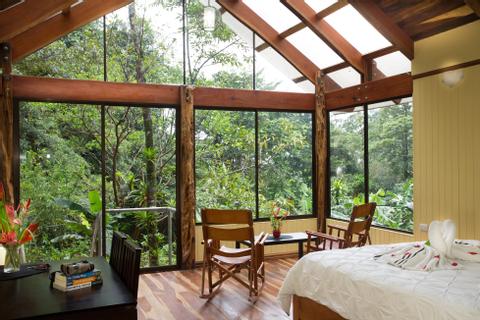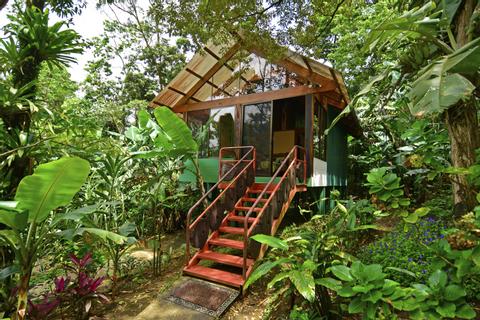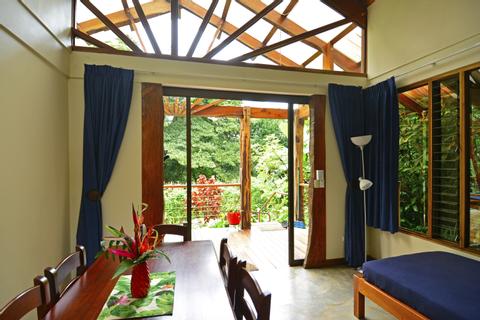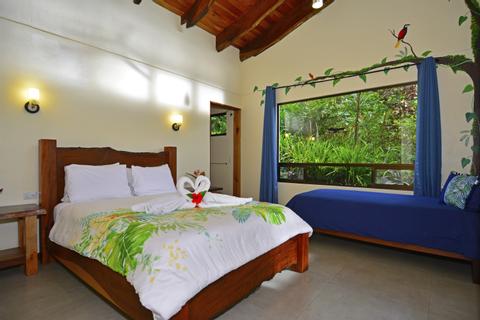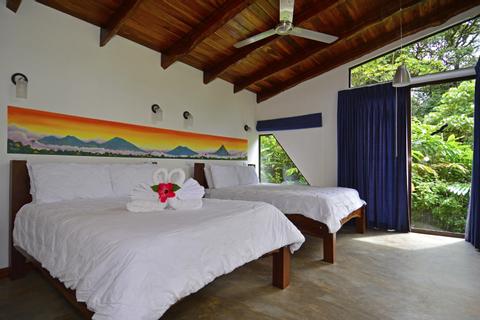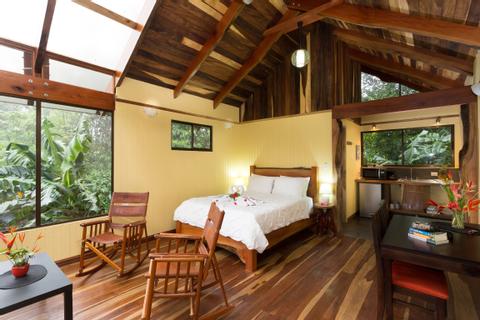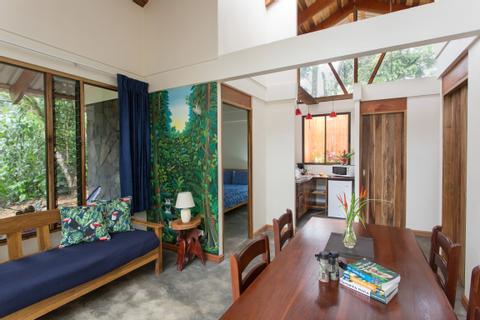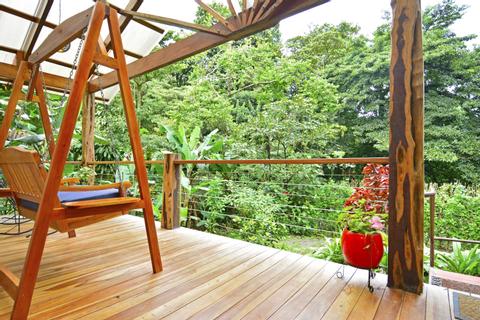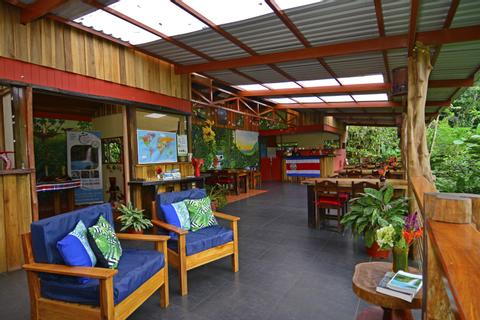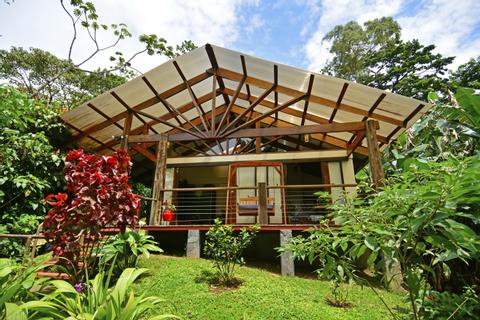 2:00 p.m. check in
11:30 a.m. check out
Free Breakfast
Restaurant in Hotel
Wireless Internet
– Some rooms feature –
Wheelchair Accesibility
This bed and breakfast is located 6 miles (10 km) from the entrance of the Tenorio Volcano National Park. This park thrives with an abundance of tropical plants and animals, making it an excellent destination for hiking as well as bird watching – look out for hummingbirds and toucans. Tenorio Volcano National Park is best known for the Celeste River (or "Río Celeste") and its light blue water. Hike to the Río Celeste waterfall to get a good a look at this striking terrain. When you're ready to try a local restaurant, the small town of Bijagua is a short drive from Casitas Tenorio.
Casitas Tenorio has two bungalows, which are called "casitas" in Spanish, as well as a room that is connected to the shared dining area. All of the accommodations come with private patios and private bathrooms. While you're staying here you'll want to spend lots of time on your patio – you'll get to admire the surrounding gardens and forest, and some casitas also offer a good view of the Miravalles Volcano.
Accommodations at Casitas Tenorio are decorated with colorful paintings and murals that make the rooms cheerful and cozy. There is a nice breakfast included in your stay, which is served in a communal breakfast nook. You can access the hotel's Wi-Fi from the breakfast room.
Casita El Colibrí can comfortably accommodate three guests with its double bed and single bed. It is also furnished with a writing desk and a chair. There is some kitchen equipment, like a microwave, a mini fridge, and a coffee maker. The large windows in this casita let in lots of light.
Casita La Mariposa is slightly larger, and provides a double bed as well as a bunk bed. In this casita's kitchenette you'll find a sink, a microwave, a small refrigerator, and a coffee maker.
El Toucan Garden View Room is fully accessible. It provides a queen bed and a single bed. As the name suggests, this room's private patio offers an excellent view of the garden. The amenities in this room include a mini fridge and a coffee maker.
Casita El Bosque is in a secluded corner of the forest on the bed and breakfast's property. Large windows provide natural lighting. It has two bedrooms, and each of the rooms has a queen bed. One of the rooms also has a day bed, making this casita large enough for five guests. From the large bathroom and the patio you'll have a good view of the forest. There is a kitchenette that includes a microwave, a coffee make, and a mini fridge.
Casita El Volcán has a queen bed and a double bed, and is designed for three to four adults. This casita's nicest feature is the spacious balcony that gives guests a private view of the surrounding forest and the Miravalles Volcano. In the kitchenette you'll find a microwave, a mini fridge, and a coffee maker.
More Property Amenities
Gardens
Coffee Service
Hot Water
Microwave
Kitchen
Internet Access
Laundry Service
Hiking Trails
Telephone
Accommodations
Mi Casa es Su Casa
Sleeps 10
Hot Water
Mini Bar
Mini Refrigerator
Patio
Porch
Hot Water
Microwave
Mini Bar
Mini Refrigerator
Patio
Porch
Hot Water
Mini Bar
Mini Refrigerator
Dining Room
Patio
Balcony
Hot Water
Microwave
Mini Bar
Mini Refrigerator
Patio
Hot Water
Wheelchair Accessible
Feedback from Travelers
WOW If you want a place that does EVERYTHING right for travelers I would say that this is it. From super friendly and helpful staff to having all the little details right. Like super detailed activity and information binders, COMFORTABLE leather seats on the outside wood chairs, places to hang wet clothes, great natural lighting in rooms as well as great reading light for night times. This is a place to come back to. The architecture and interiors of each room were wonderful.
Most wonderful! Our rental was first class, beautiful, Pipa was a delight too.
Incredible plus! Donald and Pip were so nice, shared information, and have such an incredible place. The bird watching was the best. We saw birds and a monkey from our cabin window. They truly care about all the comforts of their guests. There is even an emergency light in the cabin in case the power goes out.
Similar Hotels